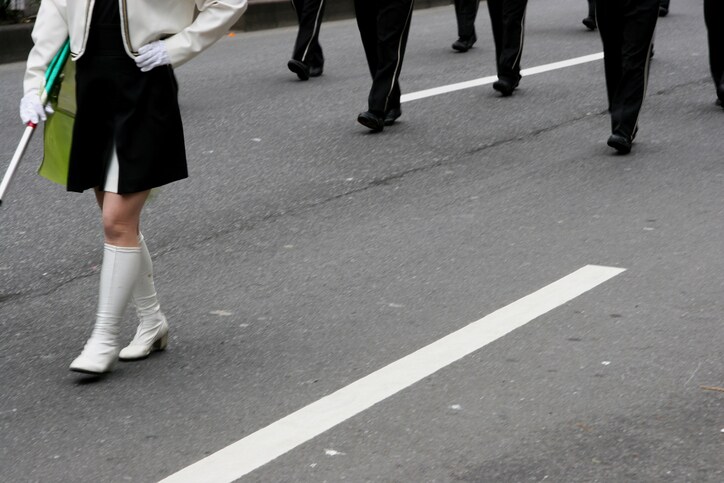 If you live in the United States, you know that to celebrate Pilgrim history, tradition calls for a roasted turkey dinner, hours of football, and a television tuned to the Macy's Thanksgiving Day Parade — a 3-hour extravaganza of giant character balloons, dozens of floats and marching bands, and thousands of clowns, dancers, and parade participants. According to Macy's, this holiday event, which began in 1924, involves more than 8,000 participants.
In addition, an astonishing number of people in New York City — approximately 3.5 million — watch the parade as it travels over its 2.65 mile route. That is a lot of security to provide and coordinate.
I'm sure NYC is taking every precaution. Last year The Washington Times reported that "In addition to more than 3,000 uniformed and plainclothes officers, bomb-sniffing dogs and officers with assault weapons and portable radiation detectors walked among the crowds."
NYC has seen its share of bombs. However, there has been a growing concern that the widespread availability of radiological materials may result in a dirty bomb attack. A dirty bomb, or radiological dispersal device, combines radioactive material with conventional explosives. The conventional materials explode to spread the radioactive substance, contaminating people and infrastructure with radiation. If one of these bombs ever went off along the parade route, it would be a national tragedy.
There is technology that enables safety and security radiation monitoring of all traffic and fans along any parade route in any city. Police departments can utilize an army of products utilizing this technology that can monitor, detect, and measure radiation as well as provide baseline scans prior to an event and then monitor for changes during the event. At last year's parade, among other security tools and technology, police utilized personal radiation detectors, radiation detector backpacks, radiation isotope identifiers, and a mobile detection system.
Let's take a look at each of these technologies.
Portable Radiation Detection Products
A Personal Radiation Detector (PRD) is a pager-sized instrument used for gamma detection, gamma ID, and neutron detection. Police officers wear this PRD as a primary means of locating source as they walk the event. The instruments use patented Natural Background Rejection (NBR) technology, to detect, locate, and identify radioactive nuclides such as nuclear weapons, dirty bombs, and orphaned or purposely masked sources while eliminating typical nuisance alarms from the natural environment such as granite buildings, underpasses, tunnels and subway systems.
Spectroscopic Area Monitors can detect and identify radiation on location and report results to users miles away from the source. They deliver high precision gamma and neutron radiation measurements and deliver real-time data across a wide range of environments and radiation dose rate levels. These types of instruments allow safety and security personnel to quickly and safely identify and address radiation threats while maintaining good ALARA principles. Units can be positioned at potentially dangerous locations to alert nearby personnel via a phone app or to a remote command center. Multiple instruments can be networked wirelessly to expand reach across a large venue or across an entire city, while keeping personnel away from the hazardous area.
A Radiation Detection Backpack is ideal for field use to quickly locate orphaned sources, radiation contamination and potential malicious intent sources – without being highly visible to the crowd. The backpack is equipped with a large, but lightweight, gamma radiation detector as well as a neutron detector especially designed for use with a human body without the need for expensive Helium-3 (He-3). The pair of detectors provides excellent sensitivity while on the move and from distances up to several city blocks, making it ideal for high traffic, large area security like a parade. Officers can strap the backpack on, and unobtrusively locate and very rapidly detect gamma-emitting radioactive sources in large areas.
A Handheld Radiation Isotope Identifier (RIID) is used to search for, and identify materials that could make a dirty bomb, by providing the exact isotope of the radioactive material in order to assess the potential threat and quickly initiate a plan of action. Typically used to confirm source identification when paired with a backpack or PRD, the RIID's detector is high resolution for making accurate identifications and large enough to make the identification from a safe distance.
A Mobile Detection System is an advanced mobile solution for radiation survey, patrol and isotope identification in applications such as nuclear incident response, radiological hotspot identification, environmental contamination detection and routine security surveillance. Some systems make it possible to easily survey an area to determine the baseline radiation contour so known areas of higher radiation such as hospitals and highway underpasses can be noted, eliminating the need to investigate those areas during an event. The survey data, correlated with GPS mapping coordinates, is saved for comparison with readings taken during periodic patrols. This results in increased response accuracy and eliminating false positives.
Parade Route Plan Case Study
We have created a diagram of a typical parade route scenario, and outlined the appropriate place for radiation monitoring and detection equipment to be placed. This is not the Macy's route, but the diagram gives a nice example of how police can monitor traffic and fans along a long parade route in a populated area.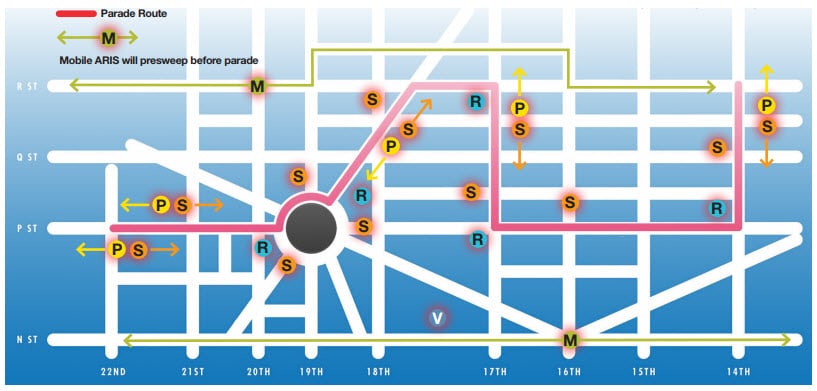 Click here to open the Parade Route Radiation Monitoring document and diagram.
With planned radiation monitoring, hopefully the only Thanksgiving Day disaster is an overcooked turkey.
Editor Note: http://newyork.cbslocal.com/2016/11/23/security-macys-thanksgiving-day-parade/