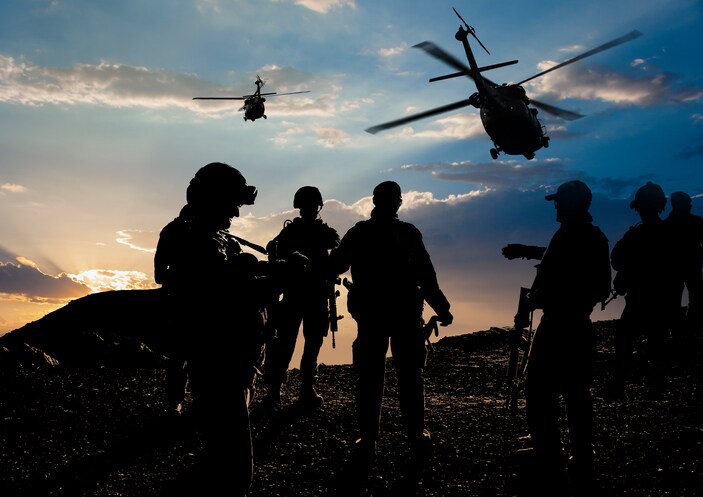 Metal-containing rocks are mined, processed, and used in manufacturing of things we use every day.
Last summer, the National Mining Association published an infographic that included claims that the United States Department of Defense uses up to 750,000 tons of minerals annually in the manufacture of military gear, weapon systems and other defense applications. That number will increase as defense budgets are increased. In fact, during this past spring, the U.S. Department of Defense announced a $160 billion boost in defense spending over two years, reversing years of decline.
What do rocks and minerals have to do with high-tech defense equipment? A lot. Rare earth elements (REEs) have diverse applications in many fast-growing industries including consumer electronics, automotive, rechargeable batteries, and medical imaging. Those same types of applications can be used for defense. For example, night-vision goggles, infrared absorbing glass, and camera lenses use lanthanum, one of the rare earth elements. Many defense technologies utilize powerful magnets, which require neodynium, praseodymium, samarium, dysprosium, and terbium. REEs are also critical to submarine sonar capabilities.
There are 17 elements that make up the rare earths group. (To find out which elements are considered rare earths, read Can You Name All 17 Rare Earth Elements? You will note that they are really not rare. They are just rarely mined because finding concentrations that are economically minable is unusual.)
REEs rarely exist in pure form; they are usually concentrated in more than one mineral, and each mineral requires a different costly extraction technology and mineral processing. Mining and geochemical exploration is the main method of REE exploration. Depending on the REE project type, portable XRF analysis can provide real-time, on-site assays of REEs and other elements in any type of geological samples.
XRF (X-ray fluorescence) is a non-destructive analytical technique used to determine the elemental composition of materials. XRF analyzers determine the chemistry of a sample by measuring the fluorescent (or secondary) X-ray emitted from a sample when it is excited by a primary X-ray source. Each of the elements present in a sample produces a set of characteristic fluorescent X-rays ("a fingerprint") that is unique for that specific element, which is why XRF spectroscopy is an excellent technology for qualitative and quantitative analysis of material composition.
In addition to REE's, the infographic notes that nickel is used in body armor because of its resistance to corrosion and oxidation, silver is used in aircraft because it is malleable and ductile, and copper is used in communication systems because of its conductivity. The Hill reported that the mineral beryllium is used to reduce weight and improve guidance performance in fighter jets and NASA technologies such as the mirrors on the James Webb Space Telescope. Those are just a few of the examples.
After the minerals are mined, they have to be processed, extracted, melted, formed, and manufactured into that defense equipment, which could include new technology like unmanned aerial vehicles and tankers, advanced integrated air defense radar, and space-based systems.
So while minerals are one of earth's oldest assets, they are being used in equipment planned for the future.