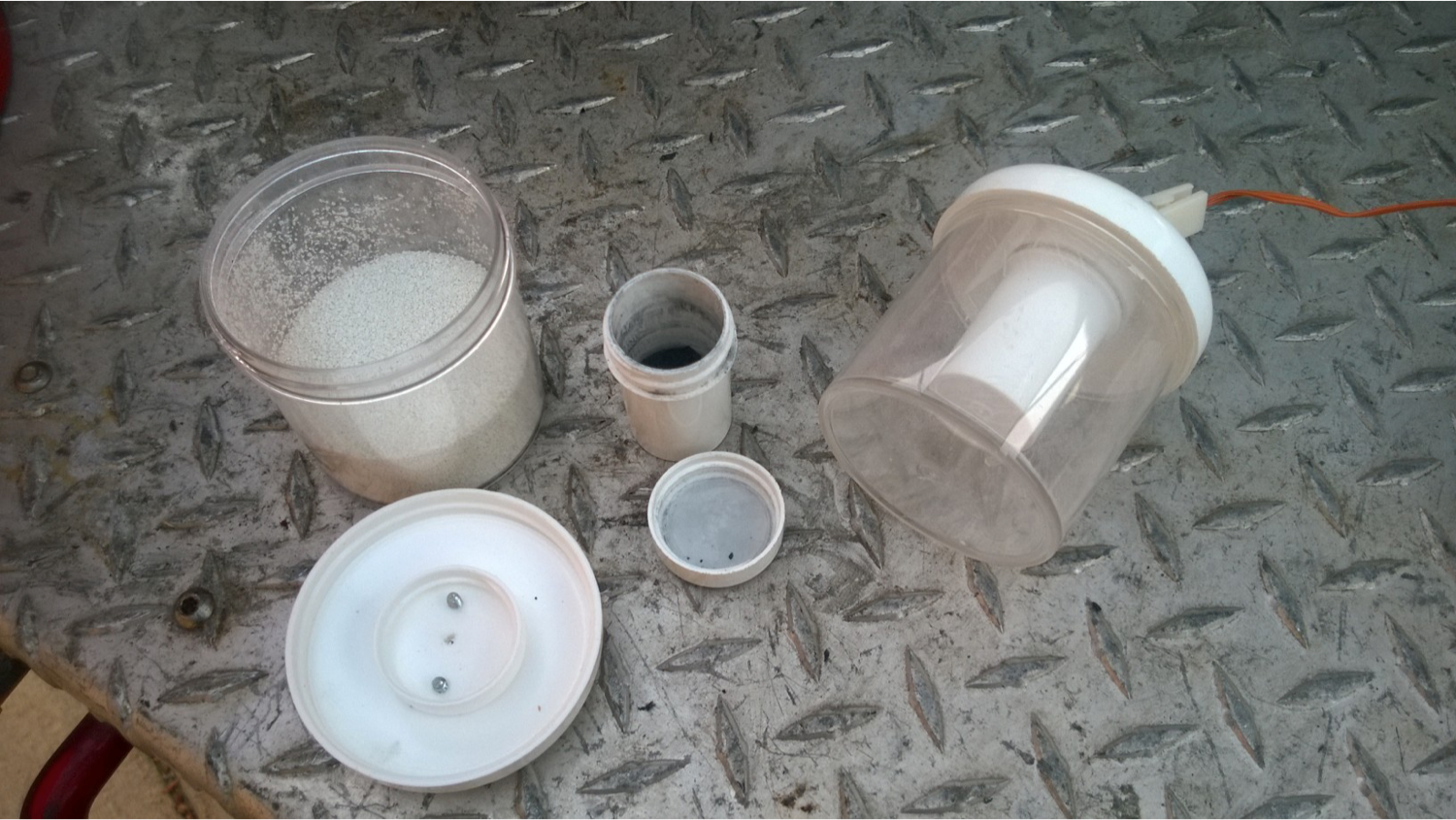 According to a bomb technician (who also provides training and consulting services), the event began as a routine after-hours request for bomb squad assistance: unknown and unwanted white and grey powders found in kits in a box, which had been acquired from a barn sale. Best guess, it looked like probable unmixed exploding target materials but it didn't seem quite right.  There was a medicinal odor coming from the white powder.
The technician gathered all the unknown liquid and powder materials for analysis.  The liquid marked "Acid" produced a bright red pH result, indicating a strong acid, most likely hydrochloric acid, and was no surprise. The grey powder, on closer examination, did not look like aluminum. A small quantity flashed when subjected to a flame test and the material looked and reacted like flash powder. What about the white powder and medicinal odor? Time to separate the materials and reach out to a nearby associate with a handheld chemical analyzer.
Chemical Identification analyzers using Raman can recognize thousands of potential explosives as well as explosive precursors in liquid mixtures. (Raman spectroscopy is a technology that enables users to safely analyze explosive materials through sealed translucent containers without disturbing the sample.) To aid in identification, the device collects the molecular fingerprint of an unknown sample, and then compares the substance against the onboard chemical library, typically providing results in a matter of seconds. Raman instruments excel at identifying liquids, gels, pastes and light colored solid materials. (Raman technology utilizes a focused laser, which can heat some energetic materials, so proper safety protocols should be followed to ensure operator safety. Indeed, the Raman laser would have ignited the flash powder, so it was not tested on Raman.) (Read more:  Explosives Identification Using Raman Technology.)
Testing with a handheld Raman spectrometer produced a spectrum matched to a chemical that the technician had never heard of before, ammonium iodate.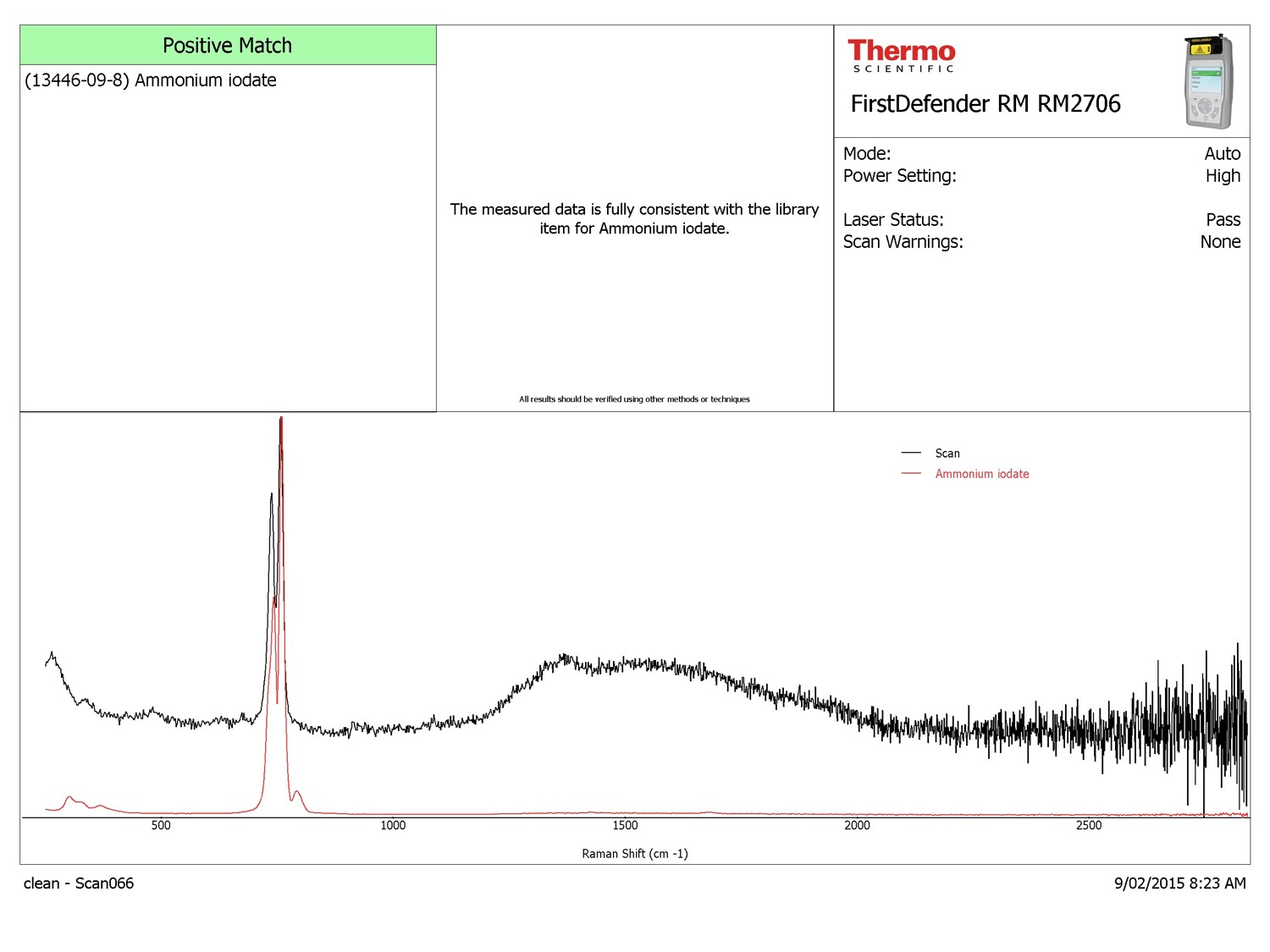 Report file identifying ammonium iodate. Note locations of three main peaks matching the sample (black) and library item (red).
An explosives chemist warned by phone that it was an obscure primary high explosive, but they couldn't reconcile the clues in front of them with a plausible explanation. For example, what is the purpose of the acid?
The technician's colleague tried to confirm the identification with an FTIR instrument, but the sample was not responsive to initial FTIR testing. FTIR spectrometers are exceptionally useful for identifying unknown chemicals of a variety of colors. They will not generate heat during the sampling process, which makes it an ideal tool for verifying substances such as: smokeless powders and colored materials, (the reaction of the gray powder in the flame test gave confirmation of the suspected identification of flash powder, which is more a category of explosive material rather than a single compound.  (Read more:  Explosives Identification Using FTIR Technology.) See table below, [source: article in IABTI The Detonator magazine.]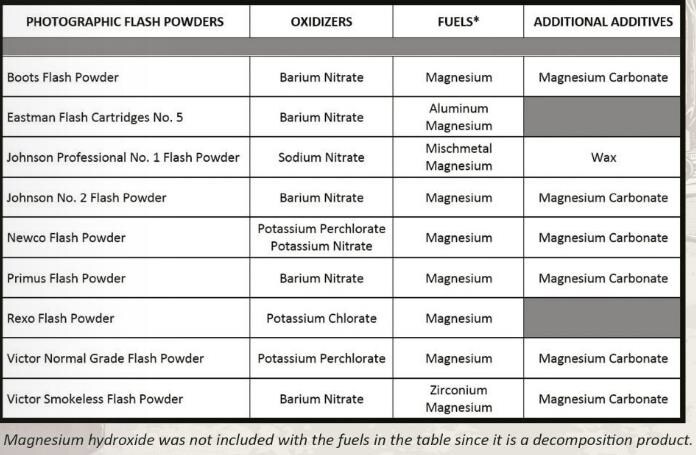 You might be asking yourself:  Do you mean you tried several times with Raman?  Why did it not work initially, then it came up with the ID?
Good question! The swimming pool chlorine is commercial grade, not lab grade and has contaminants in it. The spectra for calcium hypchlorite and ammonium iodate are similar (compare the two spectra in the images). The two green results in the handheld Raman spectrometer are interpreted to mean that the instrument is confident one or the other is present, but not both. The instrument also reports that the substance on the screen is present; not that the sample is all that substance.
Some compounds are Raman responsive and some are FTIR responsive. There is about 70% overlap in the instrument library, so most times they confirm. About 15% of the time Raman works when FTIR does not. See attached PowerPoint.
Note that there are some chemical identification products that utilize both FTIR and Raman technologies in one instrument.
Repeated analysis finally led to the positive identification of a common chemical, calcium hypochlorite, which would produce toxic chlorine gas when combined with the now-confirmed acid in the kits.
Since it's a big jump from ammonium iodate, a high explosive, to calcium hypochlorite (also known as swimming pool chlorine), the technician needed confirmation.  Now knowing the chemical and physical information for calcium hypochlorite, he was able to prove the white powder was confirmed by testing as:
An oxidizer with a KI-Starch test strip
Water soluble by mixing a small amount in water
Basic with a pH test strip
The source of the medicinal odor (bleach) when mixed with water
The exploding flash powder could do the work of mixing the two materials.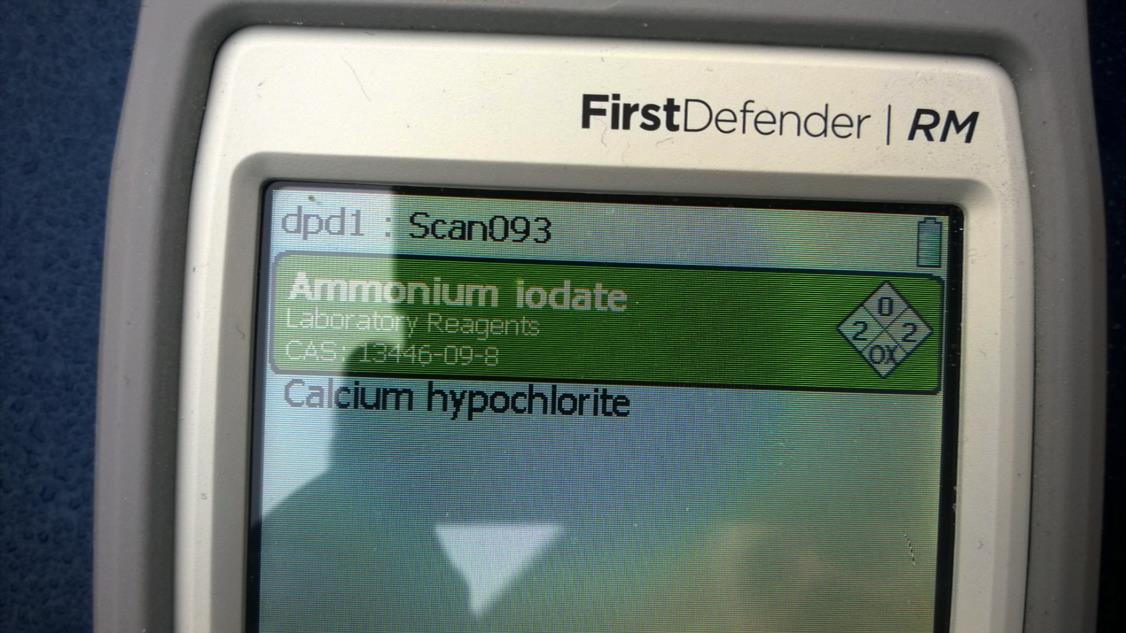 Screenshot of Raman test indicating one or the other compound is present, but not both. The interpretation of a green, two-result identification means RM is confidant one or the other are there, but not both. This is not a mixture.
The white powder turned out to be one of the components for six small chemical dispersal devices. The only things missing were power sources and switches.
Editor's Note: You can read the whole story, with more specifics and lessons learned, in an article provided by Houghtons, Inc., a small privately held company that provides training, test methods and technical assistance to public and private sector organizations responsible for emergency response. You can contact principal Rick Houghton at https://hazardid.com.)
For more unknown material identification information, visit the Safety and Security Threat Detection section of our website.