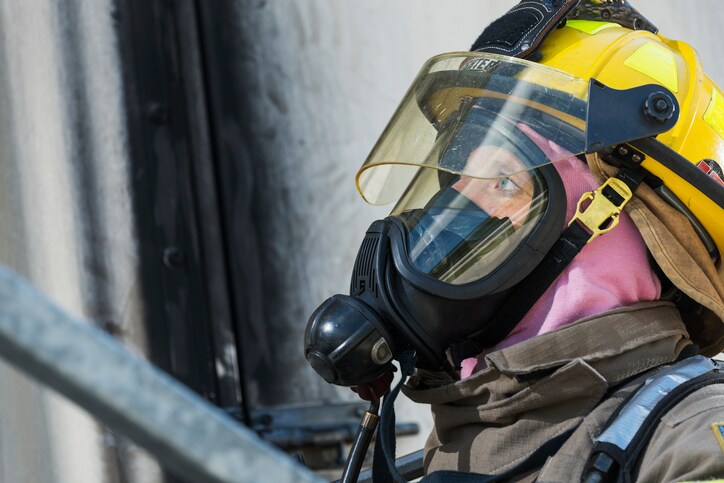 When the alarm rings and firefighters spring into action, they may not know what they will be facing until they get to the emergency event.
As the first responders to an emergency, firefighters may be walking into an unknown chemical or radiological hazard. These threats to firefighter safety can range from flammable and explosive materials to industrial chemicals that may be precursors for explosives or chemical warfare agents. Unsecured radioactive sources can lead to catastrophic scenarios for emergency response teams and can have devastating, long-term implications for the surrounding community.
Just as important as the protective clothing they wear, firefighters need to protect themselves from chemical and radiation threats.
Radiation Protection for Firefighters
Radiological material is used throughout the world for medical and industrial purposes. One of the most common threats is the unknown industrial source in an abandoned warehouse fire or a source unlabeled in a poorly maintained operations facility. Another common issue involves firefighters getting large doses of medical radiation when they didn't know there was a problem. If there is an incident that happens at a facility that contains a source, the firefighters and first responders need to be prepared. Technology is available that can provide high performance radiation detection and radionuclide analysis for any scenario. There are portable instruments that can quickly distinguish between naturally occurring radioactive material (NORM) and radiation from man-made sources such as nuclear weapons, improvised nuclear devices (INDs), or radiological dispersal devices (RDDs). Radiation detectors need to become standard protocol in places where radiological material can be easily accessed.
Radiation Detection & Identification and Post Incident Support
Firefighters and first responders must be able to detect radiation contamination at critical infrastructure and be able to secure the area from orphaned, unknown, and hidden radioactive threats. With radiation detection and measurement systems, early warnings of airborne radiation threats and detected radiation contamination at critical infrastructure can provide enough information to know to clear personnel quickly in radiation controlled areas. This will help prevent the spread of radioactive contamination to keep people and facilities safe, and outside areas secure.
Chemical Identification and Post-Incident Support
Firefighters may be called on to analyze and identify potentially explosive chemicals, unlabeled spilled material, or the contents of illegally dumped drums containing toxic chemicals. As chemical identification becomes more complex, the need for non-contact, non-destructive analysis is greater than ever. There are portable chemical analyzers and radiation detectors to help ensure firefighter safety and enable first responders to take appropriate action in the hazard zone.
Flames are scary enough; but flames mixed with unknown chemicals or radiation can increase the emergency exponentially. Let's make sure our firefighters are equipped to immediately identify the situation.
Read more about these types of technologies in the Safety and Security Threat Detection section of our website.