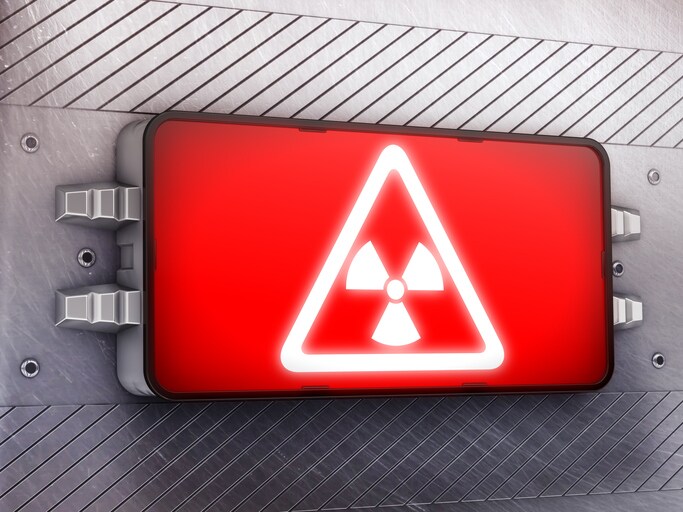 Unwanted Radioactive Material, also known as Orphan Sources, refers to sealed sources of radioactive material. These sources can be dangerous – not only because they can inadvertently contaminate our scrap recycling stream but they can unintentionally (or intentionally) get into the hands of criminals who may want to build dirty bombs.
But how do they get into our supply and where do they come from. Many people do not realize that radiological sources are used extensively in the industrial and medical industries. The United States Nuclear Regulatory Commission, reports that there are many and varied uses of radiation in industry:
"In irradiation, for instance, foods, medical equipment, and other substances are exposed to certain types of radiation …to kill germs without harming the substance that is being disinfected — and without making it radioactive. When treated in this manner, foods take much longer to spoil, and medical equipment (such as bandages, hypodermic syringes, and surgical instruments) are sterilized without being exposed to toxic chemicals or extreme heat. As a result, where we now use chlorine — a chemical that is toxic and difficult-to-handle — we may someday use radiation to disinfect our drinking water and kill the germs in our sewage. In fact, ultraviolet light (a form of radiation) is already used to disinfect drinking water in some homes….
Many of the fabrics used to make our clothing have been irradiated (treated with radiation) before being exposed to a soil-releasing or wrinkle-resistant chemical. This treatment makes the chemicals bind to the fabric, to keep our clothing fresh and wrinkle-free all day, yet our clothing does not become radioactive. Similarly, nonstick cookware is treated with gamma rays to keep food from sticking to the metal surface….
All around us, we see reflective signs that have been treated with radioactive tritium and phosphorescent paint. Ionizing smoke detectors, using a tiny bit of americium-241, keep watch while we sleep. Gauges containing radioisotopes measure the amount of air whipped into our ice cream, while others prevent spillover as our soda bottles are carefully filled at the factory."
These are just a few of the ways radiation is used. Hospitals have many diagnostic and treatment equipment that contain radioactive sources. It is ironic that the same material that could save a life, could also threaten health if used negligently. And if the sources are disposed of irresponsibly, and end up in a pile of scrap metal, contamination can become widespread and become a public health threat.
For instance, a Cs-137 source was melted at steel mill, vaporized and contaminated the bag house dust. The emission system was shut down, causing contaminated flue dust to back up into the secondary bag house. The US EPA reported that it took three weeks and an estimated $25 million to clean up. In two separate incidents, 500,000 lbs. and 1.4 million lbs. of low level radioactive dust were produced and required specialized disposal.
A few years ago, the International Atomic Energy Agency (IAEA) reported that they were aware of, on average, 150 or so serious "events"/year involving scrap metal. Here are just a few examples: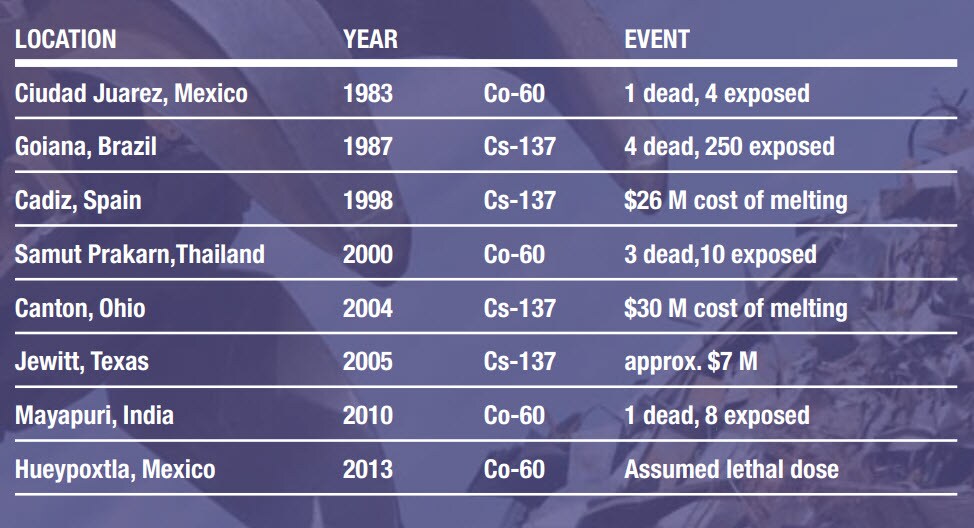 Long before the security threat posed by radioactive sources was thrust to the forefront by the terrorist events of 9-11, the threat was and still is real for industrial operations, and the costs to worker safety, equipment decontamination or replacement, and lost productivity can be significant.
We know how these sources enter our scrap metal stream, but now we need to find a way to identify them and keep them out before they do harm. There are Automatic Scrap Monitoring Systems that monitor vehicles entering the scrap yard, or processes within the facility, and provides accurate, reliable detection of radiation sources commonly found in scrap metal. With high performance and a low false alarm rate, the system rejects radioactive materials before they can harm people or the environment. Personal Radiation Detectors provide sensitive and fast detection of gamma radiation with accurate dose rate measurements for workers. We can think of at least 10 different places in a recycling yard where radiation detection and monitoring equipment can be used. [See this infographic: 10 Reasons (and Places) Recyclers 10 Need Radiation Detection.]
If a contaminated source enters your recycling facility, it has the potential to contaminate your metal inventory. That could cost you millions of dollars in cleanup, healthcare costs to exposed workers, finished product scrap, reimbursement, and damage to reputation. Protect your facility and your business and find the orphan source before it becomes a threat to your bottom line.