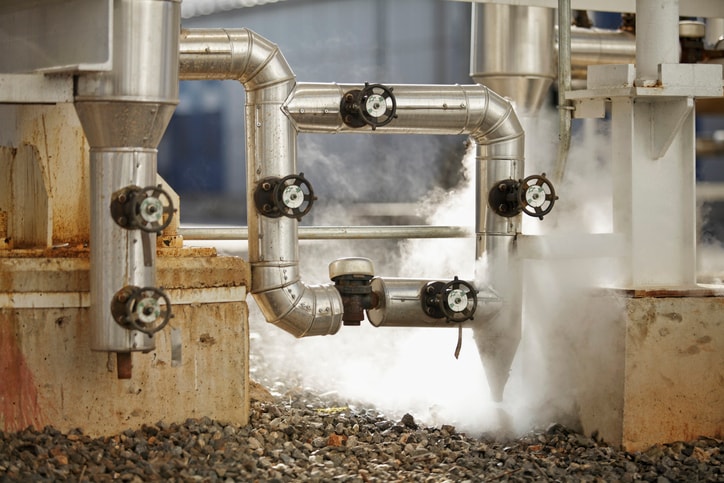 Toxic Vapor Analyzers utilize both Flame Ionization Detector (FID) and Photoionization Detector (PID) technology to monitor potentially hazardous organic/inorganic vapors for the gas survey industry. (We previously wroted about FID,)
PID consists of an ultraviolet (UV) lamp of a specific energy and an ionization chamber (see Figure 1–2). Compounds passing through the chamber are excited by photons of UV energy and ionized according to the following equation:

These ions are attracted to a collecting electrode, producing a current proportional to the concentration of the compound.
Whether or not a compound can be detected by a PID depends upon the energy required to remove an electron from the compound (its ionization potential). If the lamp energy is greater than the compound's ionization potential, the PID will detect it.
Because of its smaller dynamic range (0-2000 ppm), the PID is not the detector of choice for measuring high concentrations of vapors. A PID is also more susceptible to interference from water vapor than a FID.
However, as a PID does not require hydrogen or oxygen, it is the detector of choice when fuel is limited or unavailable, or when ambient oxygen concentrations are low. The PID is also very sensitive to aromatic and chlorinated compounds, and can even measure some inorganic compounds that the FID does not detect at all (ammonia, carbon disulfide, carbon tetrachloride, chloroform, ethylamine, and hydrogen sulfide, to name a few).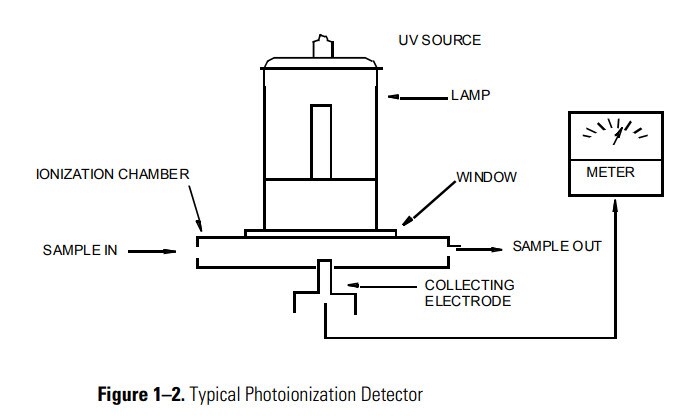 Benefits of Photoionization Detection include:
High sensitivity to aromatics, unsaturated hydrocarbons and chlorinated hydrocarbons
Ability to measure some inorganic gases
Very simple operation
No support gases required
Non-destructive detector allows sample to be recovered
When analyzers utilize both FID and PID technology, more complete information about organic and inorganic vapors can be accessed more quickly and easily than with single detector technology alone.
What's better: FID or PID Technology?
It depends, so the best instrument offers simultaneous detection. Since both detectors may be displayed and logged simultaneously, the relative response of the two detectors may give some clues about the identity of the compound being measured (see Figure 1–3). For instance, the PID does not respond to methane at all, but the FID responds very well. A high FID reading with virtually no PID response might indicate the presence of methane. Consequently, PIDs respond very well to some inorganic gases that FIDs cannot detect. A high PID reading with no FID reading might suggest the presence of an inorganic compound.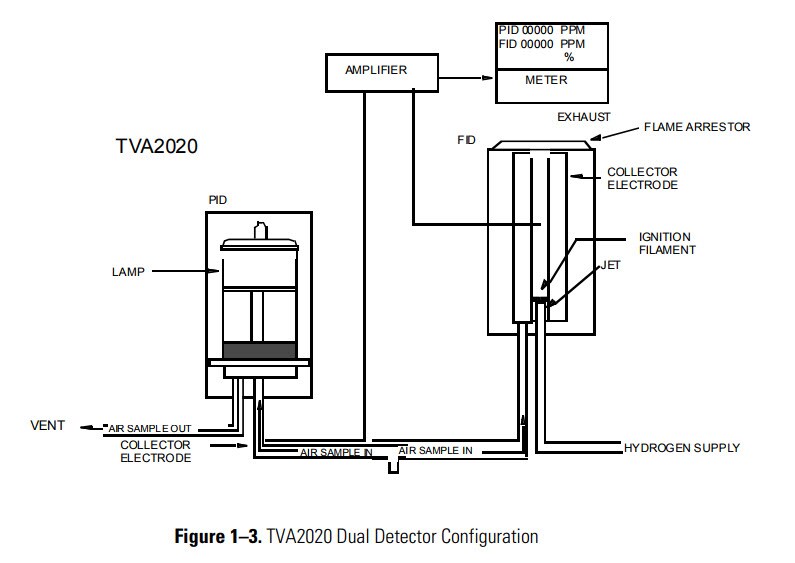 With readings from both detectors readily available, the dual detection analyzer can help a user make decisions about the type of compound present and which detector reading to use in order to comply with U.S. EPA Method 21 and LDAR programs.
Editor's Note: Sign up for Fast5 enewsletter, for free gas analyzer and system tips and tricks