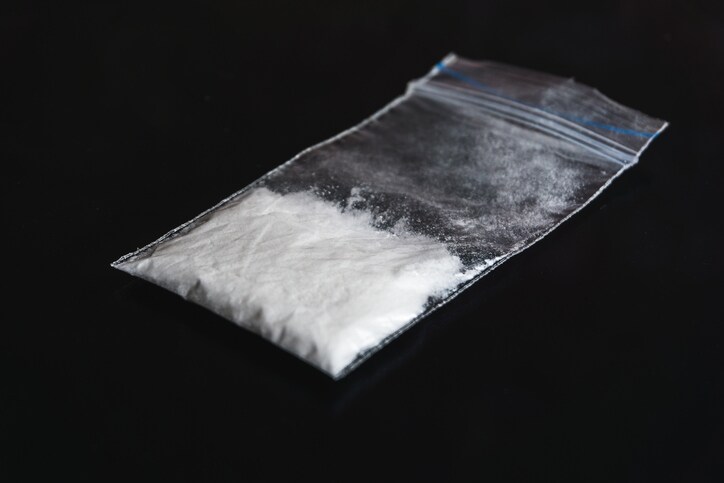 First responders faced with an unknown chemical substance have a number of immediate challenges, including choosing the most appropriate technology to assess the situation. Response tools for solid and liquid chemical identification include analyzers based on Raman spectroscopy, analyzers based on Fourier Transform Infrared (FTIR) spectroscopy, and analyzers that incorporate both of these lab-proven techniques in a single handheld instrument.
In both FTIR and Raman spectroscopy, the instruments acquire a spectral fingerprint of an unknown substance, and then compare the collected fingerprint against a reference library. Both methods are lab-proven, precise optical technologies offering distinct advantages in specific applications. Used together, FTIR and Raman spectroscopy provide a broader range of unknown substance identification—and better protection for the responder and the community.
Optical Techniques for Chemical Identification
FTIR and Raman spectroscopy measure the interaction of energy with the molecular bonds in a sample of an unknown material. FTIR measures how much light is absorbed by the bonds of a vibrating molecule; that is, the remaining energy from the original light source after being passed through the substance. In comparison, Raman measures the energy that is scattered after being excited by a laser.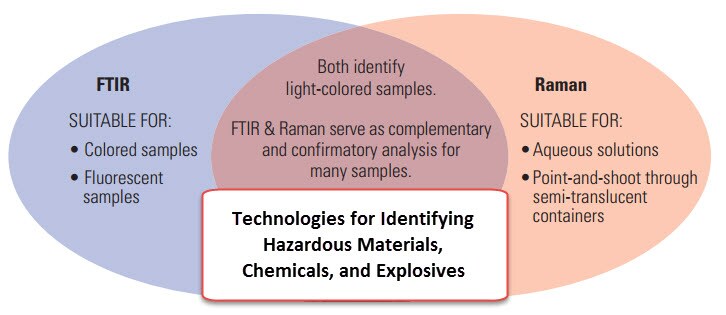 FTIR is an absorption spectroscopy technique, where mid-infrared light is passed through the sample. Some wavelengths may be absorbed while others merely pass through the sample unaffected. Specific molecular bonds absorb a specific amount of energy and these losses of energy correspond to the peaks returned in an analysis. FTIR absorptions provide outstanding and easily interpretable results for many substances. FTIR spectroscopy is best used as a primary analysis technique in the following scenarios:
Colored Substances: Highly effective in identifying unknown solids and liquids of various pigmentations including industrial dyes, pigments and oils.

Fluorescent Materials: Many colored samples produce optical noise called fluorescence during Raman sampling, which can obscure the spectral fingerprint of the substance. FTIR spectroscopy is ideal for fluorescent samples since it measures absorption of light, effectively eliminating this identification challenge

Raman is a vibrational spectroscopy technique where a single wavelength laser is focused on a sample. The laser excites the bonds of a molecule, which generates measurable scattered light to identify the material in question. Raman is a highly effective method for reliable identification of an unknown substance based on its underlying chemistry. Raman spectroscopy is best used as a primary analysis technique in the following scenarios:
Sealed Containers: As an optical technique, handheld Raman spectrometers can operate in a point-and-shoot mode and analyze substances contained in transparent and translucent containers. This eliminates the need for direct contact with potentially hazardous unknowns. An integrated vial mode may be available so it can also be used to analyze materials in standard colorless and amber glass vials.

Aqueous Solutions: Raman spectroscopy virtually disregards water in samples (because of the very weak Raman signal) and is able to provide superior identification of potentially threatening materials in aqueous solutions.

White or Light Colored Powders: Raman spectroscopy excels at the identification of white and light powders as these typically have very strong measurable Raman signals.

Hazardous materials and explosives chemical identification tools are designed to leverage the power of each technique to maximize coverage of a broad range of unknown substances. When used alone, each technology quickly provides the analytical results needed to evaluate and identify unknown substances for safe remediation. When used together, they can serve as confirmatory techniques, providing a more comprehensive identification for greater confidence in response.
You can read more about these technologies in the Application Note: Raman and FTIR Spectroscopy: Complementary Technologies for Chemical and Explosives Identification.