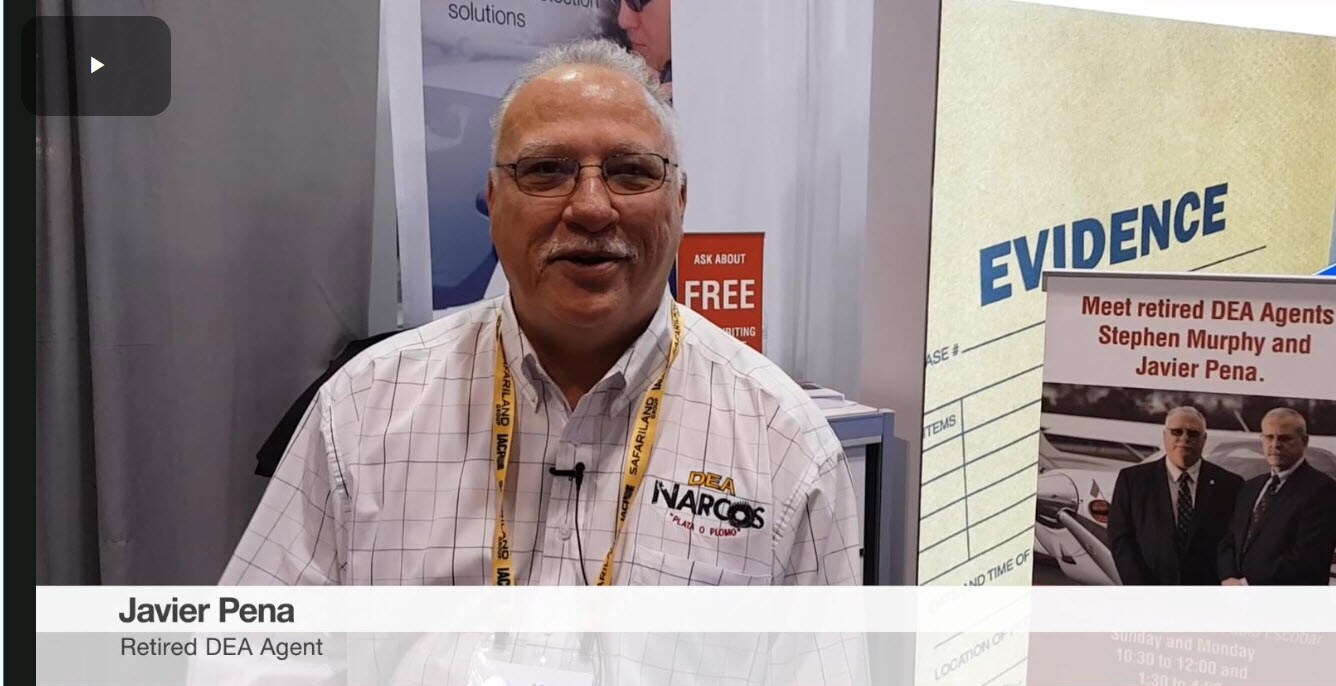 Retired DEA Agent Javier Pena, one of the agents who helped take down an infamous Colombian drug lord, wishes he had some of the latest technology when he was an active agent. Pena, who was instrumental in the case of the notorious Colombian drug lord and narcoterrorist, Pablo Escobar — and whose story inspired the hit Netflix™ Series NARCOS™ — encourages law enforcement to use handheld narcotics analyzers to identify the drugs that are out there.
Pena says that during his 30 years on the force, he saw a lot of dope.  But to identify it, he would have to carry special capsules that had to be broken and mixed in with the unknown substance. The law enforcement officer would have to break the ampoule, insert some of the unknown substance, close the ampoule, shake it so it mixes, then watch for it to turn a color. Through a wet chemical reaction, the substance would change colors depending on the substance; the color could then be compared to a color chart to indicate the presence of drugs like cocaine or heroin.  He explains that now there are instruments that utilize sophisticated technology to accurately identify unknown substances, and all sorts of drugs, without having to touch it, and without any guessing of colors.
These latest instruments, handheld narcotics analyzers, utilize Raman spectroscopy, a well-established analytical technique, and are used in the field to identify key drugs of abuse as well as common cutting agents, precursors and emerging threats such as fentanyl and carfentanil. You can find out how police departments that are currently using narcotics analyzers in the field use the technology to help fight the drug crisis.
These handheld narcotics analyzers can test unknown substances without requiring that they be removed from packaging, which means that the first responders and law enforcement officials can avoid direct contact with the substance.
Pena, who was interviewed on video at a law enforcement event, said that he wished he had these instruments back in the 80s "because there was a lot of dope out there and we did not know what it was."
NOTE:  You can meet Retired DEA Agents Javier Pena and Stephen Murphy in person at the upcoming IACP Show.  Details below…
Show Details:
IACP Annual Conference and Exposition
Booth 2517
October 26-29, 2019
Chicago, IL USA
Visit us at IACP 2019 in Chicago, IL, BOOTH 2517, to hear the true story about the DEA investigation that led to the downfall of notorious Colombian drug lord and narcoterrorist, Pablo Escobar. Ex-DEA Agents Steve Murphy and Javier Pena will be on hand to share their story and answer questions.
Pre-register now, and when you visit us, you can pick up your free signed copy of their not yet released new book Manhunters!
Manhunters is the explosive memoir of the two legendary drug enforcement agents responsible for taking down Pablo Escobar and the subject of the hit Neflix™ series 'Narcos'.
Sunday October 27th:
10:30 a.m. – 12:00 p.m.
1:30 p.m. – 4:00 p.m.
Monday October 28th:
10:30 a.m. – 12:00 p.m.
1:30 p.m. – 4:00 p.m
Additional Resources on our website: