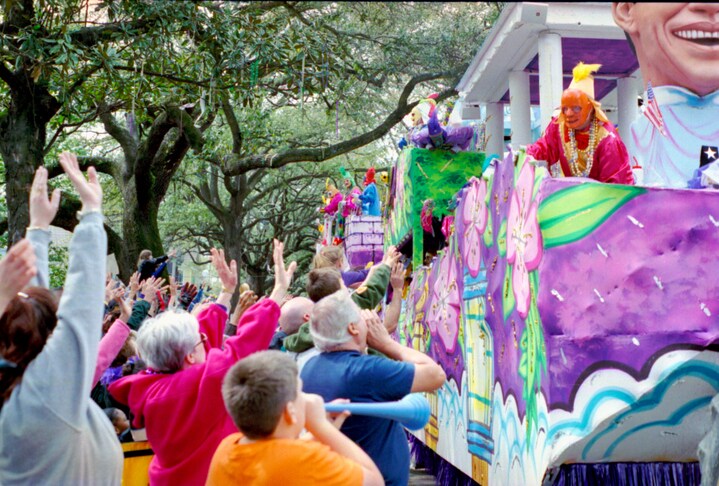 The self-proclaimed official guide to New Orleans counts 30,000 hotel rooms in the New Orleans Metro area. These hotels are usually completely filled during the Carnival season. Mardi Gras, or "Fat Tuesday," is the last day of Carnival and usually hosts one of the biggest crowds. There are 70-75 different parades that run in the greater New Orleans area every year and cover a total of 134 miles. Those parades consist of 822 floats, 402 bands, 60 horses, 94 vehicles, and 21,000 float riders. Typical attendance for Mardi Gras in New Orleans is over a million people.
How can a police force protect all of them?
A million people is double the size of the population of New Orleans. Last year the local newspaper reported that the New Orleans police force numbered less than 1200 officers. The state of Louisiana loans some of its officers during Carnival season, but protecting over a million people is a large task, to say the least. First responders' hands are usually full with attending to out-of-control drunken revelers, injuries caused by over-aggressive parade goers competing for beads, and keeping the peace among a very rowdy crowd that lines the miles and miles of streets throughout the city to get glimpses of the unique floats.
And after the Boston Marathon bombing in 2013, where three spectators were killed and more than 260 other people were injured when two bombs went off near the finish line, police, in general, have become more diligent about looking for explosive threats along the parade route. Even more frightening is the growing concern that the widespread availability of radiological materials may result in a dirty bomb attack. A dirty bomb, or radiological dispersal device, combines radioactive material with conventional explosives. The conventional materials explode to spread the radioactive substance, contaminating people and infrastructure with radiation. If one of these bombs ever went off along the Carnival parade routes, it would be a national tragedy.
There is technology that enables safety and security radiation monitoring of all traffic and fans along any parade route in any city. Police departments can utilize an army of products utilizing this technology that can monitor, detect, and measure radiation as well as provide baseline scans prior to an event and then monitor for changes during the event.
5 Radiation Detection Technologies for Monitoring Parades
Here are five Radiation Detection Technologies that can be used at a parade:
We have created a diagram of a typical parade route scenario, and outlined the appropriate places where these types of radiation monitoring and detection equipment can be placed. You can view it here: Parade Route Radiation Monitoring document and diagram.
The Mardi Gras colors of purple, green, and gold symbolize justice, faith, and power. You'll see those colors on beads, masks, and flags covered with a Fleur De Lis design. With proper radiation planning and technology, the city of New Orleans can help ensure that the only flags you see flying throughout the city are decorated with the Carnival three-colored stylized lily, and not the international radiation trefoil symbol.
Editor's Note: Mardi Gras 2018 falls on Tuesday, February 13. You can view a countdown clock and learn everything about Mardi Gras on this website.