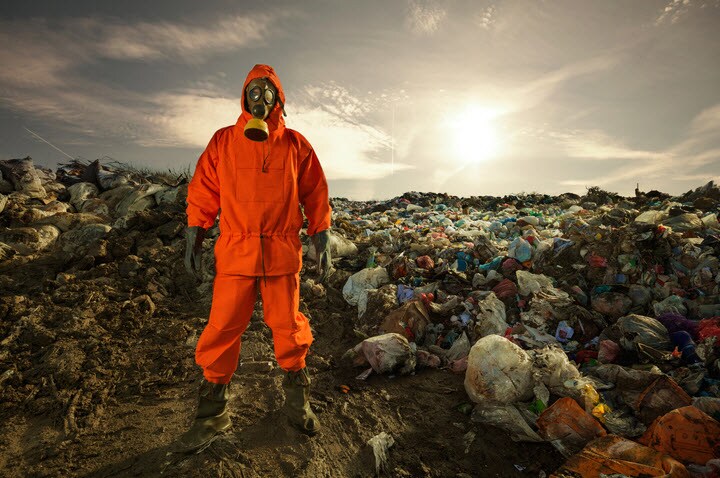 The US Environmental Protection Agency describes modern landfills as "well-engineered facilities designed to receive specific kinds of waste, including municipal solid waste (MSW), construction and demolition debris (C&D) and hazardous waste. Landfill facilities must be designed to protect the environment from contaminants, which may be present in the solid waste disposed in the unit."
What you should also know is that landfills can contain hazardous, and even radioactive, materials.
Asbestos Threats
It's illegal to knowingly dispose of asbestos in a landfill. Demolition companies in many states must test their construction and demolition (C&D) waste and certify that it's "clean", meaning that it is free from asbestos and lead, before placing it in a municipal landfill. An "asbestos survey" certifying that there's no asbestos may be required at landfill sites before C&D can be disposed of.
C&D materials containing asbestos are regulated by the EPA and must be disposed of separately from other C&D materials. The EPA has developed minimum technical criteria that industrial landfills must meet (40 CFR Part 257). Solid waste disposal, including non-hazardous industrial waste, is overseen by the states. Some states may impose requirements that are more stringent than the federal requirements. (You can read more here: Industrial and Construction and Demolition (C&D) Landfills.)
For example, the New York State Department of Labor (DOL) has the in-state authority to regulate asbestos under The Clean Air Act and Resource Conservation and Recovery Act (RCRA). The DOL regulates inspection and assessment activities for asbestos as well as the safe removal and handling of asbestos-containing materials (abatement). The New York State Department of Environmental Conservation (DEC) regulates the transportation and proper disposal of asbestos-containing materials, wastes, and soils. Disposal information is outlined in detail on their website:
All material containing asbestos must be accompanied with a proper non-hazardous waste manifest form…. In accordance with NYS DOL Code Rule 56, Subpart 5 [CR 56-5.1 (c)], a building/structure that is certified to be unsound or slated for contracted demolition, the building/structure shall be assumed to contain asbestos, and shall be demolished and removed in accordance with DOL CR 56 guidelines, unless the building/structure is adequately certified to be free of asbestos-containing material. Acceptable documentation for certification shall be a previous thorough building/structure asbestos survey, abatement records or other documentation acceptable to the NYS DOL.
The Department of Environmental Quality (DEQ) has very specific rules regarding the handling and disposal of materials containing asbestos. Prior to any demolition activities, DEQ requires an asbestos survey be performed by an accredited inspector to determine if there is asbestos present in or on a structure.
Detecting asbestos-containing materials (ACMs) in homes and commercial buildings prior to demolition or renovation is critical to prevent asbestos exposure. In the past, asbestos detection was limited to accredited lab-based analysis techniques such as polarized light microscopy, transmission electron microscopy and x-ray diffraction. Lab-based tests are costly and may require 1 to 2 weeks to complete, becoming even more expensive if a quick turnaround is required.
Handheld near-infrared spectroscopy (NIR) asbestos analyzers can help prevent asbestos exposure on site by identifying asbestos fibers in a wide range of construction materials including tiles, flagstones, ceilings, heat insulation, braids, cords, coatings, cements and fiber cements, joint compound, adhesives, covers, boarding and other materials. Designed for expert and nontechnical users alike, handheld asbestos analyzers are self-contained and can perform accurate on-site analysis in seconds.
Lead and Other Toxic Metals
Toxic metals such as lead, mercury, and cadmium potentially touch our lives every day, from paint in homes and buildings to clothing, toys, and electronics. The paint on toys may contain lead, cadmium, and barium. The paint and wood finishes used in furniture, as well as the plastic, metal and other components used to build these furnishings, can contain hazardous levels of lead.
The U.S. Consumer Product Safety Commission (CPSC), the European Union's Product Safety Enforcement Forum (PROSAFE), and other regulatory agencies screen consumer products for lead and other regulated elements including barium, antimony, selenium, cadmium, mercury, arsenic, and hexavalent chromium. They use consumer goods x-ray fluorescence (XRF) analyzers that are capable of differentiating between lead on the surface of an object such as clothing, and lead that exists in all other substrates. By enabling rapid screening of metals, plastic, wood, fabrics, and paints at the receiving dock, in the warehouse, during product assembly, and in finished goods, XRF analyzers greatly reduce the chance that hazardous materials will enter the manufacturing process or accidentally end up on store shelves.
However, there are plenty of these items that have been in homes for many years, before regulations were put in place. And sometimes international shipments slip into the US without being screened. When these items are tossed in the trash, they could end up in a landfill. Builders and remediation specialists need to minimize exposure and risk with on-site environmental hazards screening for lead and other hazardous materials in the field.
Radiation Threats
Medical diagnostic and monitoring equipment use radiological sources. Industries that make certain batteries, non-stick cookware, wrinkle-resistant fabrics, reflective signs, paper products, and many, many other products utilize radioactive substances and equipment that contains radioactive sources. Academic and scientific institutions use nuclear materials in their work. There is a wide range of industries and a wider variety of applications that utilize these sources.
During demolition and deconstruction, these items could be tossed in the trash and taken to a landfill. It takes just one orphan source to become a threat to the public's health. The US Environmental Protection Agency has created Radiation Training Presentations for Scrap Metal Processing and Demolition Sites to train personnel in the identification and proper handling of radiation sources that could be encountered at scrap metal facilities or demolition sites.
There are automatic scrap monitoring systems that monitor vehicles entering landfill areas, and provide accurate, reliable detection of radiation sources commonly found. Demolition companies use portal monitoring equipment to segregate out scrap metals for recycling from material destined for the land fill. There has been a strong focus on screening scrap metal for orphaned sources because of the clean-up costs and potential human exposure if these sources are breached during the material handling process at the scrap yard, or melted during the metal making process.
Radiation can be a problem at a landfill, however, nuisance alarms can be problematic as well. Approximately 80% of all radiation alarms at landfills are caused by NORM (Naturally Occurring Radioactive Material) or medical isotopes with short half lives. Landfills and transfer stations in states like Pennsylvania and New York are using handheld radiation isotope identifiers that utilize gamma spectroscopy and personal radiation detectors with intelligent alarming to quickly identify the isotope causing the alarm (from portal monitors) and using that knowledge to guide how they react. They could allow the load with a medical isotope, for example, to be dumped into the landfill and let it decay down to nothing there, or get the state's Bureau of Radiation Protection to get directly involved on site if a more regulated isotope like Cesium 137 or Cobalt 60 is identified.
Summary
From hazardous site modeling and risk assessment to on-site containment screening and abatement, decisions about landfill contaminants must be made quickly to protect workers from exposure to toxins and radiation, and to minimize the spread of contamination in the environment.
Further Reading