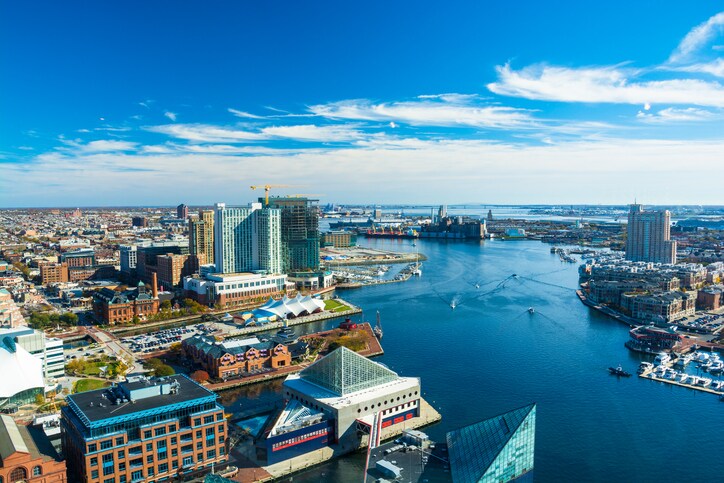 There are more than 300 land, air, and sea ports in the United States that receive imported cargo. Border patrol and customs agents face the daunting challenge of deterring dangerous substances such as illegal narcotics, new synthetic drugs, potential chemical weapons, and explosives, from entering the country while facilitating commerce and safe travel. (Read Protecting Borders and Those Who Protect Our Borders.)
A press release published by the Maryland Port Administration earlier this year touted the news that for the 10th consecutive year, the state-owned, public marine terminals at the Helen Delich Bentley Port of Baltimore received a top rating on an annual security assessment from the U.S. Coast Guard for 2018. Each year Coast Guard Sector Maryland conducts a comprehensive inspection of the Port's state-owned marine terminals to ensure they are within compliance of federal security regulations.
Baltimore handles approximately 40 million tons of cargo, valued at $54 billion, at public and private terminals. Baltimore's port is one of the fastest growing in the country. In 2017, a record 596,972 containers made their way across the Port's piers. Through October 2018, containers were five percent ahead of the previous year's record pace.
These are good reasons the Baltimore Port Authority caught the eye of the vice president of the United States. According to WJZ 13 CBS Baltimore, Vice President Mike Pence was in Baltimore for a tour of Border Customs and received a demonstration of the modern technology designed to keep America safe. The briefing of the inspection systems included the equipment used to help detect drugs, weapons, and illegal merchandise.
The news television video shows border control officers demonstrating one of the vital instruments they use to keep America safe: an integrated Raman and FTIR handheld instrument that provides complementary and confirmatory testing in a single, field-portable device. Using this material identification device, border control officers can identify a broad range of unknown chemicals and explosives in the field quickly, safely, and confidently. It can ascertain unknown solids and liquids — from illegal narcotics and synthetic drugs, to explosives and chemical warfare agents, to industrial chemicals and precursors.
We previously wrote about this technology in a similar situation about the dangers that could be hidden in air cargo and how there is the chance that radiological and chemical devices that pose a threat, could be included in air cargo. Rapid, precise identification of explosives is one of the key tasks for homeland security and public safety personnel, especially with the marked increase of improvised explosive device (IED) usage worldwide. The use of homemade, improvised chemical threats and the use of locally manufactured ordnance items by terrorist organizations are growing concerns, and these devices can be incoming or outgoing by air, or by sea.
Besides radiological and chemical devices, illegal drugs also pose a threat at the borders. The United States Customs and Border Protection (CBP) seized nearly 1,500 pounds of fentanyl during fiscal year 2017. Robert Gross, chief watch commander, wanted to remind readers that "A dose of fentanyl is only 1 milligram (.000035 ounces)…So a kilo of fentanyl has one million doses in it. And it only takes about 2 milligrams (.000070 ounces) for a fatal dose. So the numbers don't sound big, but they're actually huge."
U.S. Customs and Border Protection officers at a New York mail facility were using these spectroscopy devices — along with dogs trained to detect narcotics — as their latest weapon in stopping illegal drugs from getting into the country.
In that location alone, about a million international packages are received each day and screened for illicit items. According to the article, packages are put through an x-ray scan and suspicious packages are placed to the side and opened. If any powders are found, officers are able to use a spectroscopy device that utilizes both FTIR and Raman technology to identify the unknown substance. Raman spectroscopy provides non-intrusive inspection without the officer having to touch the powder itself." (Read Using Spectroscopy Instruments at the Airport to Screen for Incoming Drugs)
Our global economy poses serious challenges for our borders. More people and goods are crossing borders than ever before, resulting in large numbers of pedestrians, vehicles, and freight containers passing through secured borders every hour, often on a 24/7 basis. Border agents face a number of issues, whether it's in Baltimore or anywhere else in the United States.
Editor's Note: Click here to see Threat Identification Solutions for Customs and Borders