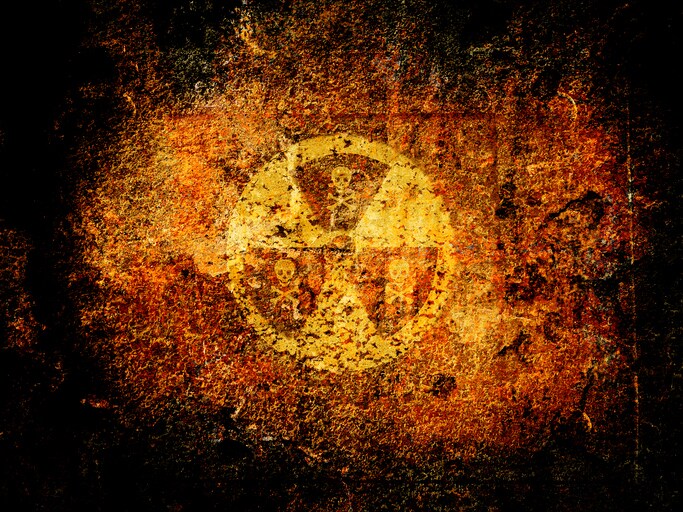 The actual 'dirty' part of a dirty bomb is the radioactive particles that are scattered as a result of the explosion. The United States Nuclear Regulatory Commission (USNRC) defines a dirty bomb as one type of a radiological dispersal device (RDD) that combines conventional explosives, such as dynamite, with radioactive material.
In a dirty bomb, the ionizing radiation would come from radioactive isotopes (also called radioisotopes). The website "How Stuff Works" explains that "Radioactive isotopes are simply atoms that decay over time. In other words, the arrangement of protons, neutrons and electrons that make up the atom gradually changes, forming different atoms. This radioactive decay releases a lot of energy in the form of ionizing radiation…. A dirty bomb would boost the radiation level above normal levels, increasing the risk of cancer and radiation sickness to some degree. Most likely, it wouldn't kill many people right away, but it could possibly kill people years down the road. "
Where does someone obtain radioactive material to add into an explosive? Nuclear plants, both in the US and abroad, are of course a possibility.
However, radioactive materials are used extensively in the medical field. There are diagnostic and therapeutic procedures that utilize nuclear medicine. The Centers for Disease Control and Prevention reports that diseases treated with nuclear medicine procedures are hyperthyroidism, thyroid cancer, lymphomas, and bone pain from some types of cancer. So hospitals, doctor's offices, and cancer treatment centers could be a source – as well as manufacturing plants that build the equipment used by the medical industry and pharmaceutical companies that make the medicine.
In addition, food, water, and other beverages are irradiated by processing plants to ensure products are safe for consumption. Construction crews utilize portable density gauges and non-invasive inspection tools daily with strong radioactive sources to verify structural integrity of buildings, roads, and bridges, with several documented cases of gauges being lost or stolen. Scrap yards and metal recycling facilities may inadvertently have large, orphaned radiation sources in its pile of scrap metal, typically from long ago closed factories and warehouses.
This YouTube video shows a map of the United States and the industries and locations where radiation threats can originate.
Fortunately, there is radiation detection and measurement technology for routine monitoring and surveillance to help mitigate the threat and keep you safe. Radiation detection solutions provide comprehensive, real-time monitoring, early warning, and complete information so you can identify and protect against radiation threats. Handheld Radiation Isotope Identifiers (RIIDs) are often used in searching for materials that could make a dirty bomb.
However, those devices are relatively large and require dedicated personnel to deploy and monitor. Now there are compact, pager-sized portable radiation detection and identification instruments to detect, locate, and identify radioactive nuclides such as nuclear weapons, dirty bombs, and orphaned or purposely masked sources, that are as small as your mobile phone, and can passively monitor from your belt, pocket or vest allowing you to monitor for radiation while still focusing on your primary, overarching, security mission. In addition, these small devices cost fractions of what a RIID costs, allowing large deployments to find that "needle in the haystack" more effectively.
The hope is finding a dirty bomb before you have to clean up after it.