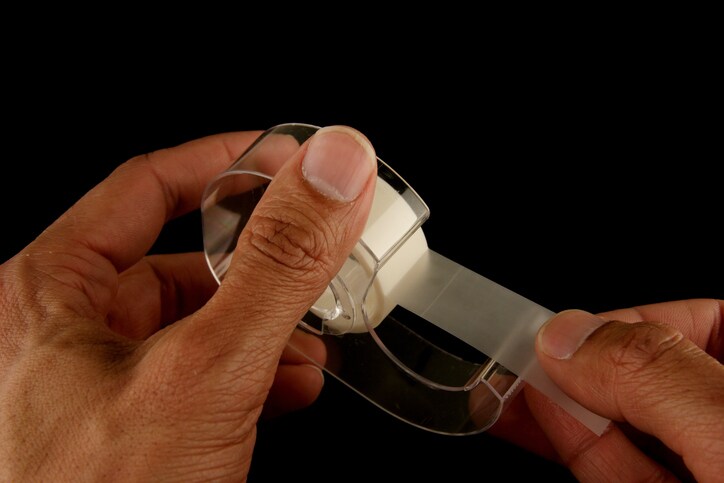 As we learned in previous articles, first responders faced with an unknown chemical substance can utilize analyzers based on Raman spectroscopy, a technology that enables users to safely analyze materials, even through sealed translucent containers. However, samples that could fit on the head of a pin can be challenging as there's usually a minimal sample size recommended by the manufacturer.
Here's a technique for identification of samples that may be less than the specified minimum. This technique can be helpful in the case of material that may explode or ignite if heated. It's also helpful in the case of small forensic samples.
The technique involves adhering a pinhead-sized amount of sample on a piece of tape and suspending the sample exactly in the laser focal point. When performed as described the technique has these benefits:
Reduced sample size protects the operator from inadvertent ignition or explosion of reactive material, homemade explosives and explosive material that contains dark material. The dark material in an otherwise light explosive material may be invisible to the operator if it is ground into microscopic specks or is a small, dark bit of contaminant. Explosion of a pinhead-sized amount of sample suspended on tape is much less likely to injure an operator than a bulk amount of material or a larger sample in a glass container.

Testing the sample on tape rather than on a surface means there is no background material to add additional Raman signal to that which the sample is producing.

This technique allows for non-destructive forensic testing of very small samples that are less than manufacturer specified minimal sample sizes.

Manipulation of very small samples may be accomplished even if the operator is working in Level A or gloves.
Name brand matte tape that appears translucent or cloudy, not transparent, seems to work the best. Matte tape is cloudy due to small air bubbles that make the tape less dense than clear, transparent tape. Occasionally Raman spectrometer may identify the tape in addition to the material you are testing, but you can discount these results as you become familiar with the technique.
Follow the steps listed in this article (Raman Analysis of Small Solid Samples Using Tape) to perform the technique and then practice on known material before testing unknown material. If you have FTIR capability, you can use the tape to position the sample onto the FTIR test surface before anvil, once Raman analysis is complete.
To ensure better protection, some chemical identification instruments have an anvil sampling head for better sample control and decontamination, which also helps ensure that there are no exposed threads or friction points which could collect debris or explosives residue. A variable pressure knob allows the correct amount of pressure for a given sample; less pressure could minimize risk, increased pressure allows sampling of harder substances. More advanced instruments that combine both FTIR and Raman, also include a motorized anvil which adjusts sample pressure based on user settings, and features a scan delay to allow users to leave the hazard zone before initiating a scan.
Editor's Note: The content for this article was provided by Houghtons, Inc., a small privately held company that provides training, test methods and technical assistance to public and private sector organizations responsible for emergency response. You can contact principal Rick Houghton at https://hazardid.com.)
For more unknown material identification information, visit the Safety and Security Threat Detection section of our website.