The first post in our immuno-oncology blog series covers what I-O actually is: a rapidly growing field that studies the ways in which the body's own immune system can fight cancer.
I-O research can potentially uncover ways to enable immunogenicity of all types of cancer and facilitate long lasting, protective immunity against future recurrence [1-3]. Recent breakthroughs in checkpoint inhibitor therapy research, chimeric antigen receptor (CAR) T cell therapy research, and cancer vaccine research, illuminate the full capabilities of the immune system and how it may be harnessed to combat cancer. The figure below shows where they correlate within the cancer-immunity cycle [4]. Let's review each one in more detail.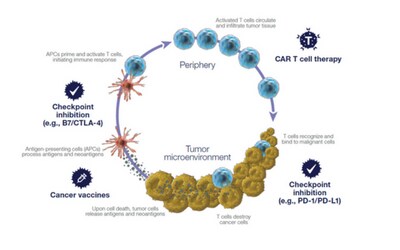 Checkpoint inhibitory therapy research studies immune checkpoints. These are cell pathways crucial in maintaining a normal immune response and protecting tissues from damage when the immune system is activated [5,6]. Cancer cells dysregulate immune checkpoints and use them as a mechanism of immune resistance. Understanding the interactions between tumor and immune cells is one of the main approaches in I-O research [7,8].
CAR T Cell therapy is actually a form of Adoptive Cell Therapy (ACT), which targets the immune system, enabling the body's natural ability to fight the cancer, instead of directly targeting the cancer itself. CAR T cells are generated from the body's own T cells and are engineered to express antibody-like chimeric antigen receptors for targeting specific cancer cells via surface proteins or intracellular proteins, inducing anticancer attack.
Vaccines represent another important I-O research area aimed at enabling the immune system to recognize cancer as a threat. This method is antigen based, relying on the ability of the immune system to recognize the protein to induce the immune response. Scientists endeavor to identify new tumor-associated antigens, called neoantigens, released within the tumor microenvironment [9]. This aids in understanding how tumors form and spread, which informs the development of vaccines.
The I-O workflow varies depending on the research approach but a general schematic is shown below. This starts with the biomarker discovery phase, continues into further research on targets of interest, including contextual studies within model systems, and finally may conclude with characterization and verification. This workflow is applicable across different approaches within I-O, including checkpoint inhibitor research, CAR T cell therapy research, and cancer vaccine research.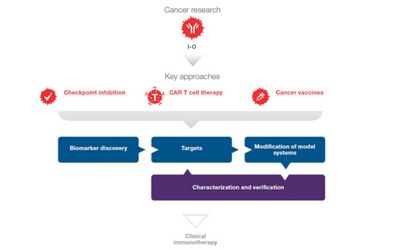 Thermo Fisher Scientific offers many research platforms and products to help you better understand the interplay between the immune system and cancer. To explore experimental capabilities with our solutions, visit www.thermofisher.com/immunooncology.
For Research Use Only.  Not for use in diagnostic procedures.
References:
1. Corrigan-Curay J, Kiem HP, Baltimore D et al. (2014) T-cell immunotherapy: looking forward. Mol Ther 22:1564-1574.
2. Grupp SA, Kalos M, Barrett D et al. (2013) Chimeric antigen receptor–modified T cells for acute lymphoid leukemia. N Eng J Med 368:1506-1518.
3. Batlevi CL, Matsuki E, Brentjens RJ et al. (2016) Novel immunotherapies in lymphoid malignancies. Nat Rev Clin Oncol 13:25-40.
4. Chen DS, Mellman I. Oncology meets immunology: the cancer-immunity cycle. Immunity 2013;39(1):1-10.
5. Junttila MR, de Sauvage FJ (2013). Influence of tumour micro-environment heterogeneity on therapeutic response. Nature 501:46-354.
6. Topalian SL, Drake CG, Pardoll DM (2015) Immune checkpoint blockade: a common denominator approach to cancer therapy.
Cancer cell 27(4):450-461.
7. Hanahan D, Weinberg RA (2000) The hallmarks of cancer. Cell 100:57-70
8. Hanahan D, Weinberg RA (2011) Hallmarks of cancer: the next generation. Cell 144:646-674
9. Carreno BM, Magrini V, Becker-Hapak M et al. (2015) Cancer immunotherapy. A dendritic cell vaccine increases the breadth and diversity
of melanoma neoantigen-specific T cells. Science 348(6236):803-808.