It's the season of travel, adventures and fun but before you take that long awaited break, make sure you take care of your body as well. When it comes to maintaining a healthy immune system, every little bit helps. Below are a few of our favorite methods: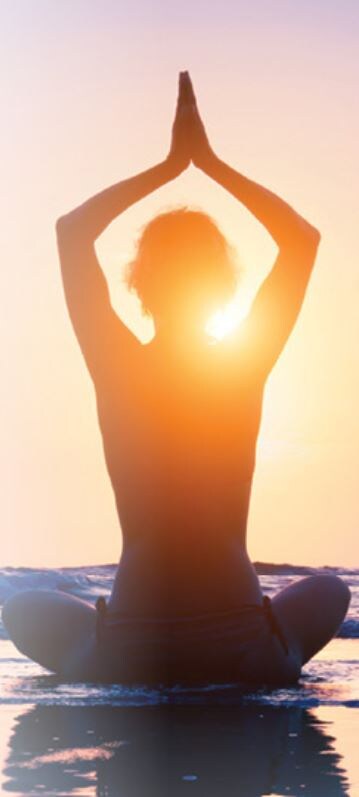 1. Dream in the dark
And we mean total darkness, because our Circadian rhythm is programmed for two 12-hour periods of light and darkness. By eliminating light pollution (yes, even from cell phones), you're allowing your body better rest and recovery. What's more, there's been research into linking the genes responsible for our internal clock to immune cells.1 So draw the curtains and nix the night light!
2. Vinyasa flow your way into bliss
Chronic stress is damaging to the immune system over time.2 It's possible that the balance between the sympathetic and parasympathetic nervous systems can be positively impacted by yoga. In a study with sixty students, those practicing yoga experienced less autonomic and psychological changes when compared to a control group.2  In yet another study, yoga resulted in an increased circulation of immune-related cytokines, which pointed towards a healthier immune system.3
3. Center yourself with meditation
Over a quarter of the global population is affected by anxiety and depression.4 Dis-ease = Disease, anyone? In a 2017 study, meditation helped regulate the stress response, suppressing chronic inflammation and helping to maintain a healthy gut microbiome.4 Meditation may sound daunting at first but even five minutes daily can help you de-stress and come back to center. Find a quiet place, get yourself into a comfortable position and just focus on breathing.
4. Munch on micro-nutrients
Though it's best to naturally ingest micro-nutrients via your regular meals, turning to dietary supplements is a popular alternative. Deficiencies in Vitamin B6, vitamin C, vitamin D, vitamin E, magnesium, and zinc have been linked to immune dysfunction.5 So make sure you don't skip out on your vitamins!
5. Laugh it off
A good guffaw or series of chuckles has been found to actually decrease hormones associated with stress.6 Regulating your mood by laughter increases endorphins, which has a positive effect on psychological health as well as the immune system. And that's definitely no joke.
Did you enjoy this article? Get more scientainment in Life In The Lab magazine.
—
For Research Use Only.  Not for use in diagnostic procedures.
Sources:
1. TH17 Cell Differentiation Is Regulated by the Circadian Clock BY XIAOFEI YU, DARCY ROLLINS, KELLY A. RUHN, JEREMY J. STUBBLEFIELD, CARLA B. GREEN, MASAKI KASHIWADA, PAUL B. ROTHMAN, JOSEPH S. TAKAHASHI, LORA V. HOOPER SCIENCE08 NOV 2013 : 727-730
2. Int J Yoga. 2011 Jan-Jun; 4(1): 26–32. doi: 10.4103/0973-6131.78178
3. J Altern Complement Med. 2015 Sep;21(9):530-8. doi: 10.1089/acm.2014.0044. Epub 2015 Jul 16.
4. Adv Mind Body Med. 2017 Fall;31(4):10-25.
5. Immunol Cell Biol. 2016 Feb;94(2):117-23. doi: 10.1038/icb.2015.109. Epub 2015 Dec 4.
6. Tohoku J Exp Med. 2016 Jul;239(3):243-9. doi: 10.1620/tjem.239.243.