Cell therapy processing requires multiple steps and procedures including cell separation, concentration, washing and others. For a successful cell therapy process, it is important to be able to conduct these activities as simply, safely and efficiently as possible. To improve the efficiency of cell processing operations, the newly launched Gibco™ Cell Therapy Systems (CTS™) Rotea™ Counterflow Centrifugation System uses a closed single-use kit to allow smooth transition from research through commercial manufacturing.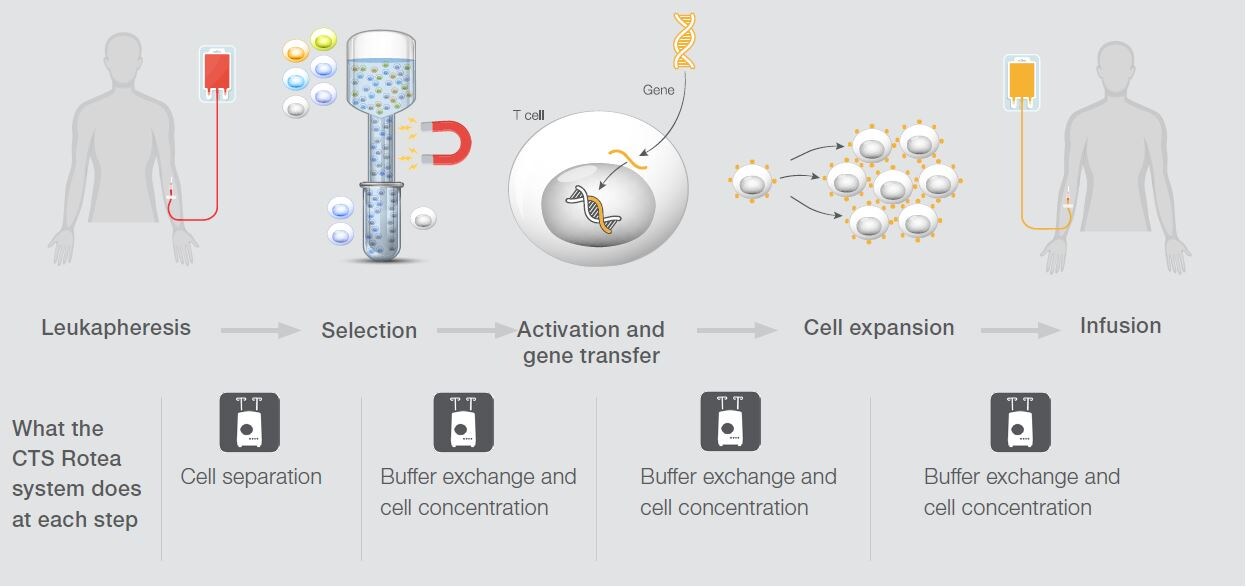 The Value of Closed Systems
However, let's take a step back and uncover just why a closed system is so valuable in the cell therapy manufacturing process.  Closed systems are particularly important for clinical and commercial manufacture of cell therapies, as they provide the highest containment and product safety protection. In addition, using the same equipment from research through process development and manufacturing can cut process development times and delays by eliminating the need to learn and optimize new systems, while also permitting multiple batches to be processed in a shared clean room.
The ability of the Rotea system to function as a closed instrument provides a cost benefit as well, because one equipment capital expenditure can be utilized from research through commercial manufacturing.  This can reduce the requirements and associated costs for clean room space as they can operate in a Class C environment, thus reducing the need for Class B space that is more costly to set up and operate.
How the Gibco CTS Rotea System Works
The Rotea system employs counterflow centrifugation (CFC) that provides a gentle, but powerful technology for the entire cell therapy processing workflow. The system suspends cells in a fluidized bed by exerting a constant flow force opposite centrifugal forces to provide capabilities otherwise impossible in traditional centrifuges. Fluid suspended cells are concentrated without forming a pellet in the cone and then are washed quickly and efficiently at high recovery rates. Due to the reduced cell density, dead cells can be removed to optimize viability before delivery. By fine-tuning centrifugal speed and flow rate to create an imbalance of forces, cell types of different sizes can be effectively separated. Another unique feature, the Gibco™ CellCam™ is a color camera that visualizes cells live in a fluidized bed, enabling CFC parameter optimization. This allows users to easily fine tune protocols for each application.
Cell Loading
With "balanced" g-force and counterflow parameters, input material comprising media and cells is introduced to the CFC chamber via the central tube.

Elutriation
Larger/denser cells are captured in the fluidized bed, while smaller/less dense cells and debris pass through and are "eluted" through the top of the CFC chamber.

Media exchange/washing
Wash buffer is pumped through the fluidized bed, replacing the original media in the input product. Note: The fluidized bed enables very fast and efficient washing.

Cell concentration
Washed and concentrated cells are now recovered from the CFC chamber by simply reversing the pump and extracting the concentrate via the internal tube.

Why Every Cell Therapy Lab Needs a Gibco CTS Rotea System
"Rotea is exactly what the cell therapies sector has been waiting for: a flexible, single-use system that is aggressive on efficiency but gentle on cells."-
-Rebecca Lim, Hudson Institute of Medical Research
The system enables:
       Process flexibility—user programmable software enables you to create and optimize a broad range of protocols for cell separation, washing, and concentration
       High cell recovery and viability—gentle processing enables >95% cell recovery while maintaining cell viability
       Low output volumes—proprietary technology can deliver as little as 5 mL of concentrate
       Research through commercial manufacturing—the closed single-use kit enables sterile processing, and an Open Platform Communications Unified Architecture (OPC-UA) interface enables connectivity to a 21 CFR Part 11–compliant system
Rotea Performance Data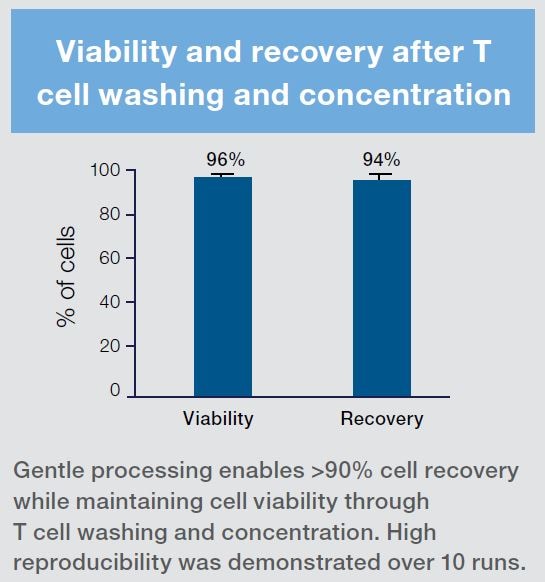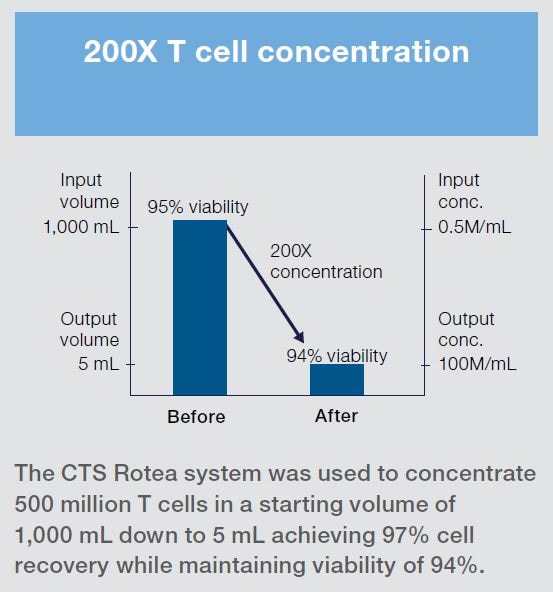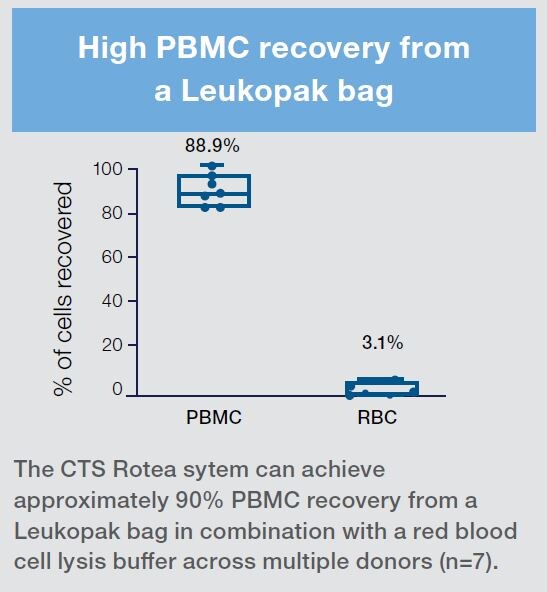 Learn more about the Gibco CTS Rotea System here >
Request an instrument demo for your lab (remote options available) here > 

Request an instrument quote here >
—
For Research Use or Manufacturing of Cell, Gene, or Tissue- Based Products. CAUTION: Not intended for direct administration into humans or animals.