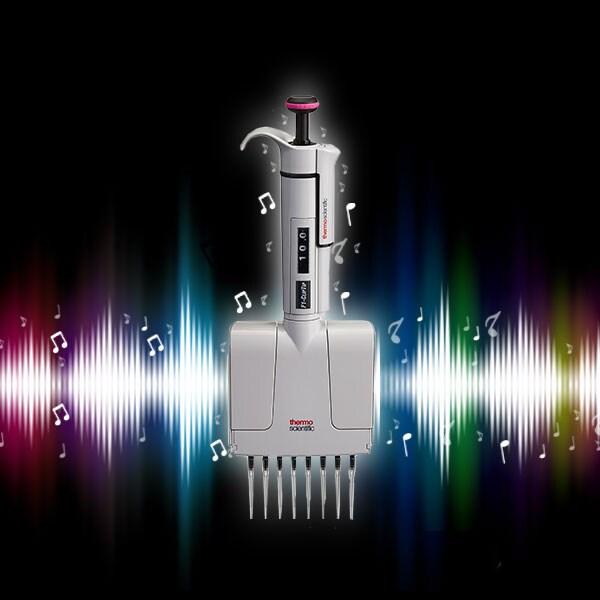 Just as finding the right pipette tip may be like choosing a puppy, getting the best out of pipetting  means finding the right groove. Find the right moves, and great things will flow, though admittedly at the bench rather than on the dance floor. Knowing when to lead and when to follow is key to moving in synchrony—and also to dispensing liquid from a pipette tip.
How do I become one with my pipette?
First, you need to answer some tough questions: forward, reverse or repetitive? How does your sample like to dance…er, move?
It's all about style
Aqueous solutions deserve forward pipetting, with a smooth cha-cha-cha.

Highly viscous solutions or those that can throw foam quicker than a spaceship at warp speed deserve the "slow, slow, quick, quick, slow" of reverse pipetting to ensure constant volume delivery.

More than a single event? Continue to go with the flow, using repetitive pipetting to waltz gracefully between sample and destination, dispensing consistent volumes into that array of tubes.

If your line seems never-ending, with microplates stretching into the distance, switching to an electronic pipette, a stepper or a multi-channel to handle liquid transfer should keep you from losing your cool. Line dancing along those arrays could be positively refreshing with your finger comfortably on the trigger of an electronic multichannel pipette.
If you need a little more mixability, try out the step-and-glide technique for heterogenous samples that adds A to B then helps flush everything from the tip.

Successful liquid transfer is more than just dip-and-go pipetting. Your sample dictates the steps, but you get to lead the dance!
10 top tips for accuracy
Prime – don't leap in cold and expect your pipette to instantly get with the groove. Prime the tip by pre-wetting, giving it a little taster of what's to come by gently flushing in and out. It's like breathing before a big game to calm the nerves.
Chill – or maybe not too chill. Temperature affects liquid handling, so make sure everything's on the same page: tips, tool and samples should all be at one, temperature-wise.
Cling-ons – Make sure cling-ons don't ruin your gameplay; a gentle wipe on the side of the container makes sure your tip doesn't transfer excess liquid and destroy your accuracy.
Forward or reverse – knowing which way you are going helps with pipetting as much as it does in life.
Pause – feel the moment; being mindful and not rushing lets liquids equilibrate in the tip. Don't rush a good thing.
Stay upright – Vertical liftoff to remove a tip from solution works (it just does); your pipette prefers to swing vertically from its stand rather than go flat out on the bench after a job.
Hands free – Keep your fingers off the business end; don't handle the pipette tips or barrel with your fingers.
Depth – Keep to consistent dive pattern; don't dip too deep into the sample (it helps reduce cling-ons too).
Tip choice – the right tip for the right solution? Let your sample guide the way.

Calm – Smoothly does it! Leave your jitters at the door, maybe cut down on the caffeine, and be at one with your pipette. Smooth action brings smooth pipetting brings consistent results. In other words, don't be a jerk with your pipette.
Further Reading