Working from home is the new norm for millions of people around the world. While we may be remote due to health and safety concerns, the work must go on. But, taking lab work home with you is no easy feat.
Here are 8 tips to keep productivity high and aid your personal health and wellness:
Set up a dedicated "lab" space –  —  Whether it's a corner of your living room, basement, or home office, having a dedicated workspace will keep you focused and productive in your new at-home lab. Ensure that equipment and solutions are safe and non-hazardous to be in the home. If are quarantining with others, choosing a space with a door you can close can definitely come in handy!Here are some images of new at-home labs set up by Thermo Fisher Scientific employees: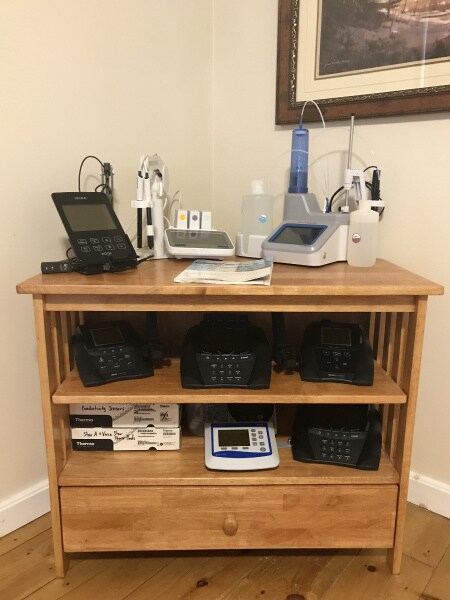 *Disclaimer: We are not suggesting that any activities pictured in photos represent good laboratory practices or that you should engage in any pictured behavior in your own lab. Thermo Fisher takes occupational health and safety practices in laboratories seriously and these images aren't intended to suggest otherwise.
Plan carefully —  Some of you may still be going into the lab for short periods of time. If you are, it goes without saying that you need to follow health and safety protocols and make sure you plan your time carefully. Determine what must be done in the lab and what you're able to do safely from home (evaluating data, drawing conclusions, or planning for the next experiment).
Create routine —  While you don't have to fight traffic to get to the office, or race to the 6pm train home, you likely now have obligations that require your attention during the day, such as kids home from school. In our new "normal," creating a new routine to the extent you can will help keep you productive (and sane!).
Schedule breaks —  When you're creating your new routine, don't forget to schedule breaks. Taking even 5-15 minutes can help you recharge for your next task and make you more productive.
Connect with colleagues —  Staying connected with colleagues is incredibly important. Working from home can sometimes feel isolating. Set up a recurring virtual meeting or perhaps a morning coffee break or evening Happy Hour with your coworkers. Seeing and talking with them can be uplifting and also provide a great opportunity to bounce ideas off each other, brainstorm different things, or share experiences.
Catch up on over-due tasks —  Since you can't relocate your entire lab to your home, some of your experiments may be on hold due to lack of equipment or necessary supplies. Now can be a great time to catch up on over-due tasks – things that have fallen down your list of priorities such as reviewing past projects and planning ahead. Getting those done now means when you return to the lab you'll have less on your list.
Learn something new — There are scores of great online learning tools out there, and during this quarantine, many companies and organizations are hosting even more webinars or other educational online events than before. Thermo Fisher Scientific offers a number of online resources for lab scientists including: Overcoming top titration challenges and the Lab Water Source webinar series.

Take advantage of your extra flexibility and increase your knowledge base.

Be patient — It takes time to adjust to a new normal, to set up a space and to come up with new routines that work. You may find you need to change things as you go, and that's okay. Be patient with yourself – everyone is in the same boat trying to figure out a new normal.
How have you adjusted your labwork during quarantine? What does your new lab look like? We want to hear from you! Share your #IHeartLabwork photos with us on social media.