Plastic labware is a popular option in biotech, academic and pharma labs—and not just for disposables. From the depths of cryofreeze to autoclave extremes, plastics protect precious samples, reagents and workers. With a little careful thought, choosing the right plastics for a job helps make the most of both your labware and your research.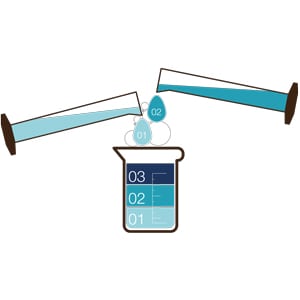 Choosing the right plastic is an important step toward valid results and lab safety.
Break the glass habit: The plastic option
Previously seen as inert and durable, glass is not always the best choice. Many labs now choose plastic to replace glass beakers and storage flasks in a wide range of laboratory workflows. Luckily there's usually a suitable replacement that can cope with the job, as long as you know what to pick. Simply understanding a little about plastic's physical characteristics and how plastics behave can help you choose the right product for a smooth and safe workflow.
What is plastic?
Derived from the Greek plastikos, the word plastic refers to a material's ability to be shaped or molded, and to retain an ongoing flexibility to deform without breaking. Plastics comprise synthetic or semi-synthetic organic polymers or resins sourced mostly from petrochemicals. Combining different types of these polymers and blending them with additives such as, for example, colorants, plasticizers, stabilizers and fillers affects the behavior and characteristics of the end product. This means that manufacturers can tailor a product for a specific use.
Processing also plays a role in determining how a plastic will function in an end product. For example, cross-linking between the monomers or individual units that make up each polymer results in a totally different product compared to simply linking them end to end as a chain. Chains are usually thermoplastic and will melt in heat, whereas 2D and 3D cross-linked networks are thermoset.
This explains why high-density polyethylene (HDPE) is suitable for both a milk jug (as a homopolymer) and the more robust laundry detergent bottle (as a copolymer), for example.
By adjusting polymers, additives and processing, manufacturers can create plastics with a range of physical properties and mechanical behaviors that fit with a wide range of lab activities.
Pick the right plastic
Success in the lab can depend on your choice of plastic materials. The physical properties, behavior and reactivity of a plastic can all influence an experimental outcome in subtle and not-so-subtle ways. For example, vessel walls may react with reagents to leach trace chemicals into a reaction mix and confound results. It's also not a good idea to autoclave media in flasks that melt at high temperatures or store corrosives in bottles that they can dissolve.
Understanding how a plastic is made and how the process affects its behavior lets lab workers choose the best type for the job. Handy reference tables showing chemical resistance and temperature range make it even easier.
Like the chemical resistance chart? Request a printed Nalgene chemical resistance poster for your lab.
But what's the best way to choose?
Quality. Choosing high quality is an obvious step. Nalgene single-use and reusable plastic labware is a high-quality product suitable for a wide range of use, including academic, pharmaceutical and biotech applications. Most Nalgene plastics are Drug Master File (DMF) registered and contain no plasticizers or fillers, which minimizes leachable residues. Furthermore, by sticking to the same high-quality resin sources and not substituting cheaper alternatives, Thermo Fisher ensures Nalgene product consistency between batches.
Physical appearance. Do you need to see what's inside, or monitor a reaction, or keep contents in the dark? Polyethylene terephthalate G copolymer (PETG) flasks are clear, making them ideal for cell culture work where you need to tell if the culture is healthy and growing. On the other end of the spectrum, colorants can be added to HDPE to make an opaque bottle for storing light-sensitive solutions, thereby protecting them from light exposure and degradation.
Physical properties. How does the plastic behave at temperature extremes? Will it melt in an autoclave or become brittle when frozen? HDPE makes a great dishpan for washing up labware at room temperature and even maintains its protective elastic properties when used to organize samples in the −80°C freezer. But don't use it as an autoclave pan, or you risk pulling a melted plastic lump out of the autoclave drain as your next engineering project. A polypropylene (PP) pan, though, will hold up to autoclave conditions just fine.
Does the application need a flexible plastic that doesn't break if bent round a corner? Low-density polyethylene (LDPE) is used to make squeezable wash bottles and other containers. In other applications, a product might need some rigidity to hold up to external forces like vacuum or centrifugal forces. Polycarbonate (PC) is an excellent material of construction for vacuum chambers and centrifuge tubes due to its strength and rigidity. And is the plastic RNAse-free? This is important for molecular work to preserve precious samples. And how about cytotoxicity? Are you sure the plastic won't kill your cells?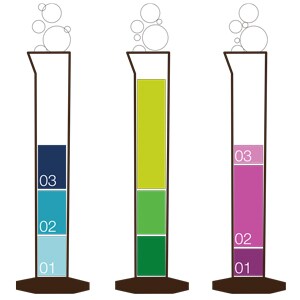 Chemical resistance. Will the plastic react with its contents? This is important for storing acids, bases, solvents and other corrosives to make sure they don't "eat" their way to freedom and spill out. It's also a valid concern to make sure that what is in the bottle stays pure and isn't contaminated by stuff leaching from the vessel walls. During an experiment, are your reagents reacting with your labware, or with each other? Choosing containers made from compatible, high-quality materials is key to storage success.
Still confused? If in doubt, check the website for product details. Helpful charts like this will let you choose your beaker.
Keeping tabs on your favorite beaker
Since plastic labware will last a long time with proper care, how can you tell what your favorite beaker is made from when you're reaching for it on the shelf?
A good clue is in the recycling symbol that matches up to product specifics in the catalogue. Also, some labware has an identifying code stamped or molded into the piece. For example, Nalgene perfluoroalkyl Teflon products have PFA stamped on the base. Another way to identify your beaker is by its appearance; is it milky white or clear? Asking your supplier's technical support department will help clear up any unknowns.