Hosting a party this summer? Here are five ways you can make your appetizers and drinks more fun with science!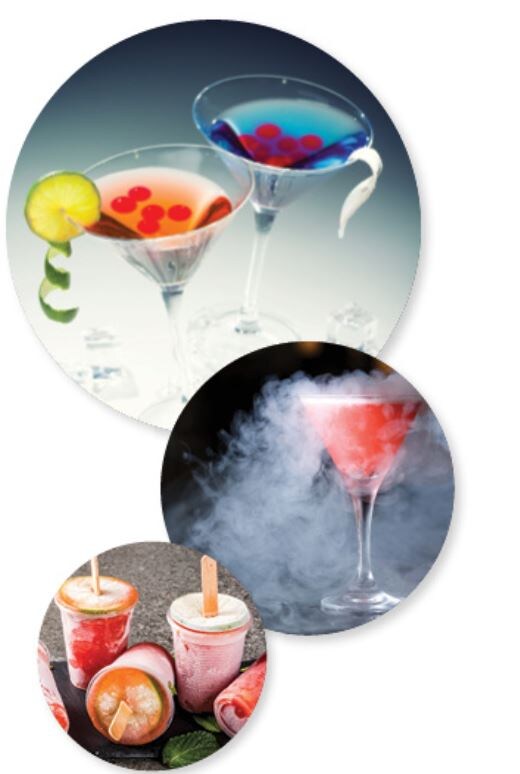 Nitrogen-chilled cocktails—These are not for the faint of heart. Instantly chill cocktails using liquid nitrogen instead of ice for a great conversation starter at parties. Remember, liquid nitrogen should only be handled when wearing safety glasses, protective clothing, and gloves.
Mixology Gel spheres—Have you ever seen cocktails topped with floating gel spheres? These spheres are created by mixing a liquid with sodium alginate in a syringe. The liquid needs to have a pH range of 4–10 for the liquid to gel. Fruit juices are a popular choice and also add a pop of flavor to champagne or sparkling water.
Cocktail popsicles—For hot days, there is no better way to cool off than with a popsicle. Make it an adult-friendly treat by combining your favorite cocktail with a tasty fruit puree and freezing. The mixers from the cocktail and the fruit puree will blend and help freeze even higher-proofed alcohols.
Appetizers Trail mix test tubes—Fill test tubes (unused, of course) with trail mix or mixed nuts to create a fun snack for your guests.
Cheese molecules—Let party goers make their own molecules from a plate of cheese cubes, olives, fruit, and veggies.
Seeking more scientainment in general? Check out Life In The Lab magazine for conversation starters in the latest trends, innovation and industry news.
For Research Use Only.  Not for use in diagnostic procedures.