Shakers play a vital role in the lab, often running day and night. In fact, a 2018 survey of shaker use by Lab Manager found that nearly 20 percent of lab professionals have their shaker in operation for more than seven hours a day. As sample preparation needs become more diverse and demanding, labs need a shaker that can keep up.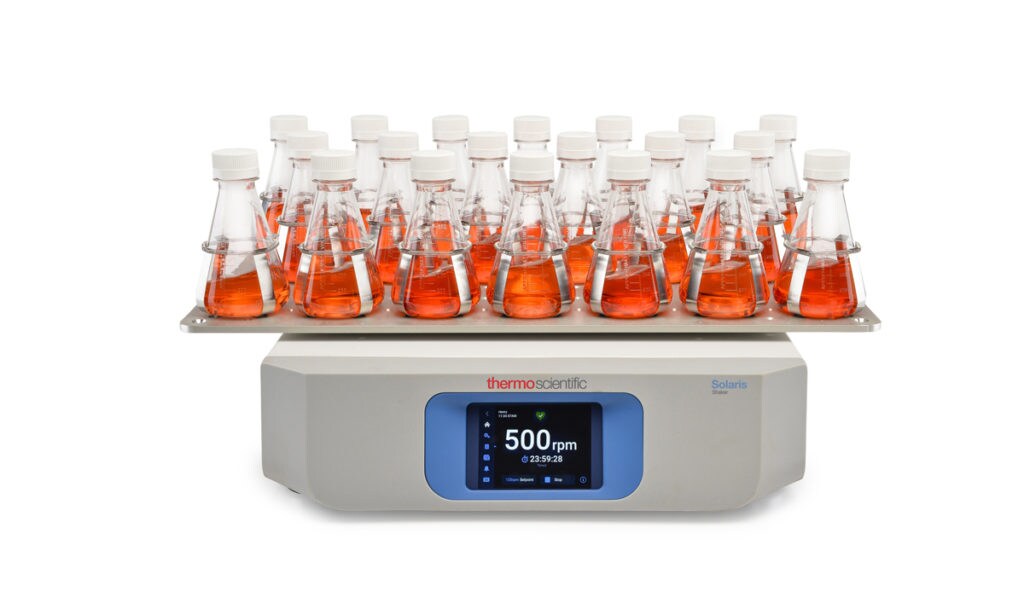 Recently, we introduced our new line of next-generation open air orbital shakers, the Thermo Scientific Solaris 2000 and 4000 Orbital Shakers, to do just that. They blend the past with the future, building on our four decades of experience in shaker technology, while also taking into consideration the lab needs and environments of tomorrow. Solaris Orbital Shakers raise the bar on innovation, delivering the safeguards and feature enhancements scientists need to be successful in the years ahead, including:
1) Exceptional reliability
When asked what feature matters most in a lab shaker, 78 percent of Lab Manager's shaker survey respondents said durability and a rugged design. This sentiment isn't surprising if you think about how in-demand a shaker is daily, and how much strain is placed on its mechanisms with each use. With laboratories experiencing a greater influx of samples and testing requests, they need a shaker that's built to last.
We took the above into consideration when creating the Solaris family of products, building them specifically to withstand continuous usage and heavy loads. The triple eccentric drive mechanism is built upon proven technology, with a belt that's engineered to last for the life of the shaker. Furthermore, this line comes with a robust series of warranties for added peace of mind, including a 10-year warranty on the shaker mechanism, a two-year warranty on labor, and a five-year warranty on parts.
2) Efficient Operation & Smart Lab Readiness
Building a shaker that lasts isn't just about the hardware. Easy-to-use and intelligent features are imperative today as lab managers look for new ways to streamline workflows and ease collaboration. The large touchscreen interface on the Solaris Orbital Shaker allows for simple and secure programming of up to 99 routines and setpoints – saving precious time on recurring runs. Moreover, Solaris Orbital Shakers are connectivity-ready for seamless integration into smart lab environments. Intelligent features include the ability to catalogue alerts, alarms and interaction logs that are instrumental in assessing the reproducibility of results.
3) Easy cleaning & Maintenance
Proper cleaning and disinfection of your shaker is critical to safeguarding samples against contamination. But this maintenance is easier said than done. After several uses, a simple surface wipe-down simply won't cut it. Fortunately, this tedious and arduous upkeep is minimized with the Solaris family of products, which are designed with fewer screws, rounded corners and an easily-removable platform.
4) Compact Design
Don't sacrifice on your shaker – or the safety of your samples – because of limited bench space. Many of today's shakers are cumbersome and some labs will place them on the floor to conserve room on their bench. Unfortunately, this dramatically increases the risk of culture or sample contamination.
Does this sound like your lab? If so, we have good news: there's no longer a need to sacrifice bench space for performance – bulky doesn't necessarily mean better. Solaris Orbital Shakers are a prime example. Designed to be compact and versatile, the small footprint of a Solaris unit helps save valuable space while also supporting operations inside a range of lab equipment, such as environmental chambers, incubators and lab refrigerators – all without sacrificing on performance or longevity.
Shakers are among the most important lab tools on the bench, but they're also one of the most rigorously worked. Make sure your lab is equipped with a shaker that can help save you time, protect your process and reliably drive your science forward.
For more information about the Thermo Scientific Solaris 2000 and 4000 Orbital Shakers and tips for properly handling and maintaining your shakers, visit www.thermofisher.com/shakers.