Sustainable science with magnetic beads:
How more than 30 years of continuous innovation have brought magnetic beads beyond the micron, beyond plastic, and into a more sustainable future with DynaGreen
"Why go to space when you can go to Trondheim?"1  
Newsweek magazine posed this question to its readers nearly forty years ago after a visit to the lab of Norwegian Institute of Technology professor John Ugelstad. In 1976, Ugelstad had accomplished what NASA scientists had all but ruled out. He'd managed to create perfect, microscopic plastic spheres without leaving Earth, in spite of gravity.2 
By the 1980s, his innovation had led to a magnetic version of these plastic beads – a technology that revolutionized the medical and life science research fields by allowing the precise separation, isolation and manipulation of biological samples.  
Today's Dynabeads® magnetic beads are the direct descendants of those first commercial magnetic beads created with Ugelstad's method. They are a mainstay across all fields of life science and a key enabler of cutting-edge research from CAR-T cell cancer immunotherapy to epidemiological wastewater surveillance.  
Ugelstad's legacy also lives on at the Thermo Fisher Scientific sites in Oslo and Lillestrøm, Norway that produce Dynabeads and other magnetic bead technologies.  
"I always think about [Ugelstad and magnetic beads] as almost like a Norwegian fairy tale," said Oslo-based Thermo Fisher product manager Claire Mount Lund. "I think everyone that works here at the Norway sites feels pride and passion in what they do because of that legacy. We really feel like we live and breathe our mission because of these beads and their huge impact in academia, diagnostics and beyond." 
A modern era of sustainable lab practices and products
Though the commitment to bold innovation has carried through the decades, the conversation around plastic has changed significantly since Ugelstad's time. Sustainable labs around the world are seeking more ways to reduce energy consumption and waste created by laboratories, while maintaining the quality or output required for their research. Now, a new generation of scientists at Thermo Fisher Scientific in Norway is tackling a different type of polymer challenge – how to skip the plastic altogether. They join the rest of the world in asking, how can we live and work more sustainably?

What they've come up with is a pioneering plastic-free technology in the Invitrogen™ DynaGreen™ magnetic beads platform. DynaGreen launched at the start of 2023 with several immunoprecipitation options but is poised to expand to many more applications over the next few years – promising researchers a more affordable and eco-conscious tool at the bench.  
Magnetic separation used for immunoprecipitation
In the past few decades, publication trends have made clear that more researchers are catching on to the value of magnetic beads in immunoprecipitation (IP).  
Precoated with proteins or antibodies, magnetic beads bind quickly to the IP target in solution. With a few wash steps and elution as needed, scientists can achieve consistent results with little to no background or sample loss. The process can even be automated for the ultimate hands-off process. 
 For many scientists, the switch from agarose or Sepharose columns in IP to magnetic beads — whether manual or automated — is a game-changer.   
"There is an option to use agarose beads. But many of the researchers we talked to say, once you try magnetic, there's no going back," said Lund. "It's just so much easier to use and more reliable than using agarose columns."  
Many magnetic beads have come onto the market since the days of Ugelstad, but Dynabeads has historically led the literature in citations. DynaGreen now benefits from the more than 30 years of legacy experience built upon the science of Dynabeads.   
With its new launch, DynaGreen is available in a few standard variations: DynaGreen Protein A , DynaGreen Protein A/G, and DynaGreen Capture Select ™ Anti-IgG-Fc. With these three options, researchers have a route to capturing almost any IP target.  
For the first time, they'll also now have a route to capturing their targets with a more sustainably designed bead.   
Sustainable design from start to finish
The green chemistry behind product development
The field of "green chemistry" emerged not so long ago in the late 1990s and accelerated quickly. Chemist-entrepreneurs Paul Anastas and John Warner famously developed the 12 Principles of Green Chemistry in 1998 as a framework for minimizing the environmental impact of chemical products and processes.3  
The 12 Principles lists a dozen guidelines that span the entire life cycle of a chemical product, from efficient use of materials in design to end-of-function planning and accident prevention.  
Most of all, the 12 Principles framework encourages a holistic approach to sustainable innovation. In the case of DynaGreen, it meant innovating far beyond the scope of removing microplastic from the bead's core.  
Eliminating microplastics in magnetic bead based separation
"Initially, we were thinking just of the particle itself; there's no microplastic, and that's great," said project R&D Scientist Maren Johansen. "But then with the 12 Principles of Green Chemistry, we realized that there were a lot of other things we could do. We've really looked into a lot of different aspects."  
"I think the beauty of what we've done with this project is that it's not just the microplastic. Everything about the product has been built with sustainability in mind," said Lund.  
Reduction of energy consumption and resource allocations
Just in reducing the number of production steps and washes, R&D scientists have dramatically cut back on energy and resources — saving 45 tons of organic solvent, 90 tons of water, and 60 kg of plastic for every 100 kg of final product. The team also swapped out traditional solvents for biorenewable alternatives and for scientists who prefer to skip animal products, avoided using bovine serum albumin (BSA).4  
And the integrative thoughtfulness of DynaGreen doesn't end at the production line. It shines through just as strongly as the beads are loaded onto the shipping truck, and again when they're in the hands of the researchers who will rely on them.   
Waste reduction and refining product packaging
DynaGreen packaging has been streamlined to the essentials only, with smaller vials and more compact cartons. The new beads also ship at ambient temperatures, reducing the energy impact of cold transportation. Researchers will find no polystyrene foam in their DynaGreen shipments, nor will they find highly toxic components like sodium azide.  
"I really like the team's approach," said Cristina Van Loy, the project's sustainability technical lead. "They didn't only focus on the product itself but looked at the whole life cycle. They engaged to talk about product components, the way it was packaged and transported, the way it was manufactured. We even had labs at that site participate in My Green Lab's Green Lab Certification Program, to help further drive sustainable practices in the lab."  
In labs, performance criteria must be met before transitioning to greener technologies.
Of course, the promise of a more sustainably-produced bead rings hollow if it comes at the expense of the science. In the world of medical research, where research outcomes and the people who rely on them lie somewhere downstream, there's no room for compromising on performance.  
"The customers were so clear that they really want quality," said project scientist Janne Eidem. "They didn't want good-'ish' and green. They want it to be good and green."  
The DynaGreen R&D team members in Norway were always conscious of the fact that fellow scientists would not accept a sub-performing alternative.  
"In the beginning, we just tried to vary a lot of the different recipe parameters to see how it affected the size and the magnetic properties and the yield, and of course reproducibility has been really important," said Johansen. 
Altogether, they tested between 500 and 800 prototypes and benchmarked against Dynabeads and other top-performing beads on the market.  
With so much careful optimization built upon the foundation of Dynabeads chemistry and Ugelstad's home-grown expertise, Johansen and her colleagues are confident that DynaGreen performs as well or better than similar beads.   
DynaGreen performance data validated
Where performance meets sustainable biotechnology
In several important ways, these beads actually raise the bar for performance.  
Their unique submicron size translates to a higher surface area for faster, more efficient target binding. Likewise, DynaGreen beads' uniformity and monodispersity are excellent for reproducibility. 
All told, the recommended automated or manual IP workflow clocks in under 90 minutes. It's an ideal combination of speed and precision that, in practice, means that researchers can knock out their entire experimental workflow in a single working day and use fewer beads while doing it.  
"We've gone from larger beads — 4.5 or 5 microns — down to 2.8 microns, to 1 micron. Now we're going beyond, to 0.3 micron beads," said Research Fellow Geir Fonnum, who has worked on Ugelstad particle technology at the Norway sites for 23 years. "What this gives you is a higher surface area per gram, and your beads will have higher capacity. You can use smaller amounts per assay. Instead of using, say, 1.5 milligrams, maybe you can go down to 0.5 milligrams." 
Planning ahead for sustainable product design
The technology behind has DynaGreen has deep roots in Norway, but the principle of sustainable design innovation is one that is much more widely ingrained within the wider global mission of Thermo Fisher Scientific.  
The company has committed to achieving net-zero emissions by 2050, which includes reductions in the areas of operations, supply chain, and product use and end of life.  
Cristina Van Loy and Lori Graham, both former bench scientists, now advise the company's life scientists on sustainability issues. They too see sustainability as a holistic process, fully interwoven from the beginning. And prevention is key.  
"It's generally accepted that about 80% of a product's environmental impact is decided at the design phase. So rather than trying to solve problems at the very end, you really want to be designing with the environment in mind," said Graham.5  
Van Loy views prevention like a faucet: "I am very interested in prevention. It's best if we turn down or turn off the faucet to prevent waste rather than trying to clean up afterwards. Can we start at the beginning with that sustainability thought process in mind?"  
Scientist-customers are asking more from their manufacturing partners to help them reach their own sustainability goals, including reducing waste in the lab. They want more sustainable options.   
Graham recognizes this desire because she felt it herself as a researcher.  
"I worked in the lab for about 12 years. And for me there was a disconnect between what I was experiencing in the lab and what I was trying to do at home. In the lab, you've got single-use plastic waste, hazardous chemicals, energy-intensive instruments, all of that. It was not easy working in a lab environment every day, seeing the environmental impact and not always having the tools and opportunities to do anything about it," said Graham.  
"That was early in my career, and that's what has led me now to a focused role in sustainability. I want to try to do something to help other researchers be able to conduct science in a more sustainable way."  
It also stands to reason that scientists are some of the most savvy, discerning customers out there when it comes to making laboratory purchases – they want data transparency in their tool choice as much as they do in their daily work.   
Sustainability with ACT: the Environmental Impact Factor Label
"People may be hesitant to buy green products," said Lund. "We don't want that to be the case, so we want to be as transparent as possible with our green credentials."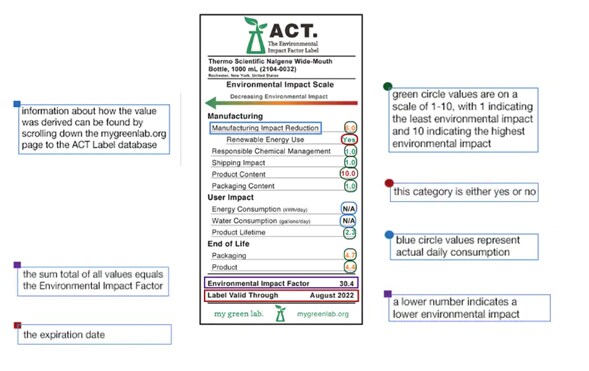 Thermo Fisher is an active participant in the ACT label program developed by the independent nonprofit My Green Lab.  
The ACT label is designed to make the process of comparing and choosing sustainable lab products easier for scientist consumers. It emphasizes accountability (A), consistency (C), and transparency (T) around manufacturing, energy and water use, packaging, and end-of-life disposal of a product.6 
"You'll often hear it equated to a nutrition label," said Graham. 
To date, Thermo Fisher has labelled 470 products, along with 250+ Energy Star™ -certified products.   
Sustainability is here to stay for biotech companies 

In talking to the scientists and product specialists who worked on DynaGreen, it's clear that they're all-in when it comes to sustainability. They count themselves as part of the scientific community looking to act, shoulder-to-shoulder with their customers. 
"If we're really going to change the world, and address climate change, everyone has to do something," said Fonnum. "All of these small changes will mean something to the world in the end. And I think that's an important mission that we as scientists, as product developers, have. Everyone in the world has to have that mission for it to succeed."   
During his doctoral studies, Fonnum attended Ugelstad's lectures.  
"Ugelstad was the archetype of a professor. He was deeply interested in the technical. He was not a person that went into the lab and made it work, but he had an enormous enthusiasm," said Fonnum. "He travelled around the world and because of his enthusiasm, got other academic people — immunologists and cell biologists — interested in his polymer chemistry invention. He succeeded because he could get people to work together." 
"I can see the same type of enthusiasm in this project here – that people really do the best they can, and really like to work with this type of problem."  
For Vedrana Grcic, who works on the marketing side of DynaGreen, this technology is more than an iterative step in the direction of sustainability for the field. It's a better way of doing things, guided as much by a collective vision for the future world as by commercial need.  
"In business and marketing case studies, people often talk about Kodak," said Grcic. "Kodak is a company that enabled amateur photography through film and photography supplies, and in time invented the first handheld digital camera. Despite this, their downfall was in that they refused to accept and support the development of this new digital technology which rivalled its core product film. They were overtaken by the likes of Sony and Canon and were left behind. Nobody uses Kodak anymore. And I feel like, this is exactly what the Thermo Fisher Scientific magnetic beads team is not doing. Even though we're market-leading in magnetic beads technology, and we have our heritage and knowledge that our technology is one of the best out there – we're still creating this new product because we believe so passionately in what it represents as the world moves in a more sustainable direction. For me, this is the essence of the daring innovation of our team." 
"We're not getting left behind, and we're not just doing this for commercial reasons. We're doing this because it's what scientists want and because it's also the right thing to do."  
Want to read more stories like this? Subscribe to Connect to Science, your portal for life science news. 
References
Sintef

. "1978: Tiny Spheres to Treat Cancer – and Much More." SINTEF. SINTEF, March 23, 2021. https://www.sintef.no/en/sintef-group/timeline/1978-tiny-spheres-to-treat-cancer-and-much-more/. 

 

"The History of

Dynabeads

 and 

Biomagnetic

 Separation." 

Thermo

 Fisher Scientific. Accessed November 21, 2022. https://www.thermofisher.com/us/en/home/brands/product-brand/dynal/the-history-of-dynabeads.html. 

 

Anastas

, P. T.; Warner, J. C. Green Chemistry: Theory and Practice, Oxford University Press: New York, 1998, p.30. 

 

Garnett, Tara. "Livestock-Related Greenhouse Gas Emissions: Impacts and Options for Policy Makers." 

Environmental Science & Policy

 12, no. 4 (February 26, 2009): 491–503. https://doi.org/10.1016/j.envsci.2009.01.006.

"Sustainable Product Policy." EU Science Hub. European Commission. Accessed November 21, 2022. https://joint-research-centre.ec.europa.eu/scientific-activities-z/sustainable-product-policy_en.

ACT Label. My Green Lab. Accessed November 21, 2022. https://act.mygreenlab.org/. 

 

 
For Research Use Only. Not for use in diagnostic procedures.