Scientists can be a skeptical bunch. So, when we caught up with a few who are currently members of Aspire, Thermo Fisher Scientific's loyalty program, we were gratified to hear not just good things, but considerable feedback on how Aspire impacted them and their science in a meaningful way.
There is a palpable feeling of excitement and empowerment straight from these scientists. Initially, they rave about the general benefits of the program, what with full-size product samples, rewards points and access to career benefits (poster printing, anyone?). There's indeed a long list of straightforward perks any researcher would find useful.
However, the sentiment of belonging to a community, sharing experiences and thereby building a camaraderie among peers who are also members of Aspire—is telling of a deeper story. Scientific research is by nature collaborative. Insight built upon knowledge built upon good old-fashioned curiosity, today's discoveries fueled by yesterday's endeavors. Researchers need each other to advance their science. Anything that helps build that community by supporting their lifelong love of science and supports them with benefits and resources as Aspire does, impacts science itself.
Read on to see what researchers are saying about Aspire. And don't forget to join them here.*
Lindsey is a grad student who enrolled in Aspire a year ago. She shares her enthusiasm for Aspire on social media.
"I have so enjoyed following [Aspire & Thermo Fisher Scientific on Instagram] and seeing all of the outreach and activities going on–at least from the outside, it seems like the company truly values…a strong sense of community in addition to how they treat their customers."
Lindsey often posts about her Aspire experience on her Instagram page @laf_in_the_lab where she regularly connects with other researchers and promotes science communication.
"It has been so much fun sharing the journey and connecting with other scientists through a platform that promotes such creativity and communication! Truly, I cannot say enough great things about Aspire…I can only assure you that I mean every word that I say when I tell the Instagram community, other colleagues and acquaintances that I love the Aspire program and believe that it has brought so much to our lab. The economic benefits are obvious, but the ways in which the program fosters morale and the FUN of science is so incredibly valuable and unique. I…will continue to support you however I can!"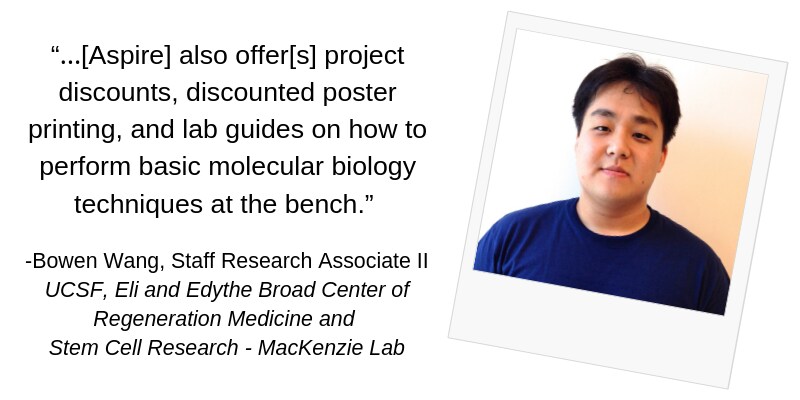 When asked how the Aspire program has empowered his research, Bowen replied:
"The Aspire Program offers a lot more than just the free toys, which are awesome. In addition, they also offer project discounts, discounted poster printing, and lab guides on how to perform basic molecular biology techniques at the bench. These are all things we have used. The lab guides have been very useful for our summer volunteers who often come in with zero experience."
Bowen also engages in science communication on social media, adding that:
"I think seeing the Instagram posts of other labs has created a sense of community; it is nice to see what other labs are up to. I think that the entire atmosphere that Thermo Fisher creates is why we choose Thermo Fisher over other companies…"
Magdalena joined Aspire and was delighted by the experience and sense of belonging the program offered, sharing:
"I think the Aspire program can definitely create the sense of community and belonging…"
She also mentions the enriching information that's a direct benefit of the program, saying that "it definitely empowered my research and I love all the educational materials and booklets…they are keeping me in the loop on what is new and improved in the field."
Magdalena also gives a nod to the more economical perks of Aspire:
"It gives me the option to test some of the products that I would not purchase before [doing a trial]. Fantastic opportunity!"
She shared a photo of her desk, decorated with recent Aspire rewards she had redeemed, declaring "who wouldn't smile at such a desk?"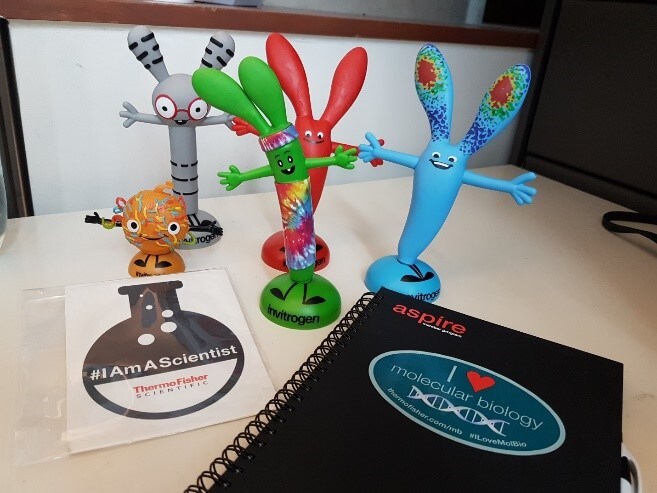 She goes on to share:
"Either way, it is always fun to see what is new on the Aspire site and I love all the merchandise you create for us! Our lab uses a lot of equipment and reagents from Thermo Fisher and it is always nice to feel rewarded…thank you for all the work you do for Aspire! It is definitely greatly appreciated here in the Tom Thompson Lab!"
After hearing the experiences of the researchers above, are you ready to try Aspire for yourself? It's free to join and we'd be thrilled to help you rediscover your scientific aspirations. You'd be inspiring us along the way, too. Hope to see you here.*
—
* Enrollment invitation is open to eligible participants in the US (excluding Puerto Rico) and Canada (excluding Quebec). All restrictions and terms and conditions of the Aspire member program apply. Eligible participants must complete the enrollment process for the Aspire member program in order to be enrolled in the program and receive rewards and benefits. Enrollees must confirm their health care professional or government employment status during time of enrollment. For full terms and conditions of the program, go to thermofisher.com/aspire/tc. Offer is void where prohibited, licensed, or restricted by federal, state, provincial, or local laws or regulation or agency/institutional policy. Other restrictions may apply. Additional terms and conditions apply.
For Research Use Only.  Not for use in diagnostic procedures.