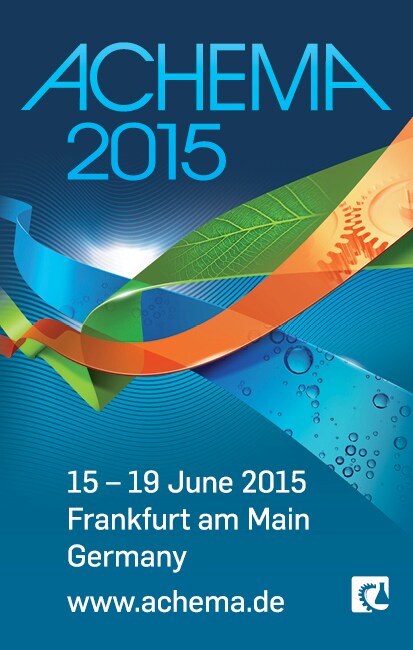 ACHEMA is the world forum for chemical engineering and the process industry, and this year's show promises to be the global innovation platform for its industries. About 3,800 exhibitors, along with over 150,000 attendees, from all around the world are expected to participate.
2014 Nobel Prize Winner Stefan Hell will give the 11:00am keynote speech at the June 15th Opening Session. Stefan is an extraordinary scientist and successful company founder, who will provide insight into the innovative power of chemistry and chemical engineering.
We have published several articles on the importance of getting the chemistry right when it comes to polymers and plastics.  With the wrong materials plastic tubing can leak, polymer valves can fail, and  product performance can fall short due to blooming, warping, or cracking.  It's also the innovative power of chemistry that has created bisphenol A (BPA) as well as the BPA debate, which sparked the American Chemistry Council to create an ad campaign, raising awareness about the safety of BPA.
If you are a material scientist in research and development, advanced quality control and academic research – and are interested in the chemistry and physical properties of polymers and plastics – make sure you stop by the Laboratory and Analytical Techniques Hall 4.2,and visit our Booth (D8). Hall 4. 2 is dedicated to:
equipment, facilities, chemicals and services for  research and industrial laboratories;
laboratory planning, equipment
apparatus for physical and chemical analysis, including sample preparation
weighing and dosing equipment
techniques related to spectroscopy, chromatography, surface analysis, environmental analysis
laboratory diagnostics and laboratory automation
contract services and analysis.
You can download the show App onto your phone so you can have all the details at your fingertips.
At our booth you'll see how a modular advanced rheometer system can be used to increase workflow efficiency and minimize operator error while analyzing the rheological properties of a broad range of samples.  Rheometers are the instrument of choice for simple viscosity determination as well as for complex rheological investigations from low-viscous liquids to stiff pastes and semi-solids. The newest generation of rheometers is focused on ease of use and a high level of customization, allowing lab managers to respond to their specific application needs. With specific rheometer modules, material scientists can observe the changes in polymer melting behavior using controlled temperature conditions in rotational as well as oscillatory test modes. This allows scientists to study how their polymer reacts under certain physical parameters that can affect their final material formulation as well as their manufacturing processes. While measuring the extensional properties, even more insight into a material's behavior towards processes like molding and film blowing can be obtained.
Achema is being held in Frankfurt, in the heart of Germany.  The Frankfurt tourism website boasts that Frankfurt am Main, is a dynamic and international financial and trade fair city with the most imposing skyline in Germany. In addition the website notes that "Part of the unmistakable style of the city on the river are the museums on the Main banks, the bold high-rise architecture…and the thinkers of the Frankfurt School."
If you can't be at the show, you can click here to find more details about rheometers and follow the show happenings via twitter using #achema.
Show Details:
ACHEMA
Laboratory and Analytical Techniques Hall 4.2, Booth D8
June 15 – 19, 2015
Frankfurt am Main, Germany