If you are a fan of crime television shows, you are probably familiar with the scene of local authorities kneeling down on the ground near the victim and gathering evidence — maybe picking up shards of plastic or glass, or a paint chip scraped off from a car — and placing it in a plastic bag.
So, how can such small evidence, like a paint chip, help point the finger at a suspect and solve a crime? Is it all really just made-up TV? In some cases, it's true. Many of these crime story plots are based on real-life advanced technology of chemical analysis.
The FTIR Technique
Fourier Transform Infrared (FTIR) spectroscopy is a techniques used extensively to characterize the chemical composition of trace evidence such as paints, fibers and adhesives as well as related chemicals. When IR radiation is passed through a sample, some radiation is absorbed by the sample and some passes through (is transmitted). The resulting signal at the detector is a spectrum representing a molecular 'fingerprint' of the sample. The usefulness of infrared spectroscopy arises because different chemical structures (molecules) produce different spectral fingerprints. And different paints have different fingerprints.
Infrared spectroscopy is one of the few analytical techniques considered by the forensic science community to have the highest discriminating power required to provide confirmatory evidence about the chemical composition of a material. FT-IR is used extensively in most forensics laboratories to identify materials such as paint chips and other possible evidence, like tape residues, from a crime scene.
Many forensics laboratories have recognized the significance of the so-called far infrared spectral range below 400 cm-1 in helping to identify inorganic pigments or minerals in a paint sample. These measurements can be made using a diamond compression cell, diffuse reflectance accessory or all-reflective diamond ATR on an FT-IR system equipped to acquire spectra below 400 cm-1. This permits investigations of inorganic pigments and dyes, and additives such as titanium dioxide or calcium carbonate.
Prepping the Sample
Obtaining high-quality transmission spectra below 400 cm-1 requires careful preparation of both the sample and the spectrometer. Water vapor shows very strongly in this range, so a stable purge is essential for the highest quality data. Also, preparing a paint sample that is sufficiently thin and fringe-free to work in a diamond anvil cell form can be challenging, though it works great when done correctly. The diamond windows compress the sample (to make it thinner) and are transparent in both the mid- and far-IR spectral region.
Simpler sampling can frequently be done using an extended-range attenuated total reflectance (ATR) module. These combine an optimized, all reflective, optical design with a diamond ATR crystal and a broad range DTGS detector to provide high-sensitivity infrared spectroscopy from 4000 cm-1 to 100 cm-1. The enhanced stability, resulting from mounting the ATR within the sealed section of the spectrometer, makes it possible to acquire spectra down to 200 cm-1 even with a desiccated system.
One unique feature of ATR spectroscopy is the limited depth of penetration into the sample. The depth of penetration is dependent on the wavelength of the infrared light and the refractive index of the sample. While the depth of penetration in the far-IR region may be several microns, this may still be smaller than the thickness of the paint layers. Figure 1 shows the spectra acquired from both sides of a paint sample. The spectra from the two sides are clearly different, indicating that we have at least two paint layers present in the sample. Spectral subtraction can often be employed to sort out the different spectral features and avoid having to manually separate the paint layers. Because the built-in ATR module was optimized specifically for the spectrometer, the sensitivity is excellent. Excellent infrared spectra can be rapidly obtained from samples smaller than 0.5 mm. This sensitivity is shown in the ATR spectra from a small sliver of paint in Figure 2.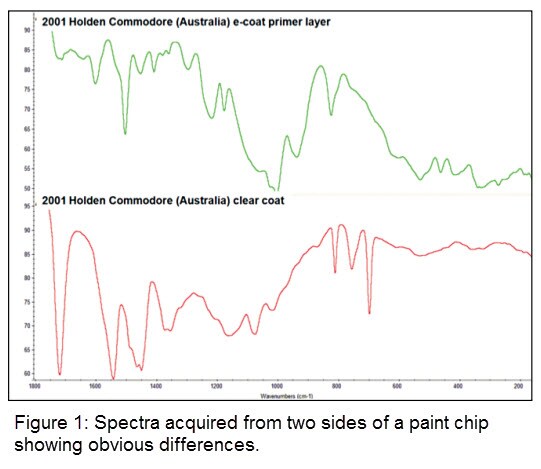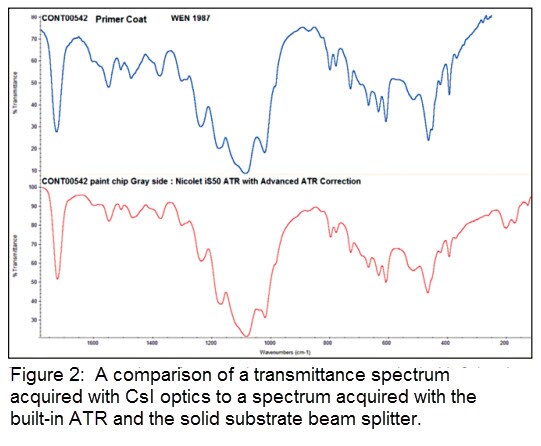 A spectrum acquired with the extended range, built-in ATR from a second paint chip is compared to the corresponding transmission spectrum. Although both the sample preparation and measurement methods were different, the spectra are quite similar after applying a software-based advanced ATR correction function. In addition, the ATR spectrum shows a few significant features below the 220 cm-1 cutoff of the transmittance spectrum acquired with CsI optics.
Combining the built-in ATR with an infrared microscope creates a strong foundation for molecular spectroscopy in the forensics laboratory, and a good place to start in catching the perpetrator of the crime. Think of how many more mysteries Agatha Christie would have written if this kind of technology was available in her time. Then again, they would have to be short stories because with FTIR, the mystery could be solved much more quickly.
For more details, including references, spectra, and instruments used, read the application note Analyzing Automotive Paints with Extended Range ATR.