Nanoparticles across industries
Nanoparticles, typically made up of only a few hundred atoms, can be found in a variety of materials from food additives to high-performance metals to catalysts used in a variety of industries. As researchers work to develop new products, they need fast, highly precise, high-resolution data to help in the nanoparticle analysis of hundreds and even thousands of particles over large, heterogeneous areas.
Automated nanoparticle analysis with APW
To meet this need, we recently released an all-in-one software package, the Thermo Scientific Automated Particle Workflow (APW), which fully automates the entire chemical analysis process, from image acquisition to data analysis, to dramatically improve investigations of nanoparticle shape, size, and chemical composition.
APW is seamlessly integrated with Thermo Scientific Talos and Spectra (Scanning) Transmission Electron Microscopes and Thermo Scientific Maps Software for energy-dispersive X-ray spectroscopy (EDS), making it possible to analyze far more particles in a shorter amount of time. The software fully automates complex workflows, freeing up researchers for other tasks, while eliminating the chance of human error. And with the ability to obtain information about 500 particles an hour, users can acquire 10 times the data previously possible in half the time.
Automated stitching of a steel sample with APW.
Researchers of all levels can run a wide range of experiments on many types of materials to obtain statistically relevant information at the atomic scale. Take a high-performance metal such as steel, for example:  As scientists work to improve the mechanical properties of steel alloys, they are researching the addition of nanoscale precipitates to improve properties such as strength and toughness.

The left image shows the distribution of precipitates on a microalloyed steel carbon replica sample. The right image shows the EDS map of the corresponding area.
To perform their analyses, they typically turn to transmission electron microscopy (TEM) imaging and EDS to determine the composition of individual precipitates across the sample. This process can be both time-consuming and tedious, with operators only collecting compositional information for a few dozen particles per day. By fully automating this workflow, APW lets researchers focus on results rather than process. Moreover, thousands of data points can be easily collected and characterized in a single day, with statistically relevant data sometimes generated in just one hour.
Catalyst research with APW
Likewise, APW will transform catalyst research in a wide range of industries. Nanoparticles are commonly used as catalysts due to their high surface area, which provides many sites for chemical reactions to occur. To improve catalytic efficiency, researchers are constantly working to enhance the properties of nanoparticles by studying these particles using TEM imaging and EDS. Using APW, they can fully automate this process and obtain accurate information about the microstructural and chemical composition of their catalytic nanoparticles far quicker and without the need for an operator to physically manage the workflow.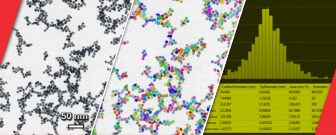 Automated, large-area TEM acquisition using APW for analysis of individual nanoparticle parameters. Sample courtesy of Prof. Gorman and Prof. Richards, Colorado School of Mines.
APW combines our unique hardware and software into a single, optimized solution for nanoparticle characterization. This all-in-one solution revolutionizes nanoparticle analysis by fully automating the entire workflow—enabling scientists to obtain the fast, precise information they need to accelerate new product development.
To learn more, please see our Automated Particle Workflow webpage.
Yuri Rikers is a Product Marketing Manager at Thermo Fisher Scientific.
 ///
Connect with an expert: https://www.thermofisher.com/us/en/home/global/forms/industrial/spectroscopy-materials-analysis-inquiries.html