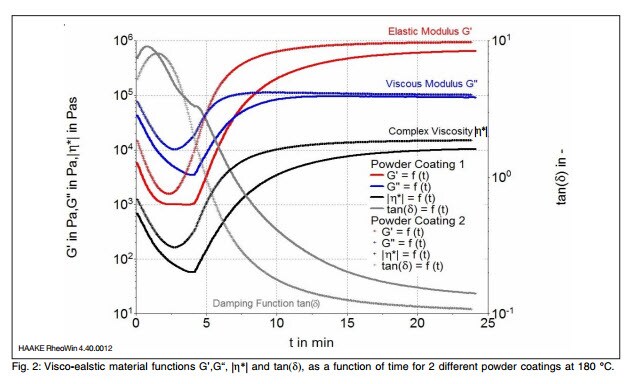 Our last article discussed how powder coatings are now emerging as a useful coating material for metals and other materials. Powder coatings are manufactured in a range of particle sizes to ensure efficient coating for particular applications. The rheological properties of powder coatings need to be determined before, during and after the temperature induced curing step to understand how a certain formulation will work towards a specific processing step as well as the actual application of the finished part.
We investigated this process and compared the effect of heat on two different powder coatings [Powder Coating 1 (PC1) and Powder Coating 2 (PC2)] with each other.  The supplier of these products stated that the properties of the two materials were the "exact"  same, not just during the cure but also afterwards. However, in reality the two systems behaved very different in their real life applications, and many of the manufacturer's customers complained about 'orange peel' affect in the surface texture of one material leading to an enhanced noise generation under friction.
We suspected the visco-elastic behavior during and after the curing was of major importance, and we used  a rotational rheometer to test the coatings.  Curing, hardening, crosslinking, crystallization, melting — all these processes involve a drastic change of a material's mechanical properties due to the build-up or destruction of a structure. Thus, rheological methods are the perfect tools to characterize these processes.
Our experiment showed the time dependent visco-elastic properties of these two different powder coats at curing temperature of 180 °C. 2.  The two "identical" materials showed a very different behavior during the curing at 180 °C and resulted in a very different profile of the finished coating.
Starting out at comparable viscosities (and viscoelastic moduli) it could be seen that PC 2 had not just started to cure earlier than PC 1, but that it also showed a faster kinetic as the slope of G' during the curing was higher than for PC 1. A faster kinetic means that we could work faster with PC 2; however what does this mean for the fully cured coating? It was also observed that both materials reach the same level of G;" however PC 2 reached higher values in elastic modulus G'. As a direct result of this, the so-called loss factor reached lower values for PC 2. This showed that in real-life applications, PC 2 builds up the tighter network with smaller mesh size due to the faster curing kinetic. During build-up of the network a lot of tension is frozen into the system due to the small mesh size. Those tensions will support the emerging of an orange peel effect on the fully cured surface, thus showing a high level of noise generation under friction.
Read Characterizing Powder Coatings in Oscillation application note for additional details, including instrument used.