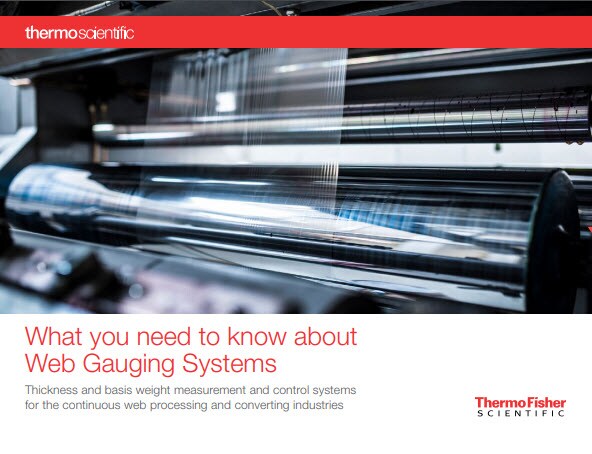 A Web Gauging System is a measurement and control system used for anything manufactured in a continuous web process. Web Gauging Systems ensure efficient production of uniform, reliable, functional products. They come with a wide range of online, non-contact basis weight or thickness measurement sensors for flat-sheet applications in the plastics, rubber, packaging, building products and textiles industries.
With the high cost of resins and machine time, typical payback period of a Web Gauging System with automatic control can approach one year or less. There are many ways a web gauging system can save money, including reducing scrap by minimizing edge trim, out of spec product, startup waste and disposal costs. As product quality improves, overall resin usage can be reduced by shifting the target thickness down, while maintaining product above the minimum specification requirements. Production yield can be increased due to reduced startup/changeover times and reduced downtime due to web breaks. Savings can be taken due to reduced machine runtime hours or increased production. Also, higher quality goods can be graded higher, and reduce customer claims.
Curious as to knowing if your web converting and manufacturing organization could benefit from web gauging technology? Want to know more about the technology that web gauging systems use? How about what system would be right for you?
Get the answers to these questions and more in our free ebook: What you need to know about Web Gauging Systems: Thickness and basis weight measurement and control systems for the continuous web processing and converting industries