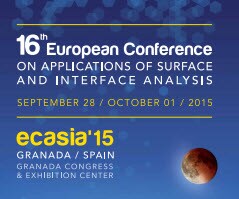 Experience the broadest portfolio of XPS instruments and the full suite of Microanalysis spectrometers for the electron microscope (EDS, WDS, EBSD) to be used in materials science research, production and analytical laboratories at ECASIA 2015 – the 16th European Conference on applications of Surface and Interface Analysis. This show is a platform for an exchange between scientists from industry, academia, government and suppliers of equipment for surface analysis. The meetings have focused on and are intended for those using surface analytical, surface specific or surface sensitive techniques for applied purposes.
We'll be in Booth nr. 11 + 14 demonstrating how XPS and microanalysis are used for the chemical and structural characterisation of surfaces, thin films and devices. X-ray photoelectron spectroscopy delivers chemical state information from the topmost few nanometers of the surface of a sample. Modern instruments can extend analyses into chemical images of the surface, revealing the extent of surface modification, or allowing defect detection. These strengths allow scientists and engineers to measure the effectiveness of coatings, understand plasma modification processes, and develop bio-compatibility coatings.
We previously wrote about Using X-ray Photoelectron Spectroscopy to Investigate the Surface Treatment of Fabrics, involving a piece of polyester lint-free cloth that was sprayed with a soft furnishings protector. As a result of the experiment, it was shown that XPS is a quantifiable surface sensitive analytical technique, ideal for determining the areas where an invisible surface modification, such as a fabric protection coating, has been applied, and also for finding the amount of coating present. It can also be used for quality control of invisible coatings on fabrics and other materials to determine whether they have been applied uniformly.
In addition to stopping by the booth, make sure you attend one of our presentations or poster sessions to learn about the latest XPS technology:
EBSD Sample surface preparation using elemental argon and argon cluster ions

XPS Analysis for Modified Fabrics

Use of small argon clusters in XPS depth profiling

A new transfer vessel to facilitate the characterization of Li-ion cell materials

Investigation of Oxide Chemistry using XPS and other Surface Analysis Techniques
You can see the full schedule here.
In addition, ECASIA event planners have put together a Lunar Eclipse social event. The night before ECASIA-2015 starts, there will be a total lunar eclipse. (A total lunar eclipse occurs when the earth's shadow completely covers the moon.) If the weather is cooperating, there will be an opportunity to see the eclipse between 0.11 am (September 28th) when the Penumbral Eclipse begins and 2.47 am when Maximum Eclipse take place. For those interested the show planners organized a 'Total Lunar Eclipse Soirée' at a terrace of a Hotel Carmen nearby the Congress Centre, where a sandwich and a drink will be offered. A couple of telescopes will be available to get all the details of the Eclipse event. Delegates must book the event when they register for the Conference however.
If you are at the show, make sure you take advantage of this event. According to Space.com, this will be the first "supermoon" lunar eclipse in more than three decades. "The supermoon total lunar eclipse, which occurs on Sept. 27, features a full moon that looks significantly larger and brighter than usual. It will be the first supermoon eclipse since 1982…. The 'Supermoon', which appears up to 14% larger in diameter due to its proximity to Earth, will also turn a reddish hue as a result of the Moon passing directly behind the Earth, into its shadow."
But don't let the lunar event eclipse the reason you are attending the show. For those scientists concerned with all aspects of biological, chemical and physical interactions at interfaces, and those lab workers using surface analytical, surface specific or surface sensitive techniques for fundamental and applied purposes, it is just as exciting to see the demonstrations of the latest technologies.
If you can't make it to ECASIA, you can watch our recorded webinar anytime on XPS Simplified: Polymer Surface Analysis. And if you want to know more info about the moon event, you can follow NASA's latest postings here.
Show Details:
ECASIA'15
September 28th– October 1st, 2105
Booth nr. 11 + 14
Granada (Spain)