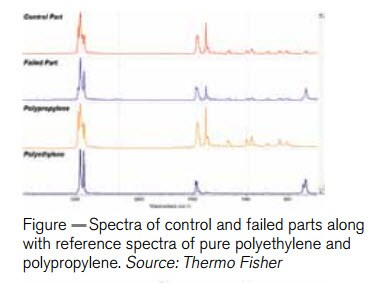 Plastic fasteners used to hold appliance assemblies together need to be strong but not too brittle to achieve the desired behavior over the life of the product. In this case study, we explore why fasteners cracked over time while in service. The observed features of the failure indicated a slow crack growth or creep rupture under the load stress to which the parts were subjected. Upon further investigation it was determined that the failed parts appeared to be from a single production run.
The parts were injection molded from polypropylene copolymer resin. Known good control parts from previous production runs were available for comparison. It was decided to use Fourier Transform Infrared (FT-IR) technology for failure analysis because this technique is commonly used in quality control and problem solving in manufacturing. The most popular and easy-to-use technique available in modern Fourier Transform Infrared (FT-IR) spectrometers is ATR, or Attenuated Total Reflectance, using diamond crystals. ATR enables samples to be examined directly in the solid or liquid state without further preparation.
A quick infrared scan of the failed and control parts using FTIR instrumentation yielded spectra which were compared to the reference spectra of polypropylene and polyethylene.  The spectra confirmed that both the failed and control parts were copolymers of these two materials.
However, closer examination of the expanded hydrocarbon stretching region of the failed and control parts tells a more complete story. The spectra revealed that the ratio of the polyethylene to polypropylene in the failed part was significantly higher than in the control part. The higher relative amount of polyethylene created a part that was not as stiff as intended, making it more prone to deformation and cracking under long-term stress.
Quality Verification of Incoming Polymer Beads Could Have Prevented the Cracking
This situation could have been prevented using a quality control verification of the incoming polymer beads prior to molding. FT-IR using a diamond ATR provides a rapid and simple method for performing copolymer blend ratio analysis on polymer beads and plastic parts. The cost of the failure, in terms of resolution and potential product recalls could easily offset the investment in running this routine QC test.
For more details, including spectra of control and failed parts along with reference spectra of pure polyethylene and polypropylene, read the Identifying Failures and Ensuring Quality of Plastic Materials article.
Check out our new FTIR Spectroscopy Learning Center — which offers an abundance of free resources related to FTIR: the Basics, Sampling Techniques, Infographics, Application Notes, Video Tutorials and more.