Combining plasma FIB and laser milling
We are thrilled to announce that the Thermo Scientific Helios 5 Laser PFIB System has won a 2021 Microscopy Today Innovation Award, which recognizes innovative products and methods that "make microscopy more powerful, more productive, and easier to accomplish."
Introduced last year, the Helios 5 Laser PFIB System is an advanced focused ion beam scanning electron microscope (FIB-SEM) with a fully integrated femtosecond laser that quickly characterizes millimeter-scale volumes of material in 3D with nanometer resolution.
Part of the fifth generation of the industry-leading Helios family, the Helios 5 Laser PFIB System combines the Thermo Scientific Elstar SEM Column for ultra-high-resolution imaging with a plasma FIB column for top performance at all operating conditions and a femtosecond laser that enables large volume 3D characterization with ultra-high resolution not previously obtained by a commercially available product.
Sample preparation and large volume analysis with laser PFIB
In addition to quickly imaging millimeter-size cross-sections at nanoscale resolution, researchers can set up large-volume 3D analyses to be automatically completed. Accurate large-volume 3D and sub-surface data can be obtained up to 15,000 times faster than a typical Gallium ion source focused ion beam (Ga-FIB). For many materials, a large cross-section of hundreds of microns can be milled in less than five minutes.
The Thermo Scientific Helios 5 Laser PFIB System won a 2021 Microscopy Today Innovation Award, recognized for making "microscopy more powerful, more productive, and easier to accomplish."
The only instrument on the market with a fully integrated femtosecond laser, the Helios 5 Laser PFIB System can analyze a wide range of materials including challenging non-conductive, air-sensitive and beam-sensitive samples. It can also expedite failure analysis while obtaining fast access to buried sub-surface layers often inaccessible with traditional FIB.
Already, institutions around the world including the UC Santa Barbara and Sandia National Laboratories in the U.S., the University of Manchester in England, and the National Institute of Materials Science in Japan are using this groundbreaking instrument to advance their research.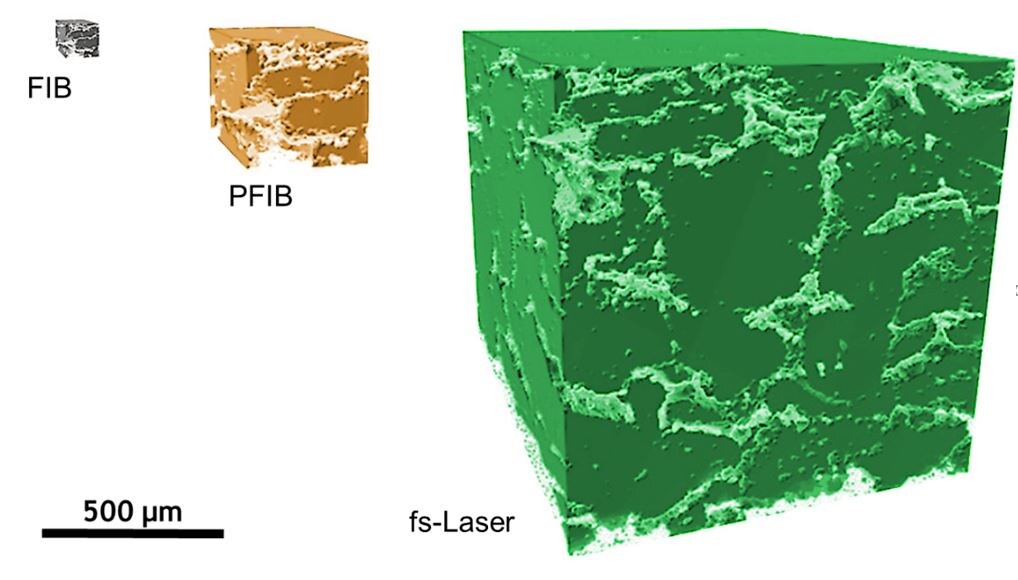 Representative 3D volumes acquired within the same amount of time with FIB, Plasma FIB, and fs-laser. Helios 5 Laser PFIB System enables 4-5 orders of magnitude faster 3D characterization while maintaining the nm resolution.
Laser milling for 3D materials characterization
In an article published earlier in this year about the evolution of 3D characterization researchers from UC Santa Barbara and the University of Manchester cited the Helios 5 Laser PFIB System as an innovative technique that's helping scientists capture the rich 3D information needed to develop a more thorough understanding about how materials behave. Providing statistically relevant large volume data, its applications can be found in a broad range of materials science research, including the automotive and aerospace industry, and next generation energy storage solutions to accelerate the design of lighter, safer and more environmentally friendly materials.
"Recently, a TriBeam (femtosecond laser-PFIB-SEM) system has been developed by Thermo Fisher Scientific on the Xe Plasma FIB Helios platform, resulting in a system capable of laser sectioning at rates 4–5 orders of magnitude faster than a Ga FIB and subsequent surface cleanup at rates 5 times faster than a Ga FIB," the authors wrote. "These systems couple all the detectors and the electron, photon and ion beams into a single vacuum chamber, utilizing robust shutters to shield sensitive components during material removal."
More information about the Helios 5 Laser PFIB award can be found on page 16 in the September 2021 issue of Microscopy Today. Also, please visit our Helios 5 Laser PFIB System webpage.
—
Mikhail Dutka is a Product Marketing Manager at Thermo Fisher Scientific.