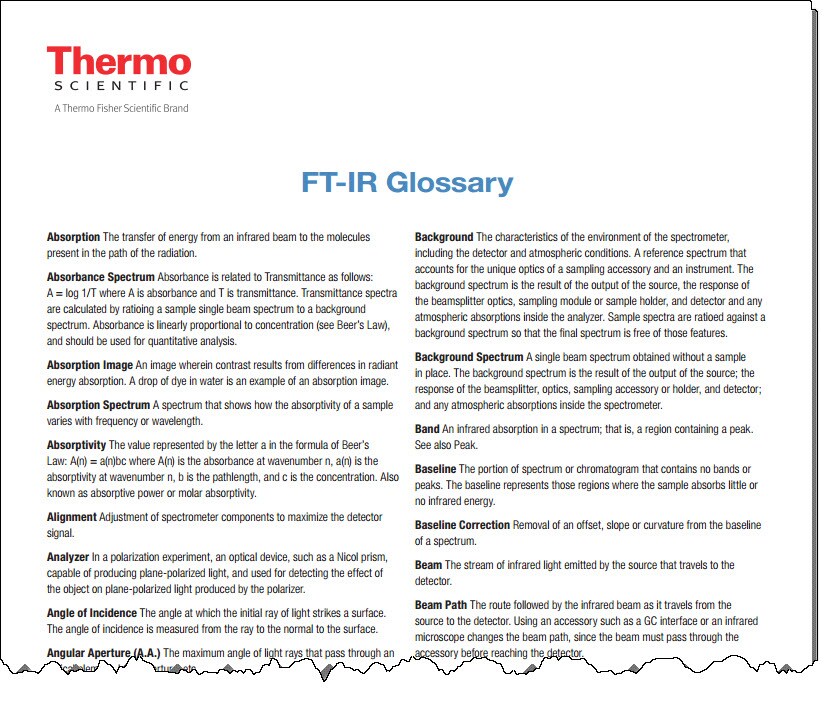 We are beginning a new year, so let's get back to the beginning basics of FTIR.
FTIR stands for Fourier transform infrared, the preferred method of infrared spectroscopy. When IR radiation is passed through a sample, some radiation is absorbed by the sample and some passes through (is transmitted). The resulting signal at the detector is a spectrum representing a molecular 'fingerprint' of the sample. The usefulness of infrared spectroscopy arises because different chemical structures (molecules) produce different spectral fingerprints.
FTIR is a common technique in the polymers and plastics industry. We have previously written about: how the degree of cure of a polymer-based ink applied to a Mylar film be readily determined by FTIR, test methods for monitoring the curing of the acrylate glue with rheology and simultaneous FTIR, and how FT-IR helped in discovering the cause of cracking in a plastic fastener.
To have a good understanding of the FTIR method and start the year off right, you need to have a good understanding of all the terms that are used during the FTIR process. We have developed a list of words and phrases with their definitions to help you understand the acronyms and terms that are commonly used. Just click on this link to access the FTIR Glossary.