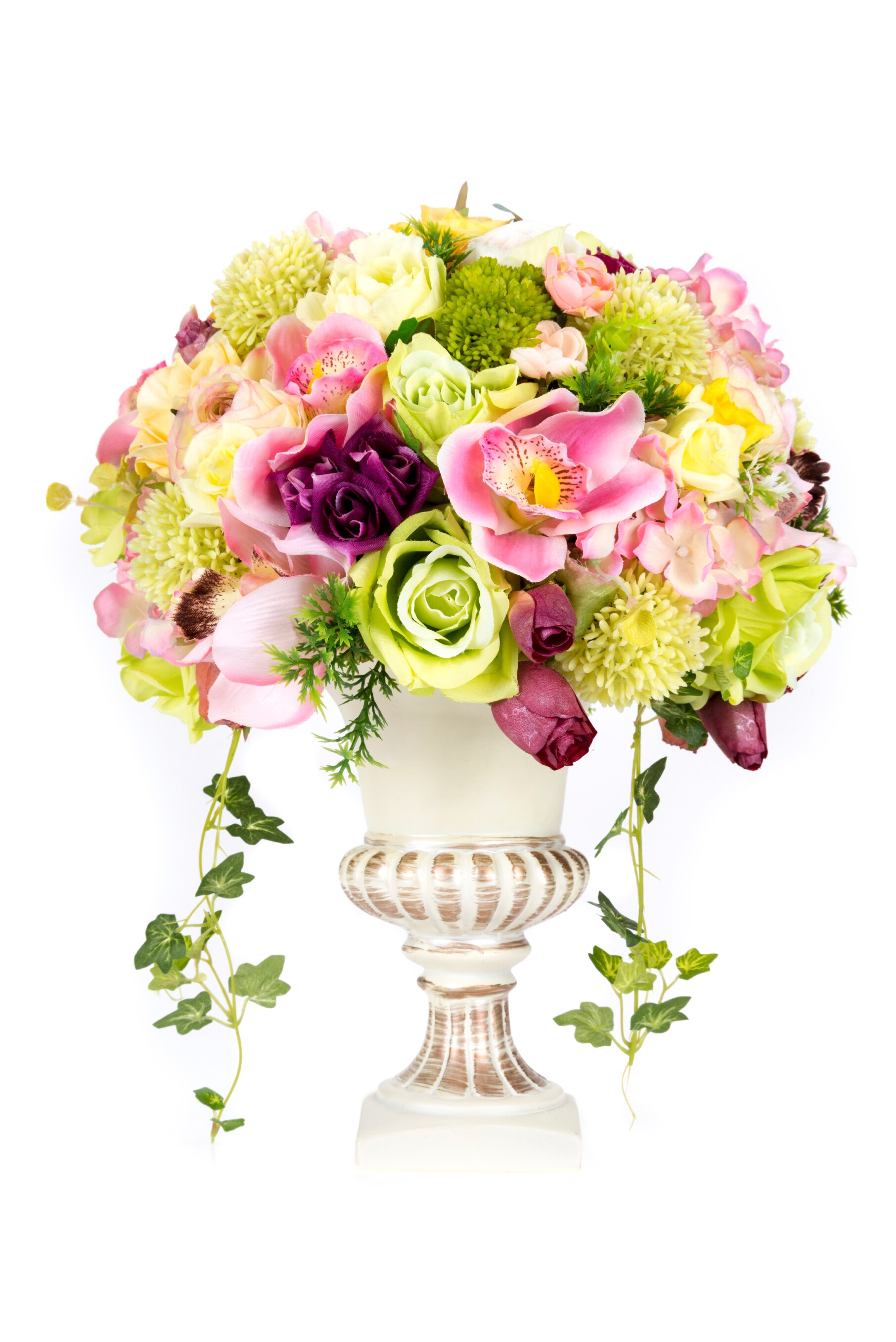 President Woodrow Wilson issued a proclamation on May 9, 1914, asking Americans to give a public expression of reverence to mothers through the celebration of Mother's Day. According to the U.S. Library of Congress, "Carnations have come to represent the day as they were distributed at one of the first commemorations honoring the mother of the founder of Mother's Day."
Those carnations have led to all types of flowers.  According to a survey by the National Retail Federation, two-thirds (66.6%) of those celebrating Mother's Day will buy mom flowers, spending a total of $2.3 billion, in 2014. In the report, flower purchases were broken into four categories:  fresh flowers, outdoor bedding and garden plants, flowering houseplants, and green houseplants.  What wasn't mentioned?  Artificial flowers.
Polyester has been the main material for manufacturing artificial flowers since the 1970s, when molded plastic flowers arrived from the Far East. Most artificial flowers in the market nowadays are made of polyester fabric and polyurethane, and some are called 'silk' flowers.  The Flower Arranging Expert, a book by D. G. Hessayon, outlines the history of the artificial flower.  In his book, the author writes that "the material used for 'silk' flowers is woven polyester fibre, although the terms 'silk' and 'designer' flowers are used for blooms made from pure silk, latex, and parchment as well as polyester….The stems of silk flowers are made of plastic, plastic-coated wire or wire covered with floral tape."
Manufacturers of artificial flowers need to make sure they deliver high quality products.  Many people purchase artificial flowers as an alternative to the real thing because of allergies, cost, or permanence. Yet, they are expecting year-round beauty, an eye-catching table arrangement at their wedding or important event, and flowers of such high-quality that one has to feel the petal to realize it's a fake. A thorough, precise testing and analysis process is mandatory to ensure quality, keep those customers happy, and stay competitive in today's environment.
There are a variety of molecular spectroscopy techniques and applications that can help in the analysis of plastics and polymers— from Near Infrared (NIR) technology, Fourier Transform Infrared Spectroscopy (FTIR) and Fluorescence, to Raman and Ultraviolet-Visible and Visible Spectrometry. But if your sample is especially challenging, your first step might be to analyze the problem itself.  Different symptoms demand different analysis techniques.
If there's a coloring problem – like discoloration, wrong color, or streaking – it could mean there is an improper formulation of additives or fillers, contamination or poor mixing. Oxidation, degradation, contaminant, and incorrect material could cause brittleness, cracks, and weakness; while surface or embedded processing (trapped gas) could cause roughness, speckles, mars, or bubbles. Improper formulation of co-polymers, plasticizers, fillers (>1% by weight) could cause material to be too hard or too soft, and make it difficult to shape the flower as intended.  (To help manufacturers evaluate their challenging samples, we have created a free step-by-step analysis guide.  It will help manufacturers find their particular plastic or polymer symptom and learn how to solve the problem – from sample prep to data analysis.)
It is important for companies to analyze polymers for product quality assurance and quality control verification, failure analysis, deformulation, and product development.  The manufacturers might be producing artificial flowers, but their fake flora should look realistic, and make their mothers proud.
Editors Note:  Mother's Day 2015 is Sunday, May 10th.