Organic LED (OLED) displays are the future of the display industry, due to low power consumption leading to low battery use. Optimization of the electrical properties of various OLED materials must first start with characterization. Using a single instrument, this application note investigates poly (9,9-dioctylfluorene) or PFO, a high brightness, blue-light emitting OLED material with a low turn-on voltage.

The Thermo Scientific Nexsa and ESCALAB X-ray Photoelectron Spectrometers include multitechnique options that enable characterization of much of the electronic structure of PFO within a single tool. In this application note, samples of PFO material from Oak Ridge National Laboratory are analyzed using a single XPS instrument to determine the material's electric band gap.

Using a single X-ray photoelectron spectroscopy (XPS) instrument, both reflected electron energy loss spectroscopy (REELS) and ultraviolet photoelectron spectroscopy (UPS) data is used to determine the band gap and energy level diagram of the material.

Most of Thermo Scientific XPS tools, including ESCALAB 250Xi, offer reflected electron energy loss spectroscopy (REELS) as standard. This technique, which measures the electrons from an incident beam scattered by the top surface, is the ideal technique for investigating carbon aromaticity and unsaturation. The valence levels of aromatic polymers can be studied without interference from core-level carbon transitions. Additionally, the technique is extremely surface sensitive and it is possible to obtain information from the top 1 nm of the surface.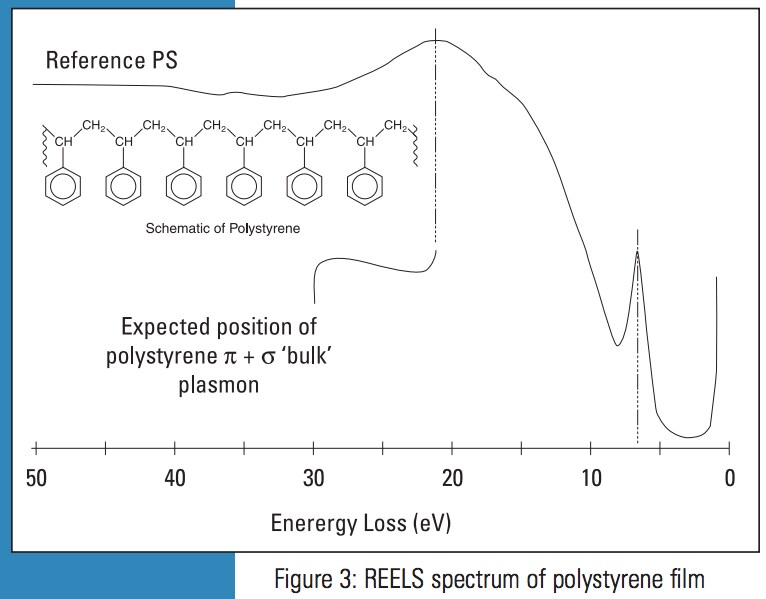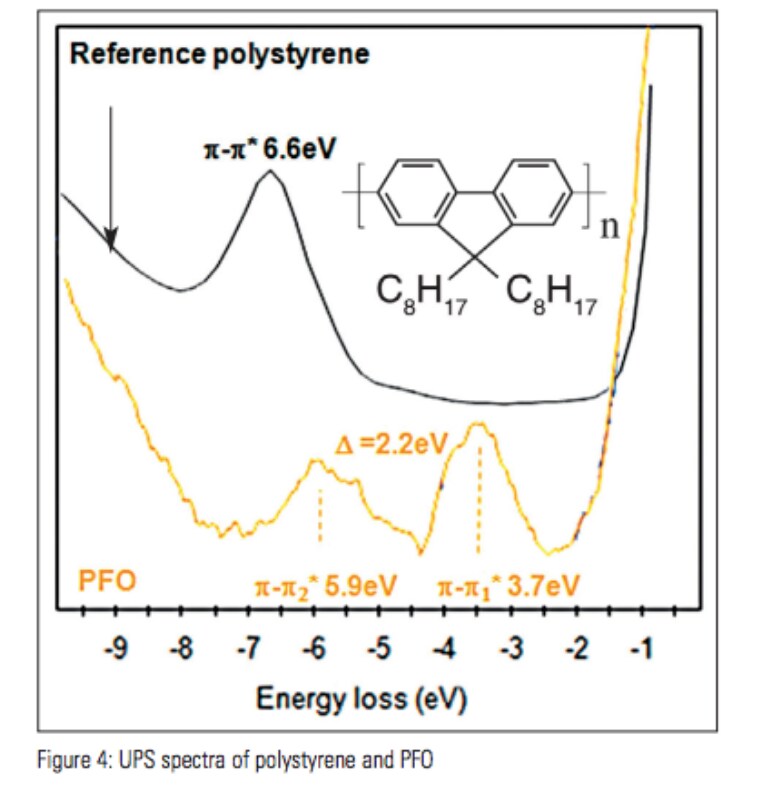 Further information on the valence levels of the PFO was obtained with ultraviolet photoelectron spectroscopy (UPS). UPS uses a helium discharge source, which has a significantly lower energy than the monochromatic aluminum K-α X-rays used for XPS, making it ideally suited for investigating valance band transitions. Using UPS it is possible to measure the ionization potential of OLED films, and as well as many other valence level parameters.

The figure (shown here) is the result of information obtained by the UPS and REELS, which result in the visual representation of determination of the band gap.