Ever since volcanic caves were discovered on Mars, researchers have wondered whether these caverns hold the key to understanding whether microbial life has existed on the Red Planet. To prepare themselves for future manned missions, researchers have begun to explore the microbiology and mineralogy of volcanic caves on Earth with greater intensity.
Among the scientists working on cave research is Ana Zélia Miller, a geomicrobiologist at the Institute of Natural Resources of Agrobiology of Seville (IRNAS-CSIC) and research member at the HERCULES Laboratory at Évora University in Portugal. To learn more about volcanic caves on Earth, Miller brought 17 researchers together from seven countries for an expedition to the Selvagens Islands, a remote archipelago in the North Atlantic.
A multi-disciplinary approach to cave research
Known as the Microceno Project, the expedition was timed with the International Year of the Caves and Karst and the 50th anniversary of the Selvagens Islands' establishment as a natural reserve.
Miller assembled a team with varied scientific expertise including microbiology, mineralogy, geology, astrobiology, and paleoclimatology, taking a multi-disciplinary approach the same way scientists would if they were on a manned mission to Mars. Team members also wanted to test possible instruments they could bring with them on future planetary expeditions, including the Thermo Scientific Phenom XL G2 Scanning Electron Microscope (SEM), the first-ever SEM to be used in field research.
Searching for past microbial life
In addition to serving as project leader, Miller led microbiology research during the expedition, investigating how previously undiscovered bacteria and their enzymatic activity may contribute to the development of new antibiotics and therapeutics. These bacteria are also of interest to the astrobiology field since they can serve as models for the search of past microbial life in volcanic caves found on Mars.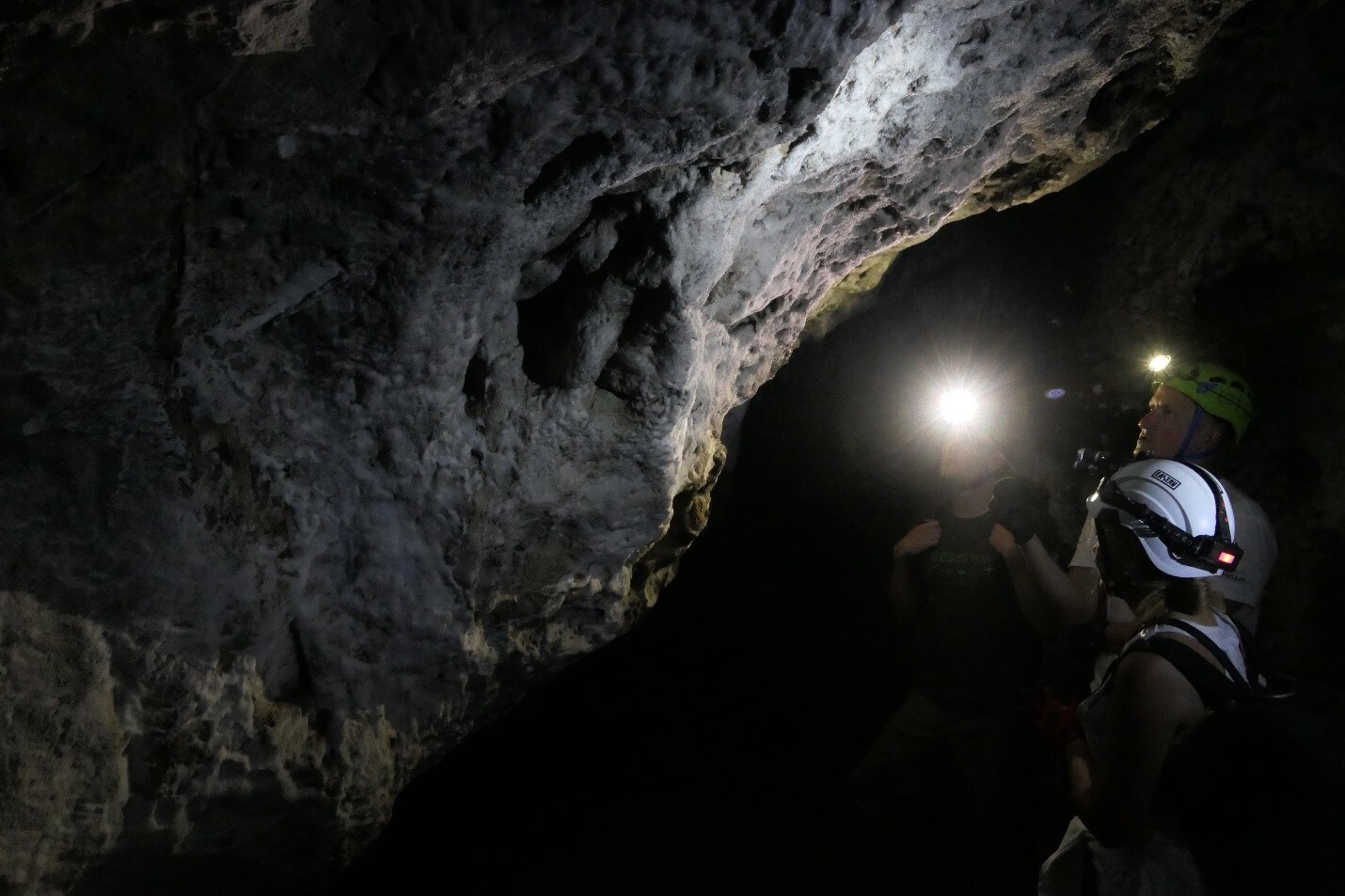 Researchers collect samples on the inner wall of a cave to determine what organisms are present.
"This expedition was an important step forward because it allowed us to explore the broad diversity of our planet in a pristine environment free from human intervention," says Miller. "Our research has important implications for the pharmaceutical industry as we analyze the microbial properties of the microorganisms we found and whether the products of their metabolism can be used for antibiotics. For astrobiology, this research can help us recognize the signatures of microbial life on other planets, particularly on Mars."
Optimizing samples for microbiology research with the Phenom XL G2 Desktop SEM
Taking along a Phenom XL G2 Desktop SEM enabled researchers to quickly and immediately analyze microorganisms present on rock fragments and speleothems collected in the caves. This, in turn, helped them optimize sample collection by ensuring they had enough high-quality samples to take back with them for additional laboratory analysis.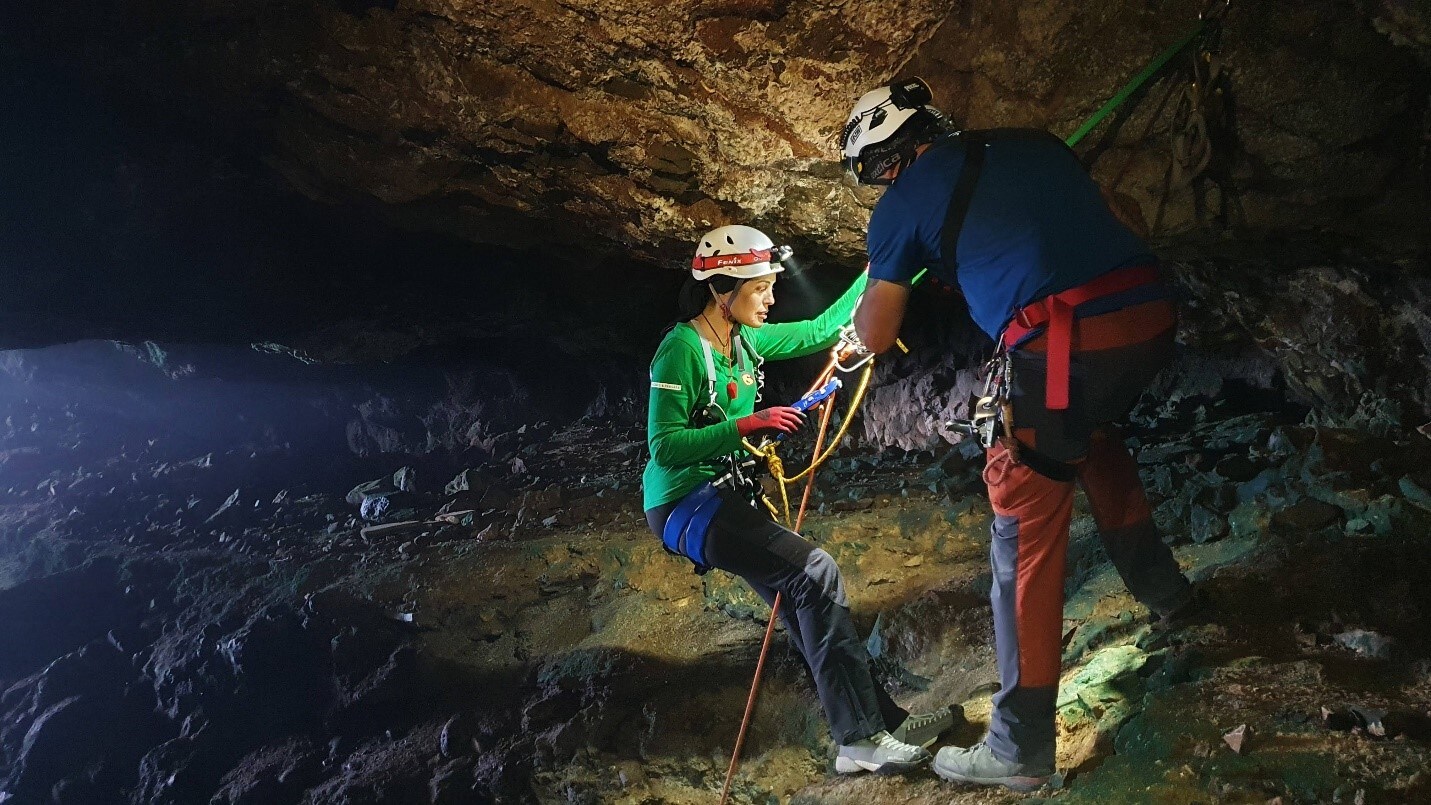 Geomicrobiology expert Ana Zélia Miller observes and collects samples from an interior wall of a volcanic cave in the Selvagens Islands.
"Having the portable Phenom SEM in the field was a real technological breakthrough because it allowed us to bring the laboratory to the field and expedite our work," Miller says. "Because we could analyze samples in the field, it allowed us to select the most interesting samples and to collect enough high-quality samples for further analysis using different techniques."
Using the Phenom XL G2 Desktop SEM for future Mars missions
The expedition provided the opportunity for scientists from different disciplines to explore one of the most unique natural laboratories in the world. Miller believes this multi-disciplinary approach will become increasingly common with future field experiments. "Multi-disciplinary collaboration is the future, and it's what gave us such outstanding results," she says. "We combined field exploration and teamwork, and we were also exposed to different cultures. I learned a lot, not just from the scientific perspective, but from a personal one. It was an incredible experience."
While the research continues, Miller says the expedition unveiled the high levels of biodiversity found within the volcanic caves. It also demonstrated the benefits of bringing the Phenom XL G2 Desktop SEM and other cutting-edge technology on future Mars missions to help researchers detect the possible presence of microbial life in the underground caves there as well.
"The entire team, comprising different fields of science, were all interested in using this equipment in the field," she says. "The possibilities are huge for future experiments and it's really important to include these powerful tools."
The researchers on the expedition would like to acknowledge the Institute for Nature Conservation and Forests and the Selvagens Islands Nature Reserve for making this expedition possible.
//
To learn more about mineralogy and microbiology research with the Phenom XL G2 Desktop SEM, and how it assisted scientists with their discoveries during the Selvagens Islands expedition, please see our previous blog post, Phenom XL G2 SEM Accompanies Scientists on First-Ever Field Expedition Using a Portable SEM, and stay tuned to learn more from another research scientist's perspective. Also, visit our Phenom XL G2 Desktop SEM webpage.
 //
 Rogier Miltenburg is an applications and product specialist at Thermo Fisher Scientific.