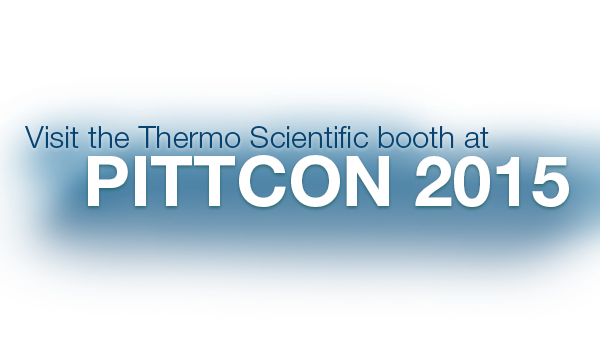 Pittcon is the self-proclaimed "World's Largest Annual Conference and Exposition for Laboratory Science." The Pittsburgh Conference on Analytical Chemistry and Applied Spectroscopy attracts more than 16,000 attendees from industry, academia and government from over 90 countries worldwide. It will be held March 8 – 12, 2015, at the Ernest N. Morial Convention Center, New Orleans, LA USA. Make sure you stop by booth 2523 to learn how you can collaborate with our technical experts and discover more ways we can help solve your toughest analytical challenges.
Before you step onto the exhibit floor, take a few moments to look over our schedule so you can plan a productive show. There are plenty of opportunities for attendees looking for polymers and plastics education and technology. Here are just a few examples:
Seminar: Monday, 9:00am
Increasing Extraction Efficiency of Wet Samples Using a Novel Polymer During Accelerated Solvent Extraction
Poster Session: Tuesday, 12:10pm
Characterization of Food and Pharmaceutical Packaging by Molecular Spectroscopy
Poster Session: Tuesday, 1210-2P
Comparison of Soxhlet and Accelerated Solvent Extraction (ASE) for Leachable and Extractable Analysis of Packing Material
Poster Session: Wednesday, 1870-9 P
Determination of Polymerized Triaclyglycerides by High Pressure Liquid Chromatography and Corona Veo Charged Aerosol Detector
Poster Session: Wednesday, 1930-1 P
Complementary Use of Raman and FTIR Imaging for the Analysis of Multi-Component Polymer Materials
Take a look at the Chemical Analysis offerings at the show. From streamlining workflows to minimizing quality assurance errors, you'll see easy-to-implement solutions with a comprehensive portfolio of equipment, software, services and resources. Discover how you can watch your concerns disappear and your processes run effectively and profitably.
While you're at the booth, recharge and refresh. You can recharge your phone/ipads/laptops and more. And on Monday and Tuesday afternoons refreshments will be served.
If you can't be at the show, visit our special web page of Pittcon resources where you can register to access the materials available at the show. And remember to follow the show on twitter using #Pittcon15 and @ThermoSci.