Addressing plastic pollution
(updated on 6/4/21)
As plastics power our everyday lives, it's critical that they be used in a way that conserves resources and protects the planet. Unfortunately, the use of plastics has resulted in a deluge of slowly degradable plastic pollution (i.e. microplastics) entering our environment and our food chain.
To advance science and facilitate collaborations, Thermo Fisher Scientific created two free online symposia led by some of the most prominent scientists in this field. The series, part of our Science for Sustainability Virtual Symposia, was aimed at helping researchers deepen their understanding of microplastic contaminants, bio-friendly alternatives to environmentally harmful materials and research on plastics recycling.
If you weren't able to attend in April, you're still in luck! All sessions from the symposia are available on-demand.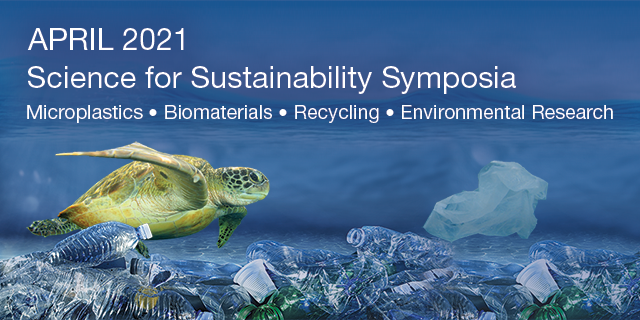 Global Microplastics Symposium
In this first symposium, renowned experts in the field shared both the challenges and solutions to identifying and quantifying microplastic contaminants. They discussed current and evolving methods for studying plastic pollution in different geographies and environments. Additionally, they hosted an interactive panel discussion.
Biomaterials and Recycling Symposium
In this second symposium, international technical experts discussed the latest trends in biomaterials research. They described the manufacture and characterization of innovative materials with sustainable properties. They also discussed some of the opportunities and limitations of recycling bioplastics, polymers and biomaterials.
Leading these symposia was a diverse array of scientists from around the world. We're excited about the amazing lineup of experts who agreed to share their knowledge and their research:
Monica Arienzo, Ph.D., Assistant Research Professor at the Desert Research Institute, Division of Hydrologic Sciences
Mark Benfield, Ph.D., Professor, College of the Coast and Environment, Department of Oceanography and Coastal Sciences, Baton Rouge, LA
Janice Brahney, Ph.D., Assistant Professor at Utah State University
Susanne Brander, Ph.D., Assistant Professor at the Dept. Of Fisheries and Wildlife, Coastal Oregon Marine Experiment Station, Oregon State University
Scott Coffin, Ph.D., Research Scientist III, California State Water Resources Control Board
Win Cowger, NSF graduate research fellow at the University of California Riverside
Frederik Desplentere, KU Leuven Bruges Campus, Material Engineering Department, Propolis research group
Dr. Christoph Hess, Ph.D., Professor of non-metallic materials with the Faculty for Technology and Bionics at the Rhine-Waal University of Applied Sciences, Germany
Christy Hudak, Research Associate at the Center for Coastal Studies
Jennifer Lynch, Ph.D., Research Biologist, Co-director, Chemical Sciences Division, National Institute of Standards and Technology Hawaiʻi Pacific University, Center for Marine Debris Research
Chelsea Rochman, Ph.D., Assistant Professor at the Department of Ecology and Evolutionary Biology; Head of Operations & Science Programming and Application Lead, U of T Trash Team, University of Toronto, St. George
Wonjoon Shim, Ph.D., Principal research scientist of Korea Institute of Ocean Science and Technology (KIOST) and a professor of Department of Applied Ocean Sciences at Korea University of Science and Technology
Clare Steele, Ph.D., Assistant Professor of Environmental Science and Resource Management, California State University Channel Islands
Ineke Velghe, KU Leuven Bruges Campus, Material Engineering Department, Propolis research group
Maaike Vercauteren, Ph.D., Post-doc researcher at Blue Growth Research Lab and GhEnToxLab at Ghent University (Faculty of bioscience engineering)
Jeff Wagner, Ph.D., Research scientist with the California Department of Public Health Environmental, Health Laboratory
Charles Wong, Ph.D., Department Head of Chemistry at Southern California Coastal Water Research Project Authority
Michael Forrester, Ph.D., Research Scientist at Iowa State University, Chemical and Biological Engineering
Camila Belduque, Mechanical and Manufacturing Engineering grad student at Texas State University
Joel Andersen, Ph.D., CTO at Cinthesis
Dr. Madina Shamsuyeva, Head of Department Plastics Technology, Recycling and Plastics Analytics at the Institute of Plastics and Circular Economy IKK
Ray Bergstra, Ph.D., Director of Technology and Business Development for TerraVerdae Bioworks
Elham Fini, Ph.D., Associate Professor at Arizona State University
Scott Mauger, Ph.D., Staff Scientist at National Renewable Energy Laboratory
Charles and Shelly Moore, Founders of the Moore Institute for Plastic Pollution Research
//
Register now to learn about the latest innovations in sustainable materials and environmental research. Our free, virtual symposia are available on-demand!