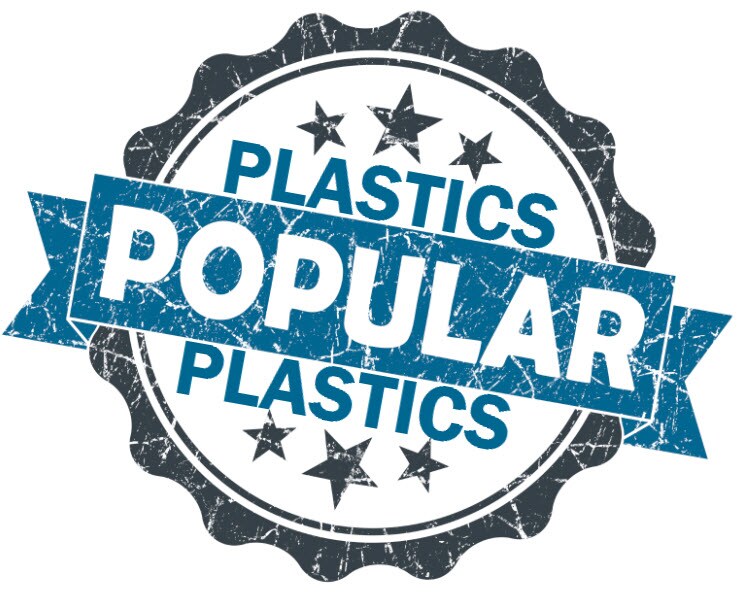 Plastic is a leading material in the production and packaging of intermediate and finished goods. Few industries do not use plastics in their products, while consumers encounter plastics every day in the form of packaging, building/construction, transportation vehicles, medical equipment, scientific instruments, institutional products, furniture and furnishings, electronics, and apparel. The U.S. Environmental Protection Agency states that "in 2013, the United States generated about 14 million tons of plastics as containers and packaging, about 12 million tons as durable goods such as appliances, and almost 7 million tons as nondurable goods, such as plates and cups." Here is a brief overview of the most widely used plastics.

Polyethylene Terephthalate (PET)
Polyethylene terephthalate (PET) is a strong, lightweight, transparent plastic. When PET is used to make fabric, it's known as polyester. A recent post, Processing Polyethylene, discussed this widely used plastic that has applications in packaging, consumer goods, and coatings. According to The Plastics Industry Trade Association, the use of polyethylene took off after the second world war when a variety of high and low density versions were developed. Large-scale production of these materials reduced their cost dramatically, enabling them to compete with the older plastics and with the more traditional materials such as wood, paper, metal, glass, and leather. Today, both High Density Polyethylene (HDPE) and Low Density Polyethylene (LDPE) remain among the most commonly-used plastics. Both are strong, non-leaching, and frequently used in food packaging, but HDPE is less flexible than LDPE.
Recommended reading:
Characterizing Long-chain Branching in Polyethylene with Extensional Rheology
Density and Copolymer Content in Polyethylene Samples by FT-NIR Spectroscopy
Chemical State Imaging of Carbon Fibers on PET
High Energy Resolution Monochromatic XPS Spectra of Polyethylene
Investigation of the Flow Characteristics of PET at Different Temperatures

Polyvinyl Chloride (PVC)
During the second world war, many companies began to realize the advantages of PVC due to the acute shortage of rubber, according to plasticsindustry.org. The significance of plasticizing PVC—adding a chemical known as a plasticizer to make PVC flexible and more easily processed—was also fully realized. Vinyls are one of the better known PVCs, used in products such as upholstery, flooring, wall coverings, pipe, siding, apparel and accessories. Vinyls are used mainly for their chemical and weathering resistance, high dielectric properties, or abrasion resistance. Vinyl is also dip molded into gloves, slush molded into boots and foamed to make calendered flooring, leather-like upholstery, shoe fabrics and carpet backing.
Recommended reading:
Determination of Plasticizer Content in PVC by FT-NIR Spectroscopy
Accelerated Solvent Extraction of Plasticizers from Polyvinyl Chloride Polymer
Accelerated Solvent Extraction for Additives in Polymer Materials
Characterization of PVC compounds
Correlation Between Mixer Tests and the Extrusion Behaviour of PVC Dry Blends
Evaluating the Plasticization Process of Different Soft-PVC Samples

Polypropylene (PP)
PlasticsIndustry.org describes polypropylene as one of the high-volume "commodity" thermoplastics.  A member of the olefins family, it has a low density, is fairly rigid, has a heat distortion temperature suitable for hot-fill packaging applications, and excellent chemical resistance and electrical properties. Polypropylenes are easily processed in all conventional systems for applications including packaging, automotive, appliances and carpeting.
Recommended reading:
Analysis of Traces in Polymers
Differentiating Polypropylene Samples from Different Suppliers with the Same MFR Value
Compounding of Carbon Nanotube (CNT) Suspensions with Polypropylene