Tire manufacturing
While many of us take tires for granted, they are one of the most important parts of a vehicle—playing an essential role in safety, efficiency and performance. Today, more than 3 billion tires are manufactured each year, and the global tire manufacturing market continues to grow as the demand for passenger vehicles rises across the world.
While tires are often considered commodities, they are actually precisely engineered components. A tire can contain as many as 20 rubber compounds with several types of microstructures, all influencing the level of grip and traction—as well as the distance the tire can safely be driven before losing its performance and eventually breaking down.
The main raw materials used to manufacture tires are natural and synthetic rubbers. To reduce costs and improve their strength, resilience, and wear resistance, fillers are added to reinforce each of the tire rubber compounds. Today, fillers such as zinc oxide and carbon black often account for more than 40 percent of the entire tire compound, and their chemical composition plays a key role in the elastic efficiency and aging process of the tire.
As tire manufacturers work to improve the quality of the tires they produce, one of the key factors is the distribution of fillers within the rubber matrix. By ensuring even distribution of these fillers, manufacturers can improve the elastic behavior and performance of the tire. To characterize different fillers and how they're dispersed across the rubber matrix, tire failure analysis engineers commonly turn to scanning electron microscopy (SEM) and dispersive X-ray spectroscopy (EDS).
Tire failure analysis with SEM-EDS
Researchers can obtain compositional information about a tire sample using SEM images, which enables them to easily differentiate the rubber matrix from the inorganic fillers based on the high image contrast between these materials. As a larger variety of materials are introduced into the tire manufacturing process, EDS is now typically used to distinguish the different elements in the sample.
While SEM and EDS are critical to tire failure analysis, traditional ways of using these techniques are expensive, slow and inefficient. Conventional SEM-EDS analyses requires an experienced researcher with extensive knowledge who can set up the parameters and the system for data acquisition. The workflow is complicated, and it requires switching between two separate systems: using a traditional SEM to acquire compositional information and then switching to a different PC, software, and user interface for EDS analysis.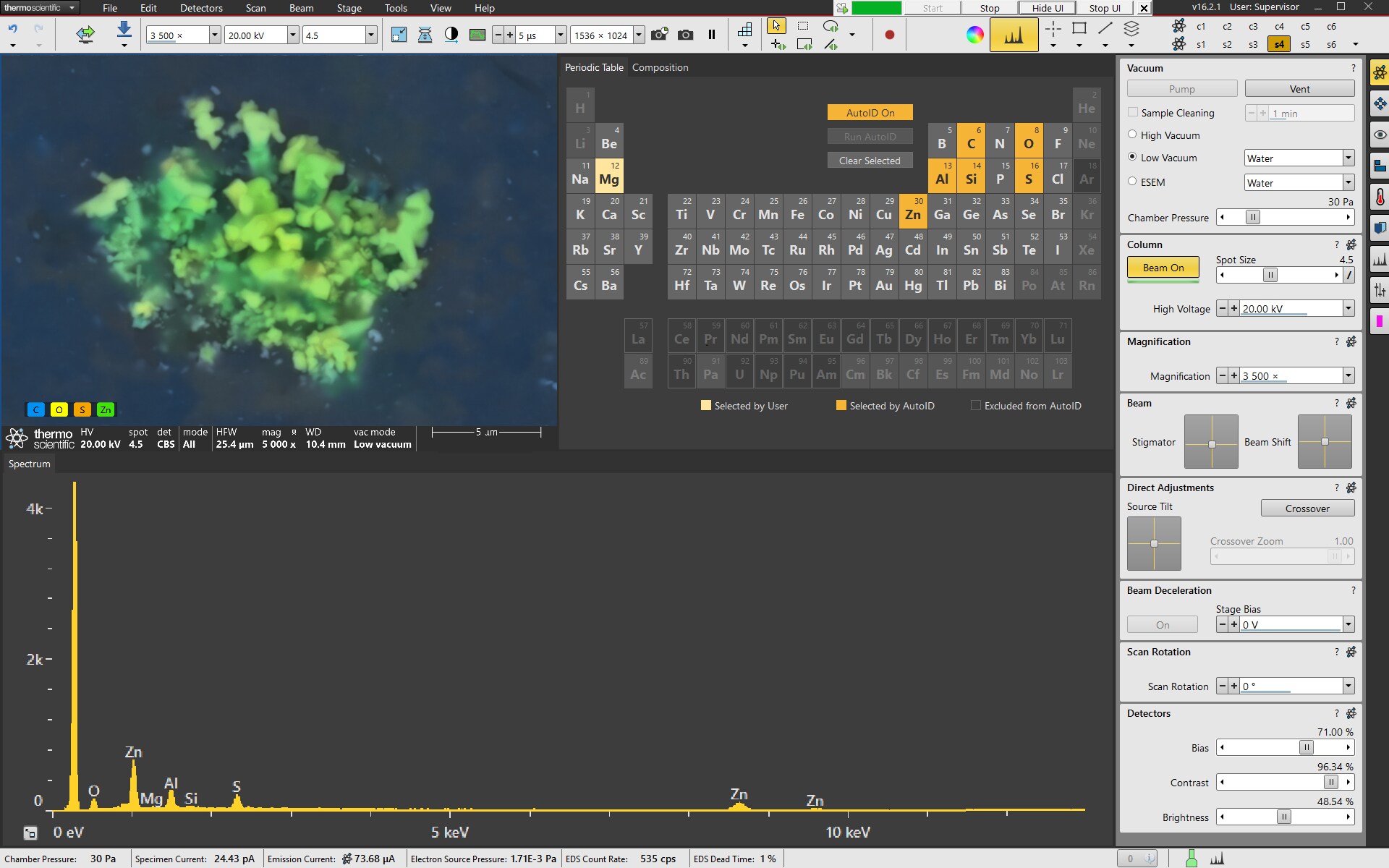 Using the Axia ChemiSEM, tire failure analysis researchers can see the quantitative elemental image during its acquisition and the spectrum of the area required, while selecting elements of interest from a periodic table.
The Thermo Scientific Axia ChemiSEM addresses these issues by integrating SEM and EDS into a single platform. Researchers no longer need to use one user interface to obtain compositional information about tires, and then switch to another for elemental data. Instead, the Axia ChemiSEM includes always-on EDS analysis, giving users instant access to quantitative elemental information directly from within the SEM image.
The instrument continually collects EDS data in the background, using unique algorithms to simultaneously process the SEM and EDS signals. Researchers can turn on the EDS analysis information when they need it. They can also turn specific elements on and off, making it easy to observe the distribution of different fillers, while easily locating areas where more detailed analyses are required. Once an area for further exploration is identified, researchers can easily perform a point analysis on the particle to determine the percentage quantities of each element contained within the larger compound.
Using the AxiaChemiSEM to identify the root cause of tire failures, tire manufacturers can enhance productivity by extending SEM-EDS analysis to a broader range of users. They can also improve efficiency and accuracy as they work to pinpoint tire failures—ultimately speeding their efforts to bring higher-performance tires to market.
Alice Scarpellini is an Applications Development Scientist at Thermo Fisher Scientific.
//
To learn more, see our Characterization of tire fillers with Axia ChemiSEM application note.