We see recycling bins everywhere, encouraging us to dispose of our plastic water bottles in an environmentally responsible way. Yet, plastic recycling isn't as widespread as we may think, and the technology is relatively new. Perhaps the most startling example that plastic recycling efforts have a way to go can be seen in the Great Pacific Garbage Patch, a massive accumulation of primarily plastic debris. According to National Geographic, about 80% of this debris comes from land-based activities in North America and Asia. Plastic makes up the majority of marine debris because it's heavily used in consumer and industrial products, and because it's not biodegradable.
One of the challenges to efficiently recycling plastic materials is that there is a lot of confusion about which plastics are eligible for recycling—not all are. Many people have no idea what varieties of plastic their local recycling program accepts. The Resin Identification Codes (RIC) that are stamped on plastic containers and packaging further confuse consumers because they resemble a recycling symbol but don't indicate that an item is recyclable, only what type of plastic it is. As a result, recycling streams get contaminated, and incorrectly sorted plastics must be removed from the processing line.
Separating different recyclable plastics from each other so that they are processed correctly is also a challenge. In addition to separating polyethylene (PE) items from other plastics, different types (densities) of PE need to be separated, as do items co-polymerized with other types of plastics. This is difficult to do without complex chemical analysis. Read Density and Copolymer Content in Polyethylene Samples by FT-NIR Spectroscopy to learn how Fourier transform near-infrared spectroscopy (FT-NIR) provides a means to identify and analyze various polyethylenes.
Science Advances recently reported on a novel solution to the plastic recycling issue. Because plastics are made from fossil fuels, a group of scientists from the United States and China believe there may be a way to convert them back to fuel. Their study focuses on polyethylene because it's one of the most commonly used plastics, and it's notoriously difficult to recycle. Polyethylene starts with naphtha, or petroleum, which is extracted from crude oil and heated to release ethylene, which forms branch-like structures to become polyethylene.
The researchers explain their process:
Alkane metathesis is a process in which alkanes are covalently rearranged to give a new distribution of alkane products. Because PE is essentially composed of ultra-long alkanes, we envisioned that alkane metathesis could be used to cleave PE chains. Here, we report a mild and efficient degradation of PE into liquid fuels and waxes using inexpensive and readily available light alkanes, such as petroleum ether, as the reagents. These alkanes with low carbon number are major constituents of a variety of refinery and petrochemical streams, the Fischer-Tropsch process, and some biomass conversion pathways. We show that the cross metathesis between these low-value light alkanes and PE results in very efficient degradation of various grades of PE. In particular, we demonstrate that the wastes of commercial PE plastics can be selectively degraded into transportation fuels and waxes under mild conditions in a controllable manner.
On a similar note, check out this scientific poster, which outlines the preparation and analysis of PET with additives in a micro compounder and rheometers.
To keep up with more developments in polymer science, visit the Polymers and Plastics Information learning center.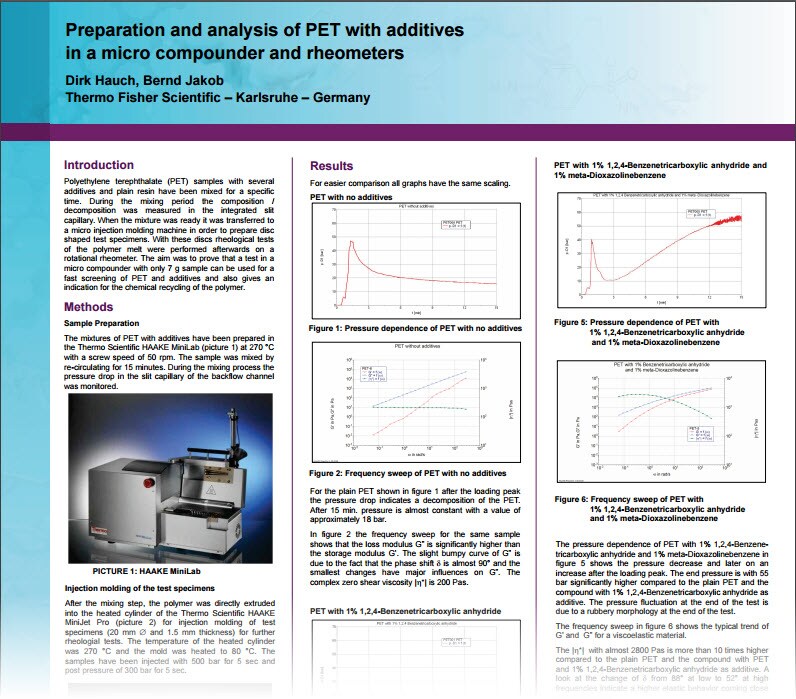 Download
Click here to access the scientific poster Preparation and analysis of PET with additives in a micro compounder and rheometers.