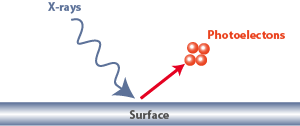 X-ray photoelectron spectroscopy (XPS) is a technique for analyzing the surface chemistry of a material. Surface modification can be used in a wide variety of applications to alter or improve the performance and behavior of a material.
XPS can be used to investigate a wide range of surface problems on polymeric materials, which have many applications as structural materials and coatings. Detection and characterization of polymer surface modification is an important technique in the development of new polymeric materials, the detection of and identification of contaminants, and performance evaluation and failure analysis. Polymers also require surface modification to promote properties such as adhesion and wettability.
Read the Analyzing Metals blog post, Technology Focus: XPS, or visit XPS Simplified for a more comprehensive explanation of the technology.