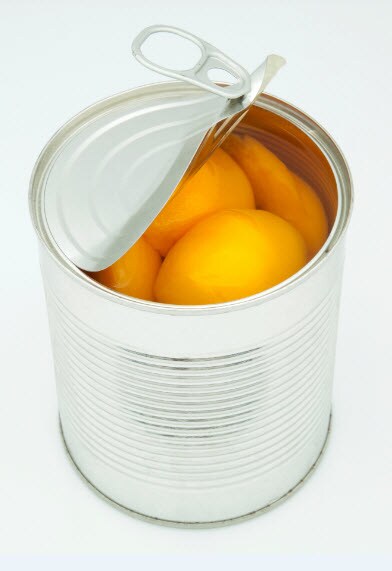 In January of this year, the U.S. Food and Drug Administration (FDA) and the European Food Safety Authority (EFSA) issued statements announcing that bisphenol A (BPA) poses no health risks to consumers at current exposure levels. This news may seem surprising given the publicity and controversy surrounding the potential health hazards of this chemical, but a debate over the dangers of BPA has been ongoing for years. In this two-part series, we'll examine each side of the argument.
BPA is used to make polycarbonate plastics and epoxy resins, which can be found in plastics bottles and other types of food and drink containers such as metal cans. BPA has been used in food packaging since the 1960s but in recent years, evidence that BPA seeps out of the containers into the food has caused significant health concerns. BPA mimics estrogen and can disrupt the endocrine system; high BPA levels are associated with heart disease, diabetes, abnormal liver enzyme levels, and neurological and developmental effects in infants. Yet questions remain about how damaging BPA is, and in what levels.
The American Chemistry Council recently announced an ad campaign to raise awareness about the safety of BPA following the reports from the FDA and EFSA that BPA is safe for its current approved uses and that current levels pose no risk to human health. The EFSA press release states:
EFSA's comprehensive re-evaluation of bisphenol A (BPA) exposure and toxicity concludes that BPA poses no health risk to consumers of any age group (including unborn children, infants and adolescents) at current exposure levels. Exposure from the diet or from a combination of sources (diet, dust, cosmetics and thermal paper) is considerably under the safe level (the "tolerable daily intake" or TDI).
Although new data and refined methodologies have led EFSA's experts to considerably reduce the safe level of BPA from 50 micrograms per kilogram of body weight per day (µg/kg of bw/day) to 4 µg/kg of bw/day, the highest estimates for dietary exposure and for exposure from a combination of sources (called "aggregated exposure" in EFSA's opinion) are three to five times lower than the new TDI.
The FDA's Summary of Current Perspective on BPA in Food Contact Applications states:
FDA's current perspective, based on its most recent safety assessment, is that BPA is safe at the current levels occurring in foods. Based on FDA's ongoing safety review of scientific evidence, the available information continues to support the safety of BPA for the currently approved uses in food containers and packaging…
As is the case when foods are in direct contact with any packaging material, small, measurable amounts of the packaging materials may migrate into food and can be consumed with it. As part of its premarket review of food packaging materials, FDA's food contact regulations and food contact notification program assesses the likely migration from the packaging material to assure that any migration to food occurs at safe levels…the National Toxicology Program, partnering with FDA's National Center for Toxicological Research is carrying out in-depth studies to answer key questions and clarify uncertainties about BPA.
Despite these reassurances, enough studies exist to keep people concerned about BPA. In the second part of this post, we'll look at some of this evidence.
Note: High performance liquid chromatography (HPLC) is an analytical technique used to measure BPA levels in food, soil, water and biological tissues. Read an application brief describing the use of HPLC with Coulometric array detection to measure bisphenols A and B and other xenoestrogens thought to play important roles in cancer generation and prevention.