Customer Case Study: Torque Rheometer System Ensures Consistent Product Quality for Vinyl Compounds Ltd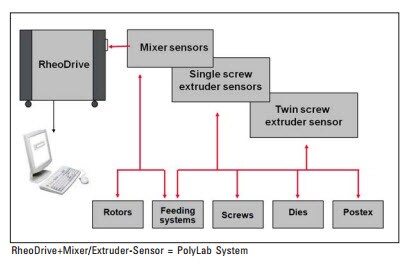 Vinyl Compounds Ltd., one of the UK's largest manufacturers of PVC (polyvinyl chloride) polymer compounds, needed a better way to control its process conditions. With 35 years in the PVC compound industry, the company has developed thousands of grades of compound and dry blends to meet a wide variety of customer applications and is capable of producing in excess of 60,000 tons of PVC compound and dry blend per year.
Rigid PVC is used in the construction industry for windows, piping, signs, roofing sheet material and other products. More flexible versions serve as an alternative to rubber and are widely used in the manufacturing of clothing, footwear/boot grades, upholstery, electrical cable compounds and many other everyday products. Vinyl Compounds' formulations range from industry-standard mixes to highly technical and customer-specific formulations such as high-performance weatherability, exact color matching, softness, fire retardant or oil resistance.
To mimic the production process at their customers' facilities, Vinyl Compounds had used a simple, single screw extruder. This device was used to melt PVC compound and extrude it through a die, and it did not contain a torque measuring system. This approach turned out to be insufficient, as modern PVC formulations are very sensitive to process conditions. Uncontrolled process conditions can ultimately compromise quality, consistency and repeatability of the end product at the customer's site. In order to ensure the highest possible quality for their customers and to be able to process an ever-expanding range of rigid and soft PVC materials, Vinyl Compounds needed to find a modern and versatile extrusion testing solution.
Vinyl Compounds supplies materials throughout the UK, Europe, America, Asia and Africa and is committed to formulating material for whatever application or requirement. The company's laboratories embrace the latest materials characterization technology, a key differentiator in the PVC industry
To ensure they could deliver material that matched its customers' exact specifications and keep production processes running smoothly, the company  adopted a new torque rheometer system able to test for consistency and help develop new compounds. The new equipment can relay information such as temperature, torque, viscosity, pressure and texture of the flexible material as it is produced. Using this data, Vinyl Compounds can identify, analyze and, if needed, change variables in the mixing process to eliminate inconsistency. The new torque rheometer also assists with developing new formulations, starting with testing small-scale batches and moving up to full production batches, something the old single screw extruder couldn't do. The system has also helped streamline the PVC compound manufacturing process from beginning to end. By providing customers with batches that meet their exact specifications, the production processes never have to be interrupted or slowed down and customers can consistently produce high-quality products.
To learn more about the torque rheometer system that helped Vinyl Compounds deliver consistent, high-quality products to their customers, read these application notes: