Hand sanitizing products used in the outbreak of the novel coronavirus known as COVID-19 are in great demand. The U.S. Centers for Disease Control and Prevention (CDC) "recommends washing hands with soap and water whenever possible because handwashing reduces the amounts of all types of germs and chemicals on hands. But if soap and water are not available, using a hand sanitizer with at least 60% alcohol can help you avoid getting sick and spreading germs to others." In controlling the spread of the virus, soap breaks the bond of materials (germs or chemicals) that attach to the skin, which are washed away with water. Alcohol-based hand sanitizer is recommended by the CDC only if soap and water are not available.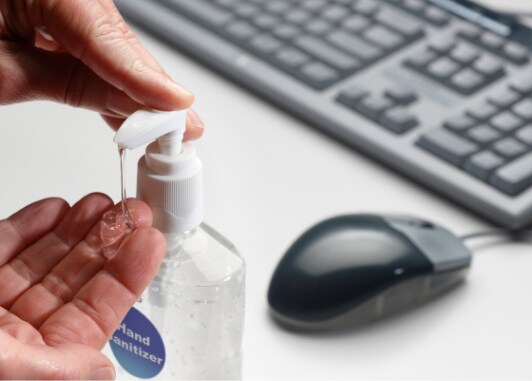 Recommended alcohol concentrations in hand sanitizers
Studies show that sanitizers with an alcohol concentration between 60–95% are more effective at killing disease causing microorganisms such as the coronavirus than those with a lower alcohol concentration or non-alcohol-based hand sanitizers. (Reference: http://www.ncbi.nlm.nih.gov/pubmed/21219730 and http://www.ncbi.nlm.nih.gov/pubmed/15489352.)
What makes alcohol-based hand sanitizers effective?
The antimicrobial activity of alcohols is attributed to their ability to denature proteins, which is a protein is one that has lost is biologic activity, specifically where the amino acid composition and stereochemical structure (shape) have been altered by physical or chemical means. Alcohol is a chaotrope, meaning that it disrupts hydrogen bonds that proteins and nucleic acids need to survive.
The chemistry of alcohol
Chemically speaking, alcohol is a class of hydroxyl compounds, the simplest of which are derived from saturated hydrocarbons. Hydroxyls (hydro + oxl) are the chemical group, ion, or radical OH that consists of one atom of hydrogen and one of oxygen and is neutral or negatively charged. The most common form of alcohol is ethanol (ethyl alcohol), which is the intoxicating agent in alcoholic spirits and is also used as a solvent or a fuel.
Another agent commonly used in hand sanitizer products is isopropyl alcohol or rubbing alcohol (2-propanol). While ethyl alcohol is a primary alcohol, isopropyl alcohol is a secondary alcohol. The hydroxyl group of a primary alcohol is attached to a primary carbon, whereas the hydroxyl group of a secondary alcohol is attached to a secondary carbon atom. Primary alcohols result in aldehydes and hydrogen. Secondary alcohols result in ketones and hydrogen. Primary alcohols are less reactive than secondary alcohols. The rate of esterification is highest in primary alcohols. And while primary alcohols are difficult to dehydrate, secondary alcohols are not.
Another primary alcohol is 1-propanol, which is used as a solvent in the pharmaceutical industry, mainly for resins and cellulose esters. Found in some European hand sanitizers, 1-propanol is not an approved active agent in the United States, although it may be found as a secondary ingredient in some formulations.
Distilleries producing sanitizer products
Ethanol is a product of the distillation of grains or other carbohydrates. The coronavirus crisis has all but shut down craft distillers that frequently rely on tasting rooms for revenue and marketing. More than 600 distillers are now involved in sanitizer production, many following World Health Organization rules that allow for the use of "undenatured" alcohol, a food-grade ethanol that the industry has readily available. Recent U.S. legislation allows these companies to sell ethanol without being taxed as an intoxicating spirit.
Hand sanitizer analysis for quality control
Whether you are a small distiller using your process to newly compound hand sanitizers, or a large consumer product company, you will need to verify that your ingredient materials, in-process materials, and finished products meet specifications.
Recently, application specialists at Thermo Fisher Scientific used an FTIR spectrometer and analytical software to identify three commonly used alcohols in hand sanitizer products: ethanol (ethyl alcohol), 2-propanol (isopropanol) and 1-propanol (n-propanol).  There are noticeable differences in both C-H stretch (3000-2800 cm-1) and fingerprint (1500-500 cm-1) spectral regions that illustrate their different chemical structures.
FTIR was also used to compare denatured, industrial grade ethanol against commercially available non-denatured, reagent grade ethanol samples to check for impurity standards. This quality check was accomplished without the need for constructing spectral libraries or complex spectral manipulations.
Learn how an FTIR spectrometer and spectral correlation software can quickly provide quality control in the production of hand sanitizer products.
| | |
| --- | --- |
| Want to speak to someone? Need a quote? Want a demo? | Opt in for email communications on this and other topics. |