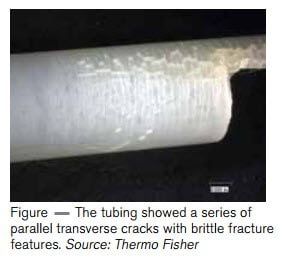 A section of plastic tubing had leaked while in use, so it was examined and analyzed. The tubing was used to supply water to a refrigerator, and the leak resulted in significant property damage. This type of tubing is generally extruded from a grade of low density polyethylene (LDPE).
Fourier Transform Infrared (FT-IR) instrumentation and ATR, or Attenuated Total Reflectance, using diamond crystals — one of the most common and easy-to-use techniques for failure analysis – was used to discover why the tubing leaked. Infrared spectroscopy is a valuable polymer characterization tool which can be used effectively in product design, manufacture, and failure analysis.
The tubing was examined and found to exhibit a single through-crack and multiple partial cracks oriented transversely. The cracks exhibited features characteristic of brittle fracture, and indicated crack initiation along the inner diameter wall of the tubing. Some discoloration was also present localized to the area of cracking. The observed features were indicative of a slow crack growth mechanism associated with localized bending loads and the internal pressure within the system.
The core remote to the cracking tubing material was analyzed using FT-IR with a diamond ATR, and the obtained results were characteristic of a polyethylene resin. Analysis of the inner diameter surface adjacent to the primary through-crack also produced results characteristic of polyethylene. However, additional absorption bands indicative of carbonyl functionality were also present. Specifically distinct bands at 1715 cm-1 and 1740 cm-1 were present associated with carboxylic acids and esters.
Such materials are commonly formed as by-products of oxidation of polyolefin resins, such as polyethylene. Polyethylene can undergo oxidation through contact with chlorinated municipal water. The molecular degradation caused by the oxidation resulted in a marked reduction in mechanical integrity of the tubing material, and together with the nominal internal pressure, produced cracking within the tubing.
For more details, including FT-IR spectra representing the failure location exhibited carbonyl bands associated with degradation of the polyethylene resin., read the Identifying Failures and Ensuring Quality of Plastic Materials article.