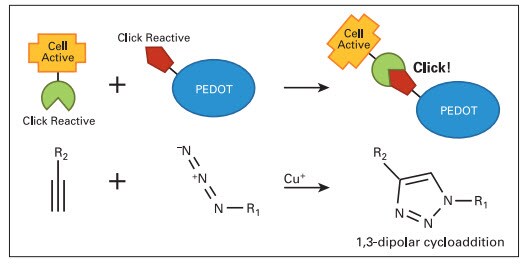 Improving the functionality of polymer surfaces is an important task in material science. One growth area in this field is the design and manufacture of inexpensive and disposable devices which can be tailored to specific clinical applications. The device surfaces are modified by "click" chemistry; joining smaller units together to generate active surfaces in mild conditions with high selectivity.
Reference.MD defines click chemistry as "Organic chemistry methodology that mimics the modular nature of various biosynthetic processes. It uses highly reliable and selective reactions designed to "click" i.e., rapidly join small modular units together in high yield, without offensive byproducts. In combination with combinatorial chemistry techniques, it is used for the synthesis of new compounds and combinatorial libraries."
The term click chemistry was coined by Valery V. Fokin and K. Barry Sharpless in 2001. As explained in an article appearing on R&D.com, click reactions are highly efficient, wide in scope, stereospecific, simple to perform using inexpensive reagents, and can be conducted in benign solvents such as water. Emerging applications for click chemistry include drug discovery, bioconjugation, and material science, where it is becoming a common and efficient tool in the design of a variety of materials with interesting properties and applications.
Scripps Research Institute Chemists led by Sharpless used his click chemistry to uncover unprecedented, powerful reactivity for making new drugs, diagnostics, plastics, smart materials and many other products. The new SuFEx—Sulfur Fluoride Exchange—reactions enable chemists to link molecules together using derivatives of a common commercial chemical considered essentially inert. According to a TSRI press release, the reaction easily creates polysulfate plastics, a class of unexplored materials that may have properties to rival or surpass those of polymers like polycarbonates, which are commonly used in consumer products. Polycarbonates easily break down in water, potentially leaching toxic material such as bisphenol-A (read our two-part series, The BPA Debate: How Much Is Safe?). The Sharpless team made BPA polysulfate fibers using a SuFEx process that may be more resistant to impact and degradation than polycarbonates.
X-ray photoelectron spectroscopy (XPS) is a useful tool for the analysis of polymer systems, particularly click chemistry processes. The chemical shifts identified in XPS analysis can be used to evaluate the integrity of the starting material, the success of the click process, and the patterning of the device. New XPS data processing algorithms have been refined to allow for reduced acquisition times (which minimize the possibility of damage to the sensitive surface material), while still retaining chemical state information. These methods also allow for improvements in the spatial resolution of an acquired XPS map.
Read the application note, XPS Characterization of 'Click' Surface Chemistry to learn about the study methodology and results of experiments performed to characterize the surface. The first experiment evaluated changes in PEDOT, poly(3,4-ethylenedioxylthiophene), over time caused by the X-ray exposure. PEDOT is a conducting polymer used as as microelectrode material. The second experiment mapped the polymer surface using an XPS instrument.