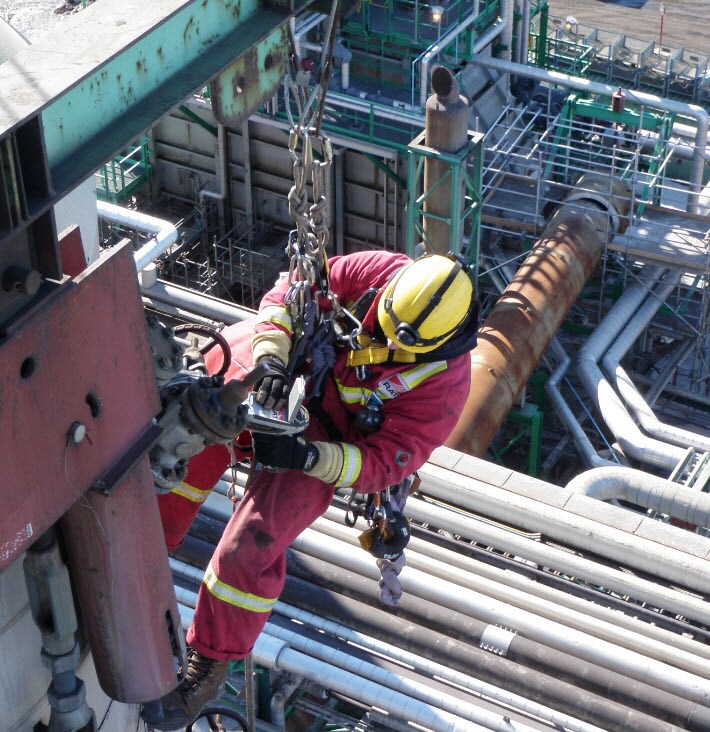 Ensuring the integrity of the world's pipelines and critical metal assets is a dangerous job. You can see for yourself from this photo from Grant David Lamb, the project manager for the Western Canadian office of Acuren Group and Tacten Industrial Services Inc..  This worker is performing positive material identification (PMI) on metal pipes via rope access.
Metal building components that are counterfeit, do not meet requirements, are  improperly prepared, or contain incorrectly alloyed weld material can cause catastrophes that result from leaks or premature pipe replacements.  In addition, flow-accelerated corrosion, or FAC, is a well-known source of problems in nuclear and fossil-fuel power plants. FAC occurs when carbon steel piping and components are degraded in the presence of flowing water or steam water with low-dissolved oxygen, which in turn can lead to leaks and potential catastrophic ruptures that adversely impact both personnel safety and plant reliability.
The emphasis on safety and accident prevention has never been greater – increased public scrutiny, stepped-up industrial safety regulations, and more stringent OSHA oversight and fines. This means that positive material identification (PMI) in alloys used throughout the physical plant and throughout the pipeline is no longer a choice, but a necessity.
These crews have a dangerous job, and it looks like a scary task in this photo, but what's more scary is knowing that without PMI using XRF analysis, these metal pipes could be the cause of a major accident.  You can check out additional PMI crew photos on the Oil & Exploration section of our Advancing Mining blog.