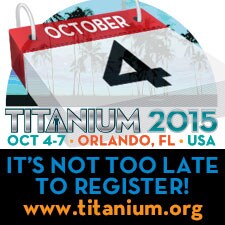 Titanium (Ti) is a strong silver-gray metal that is highly resistant to corrosion. It is as strong as steel but 45 percent lighter, and it is twice as strong as aluminum but only 60 percent heavier. TITANIUM USA 2015 is a conference that addresses all things titanium. Next week's show will offer insights into the current state of the industry as well as efficient, high-value networking opportunities not available anywhere else for titanium producers, OEM's, distributors, fabricators, and vendors who offer products and services to the titanium community alike.
The show host, the International Titanium Association (ITA), is expecting 1,000 delegates from 30 countries; and there will be over 80 exhibitors on the show floor. The Fundamentals of Titanium workshop being held on Sunday will be an all-day event covering detailed information on the types, uses, and properties of common titanium alloys and applied titanium metallurgy fundamentals. The instructor will give a complete overview of titanium and a thorough grounding in its metallurgy, characteristics, properties and uses. There are several Titanium application workshops on Monday, addressing the airframe market and jet engines, world demand, and jet global trends. In addition there will be many sessions on the industry outlook, both locally and globally, as well as a "Women in Titanium" track.
In you are interested in any of these subjects, then you know that analyzing titanium to ensure its properties meet requirements is an important undertaking. Titanium is added in steel alloys to reduce grain size and as a deoxidizer, and in stainless steel to reduce carbon content. The metal is often alloyed with aluminum (to refine grain size), vanadium, copper (to harden), iron, manganese, molybdenum, and other metals.
In the automotive industry, new coating technology based on phosphorus, titanium and trivalent chromium improves corrosion resistance with less environmental impact. Versatile titanium can be found everywhere, from tennis rackets to jet engines. Titanium alloys are used in planes, armor plating, naval ships, spacecraft, and missiles because of their high tensile strength, light weight, extraordinary corrosion resistance, and ability to withstand extreme temperatures.
The quality and composition of all of the materials that go into making these metal blends must be verified. Out-of-spec titanium alloys can be dangerous and expensive. If propeller shafts are designed for underwater use and are not alloyed correctly, they will lose their corrosion resistance properties. Many pipes need a titanium alloy to withstand harsh chemical processing environments. Portable X-ray fluorescence (XRF) is being used in positive material identification to verify materials, accurately measure the thickness of electro plating, passivation and conversion coatings, and measure the chemical composition of titanium alloys.
If you're at the show, make sure you stop by our booth (Booth 319). You can get a demonstration of the newest, lightest, smallest and most powerful XRF alloy analyzer in the market. You'll see how to obtain lab-quality results in the field or factory. Bring a sample to get analyzed; samples always remain intact and undamaged by testing.
Want to know more about titanium so you can impress your fellow show attendees? Here's an infographic with some fun facts. And if you can't make it to the show, check out the infographic anyway and impress your collegues. You can also follow the show on twitter using #titanium2015.
Show Details
TITANIUM
Booth 319
OCTOBER 4 – 7, 2015
ROSEN SHINGLE CREEK RESORT
ORLANDO, FLORIDA