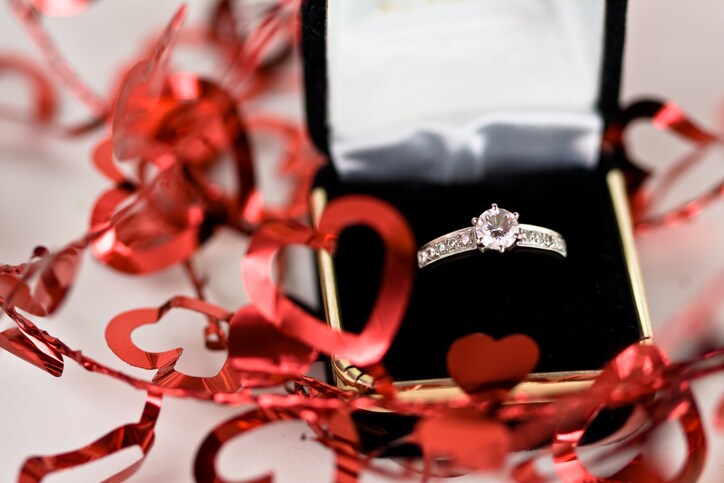 According to Weddingwire, Valentine's Day is the second most popular day to get engaged, and the Saturday before Valentine's Day is also a hot date to get engaged. (Christmas Day is the first.) It's no surprise that many of those who 'pop the question' choose to do it on the day known for its message of love and affection.
Those who have bought an engagement ring for that special day probably spent a great deal of time looking for the appropriate 4 Cs of diamond quality – cut, carat, color, and clarity – and choosing the metal for the band. Traditionally gold or silver were the choices, but now couples may choose platinum, titanium, tungsten, stainless steel, or palladium, or even some alloys of different metals for their engagement and wedding rings.
Metal alloys are created to impart many properties beyond aesthetic ones, such as strength, flexibility, machineability, and durability. But it is important that the correct 'recipe' of metals be used in order to ensure that the finished piece doesn't easily corrode or break. How strong should a ring be?
Santa Barbara jeweler Calla Gold recently relayed a story about one of her customers who brought in a wedding ring that constantly had issues with lost and chipped diamonds, cracked shank, and bent and broken filigree details. The woman worked a ranch every day, and the delicate ring she wore was not meant for everyday wear, especially when every day was spent repairing corrals, mucking stalls, and hauling bales of hay.
The Right Elements of a Sturdy Piece of Jewelry
Calla created a new 'ranch-strong' ring with a wider and thicker shank, deeper gold, and thicker bezel settings – which made the couple ecstatic – and offers readers four points of advice when choosing a daily wear ring. Look for:
A wide, strong shank that won't bend and that will properly support the crown or top portion of the ring.
Thick, strong settings: prongs, channels, and bezels. Bezels and channels provide more protection than prongs.
Gemstones set in such a way that their edges aren't exposed so they could get chipped.
Strong, well constructed design features. Finishing features that hide scratches like hammering, engraving or matte finishes.
Another piece of advice is to make sure the metal is made of the appropriate material. Some people may be fooled by pieces that are plated in gold and not solid gold. Gold plated – sometimes called electroplated – items are made with a layer of gold on the surface over another type of metal underneath. On some occasions, items are gold plated to try and fool buyers or cash-for-gold operators. But for the most part, plating is done to enhance the look or wearability of a piece of jewelry. This technique is perfectly acceptable as long as the jeweler and the customer are aware of the true material. (Calla explained how to plate jewelry in this previous article How Gold Plating is Done, Step by Step.)
Also, some metals may look alike, but have different properties. We previously wrote about being able to tell the difference between white gold and platinum. White gold doesn't occur naturally; it gets its silvery hue by being alloyed with white metals such as silver, nickel, manganese, platinum, or palladium. For a shiny finish, white gold is usually coated in rhodium plating that must be replaced periodically to prevent the white gold from reverting back to yellow.
Platinum is more dense than gold, and by law jewelry that is labeled "platinum" must be at least 95% pure platinum, so a platinum ring will weigh, and therefore cost, more than a gold ring of the same size. (14k gold is only 58.5% gold and 18k gold is 75% gold). Platinum is stronger and more durable than gold. However, a distinct advantage of platinum is that it's hypoallergenic, whereas some people will have an allergic reaction to white gold due to the nickel alloy it contains. Palladium, one of the Platinum Group Metals, may be an even better choice than platinum because it has similar characteristics as platinum at a lesser price.
Confirming the Metal
There are several ways to test and value jewelry. There are rare-earth magnets – which are incredibly strong – to see if a gold piece would stick to them. Gold is not a magnetic metal, so if they pull towards the magnet, the jewelry is fake. However, if they don't react to the magnet, it doesn't necessarily mean they are real, as non-magnetic metals are used in counterfeit pieces as well.
There's also the acid test. A drop of nitric acid is put on the gold and one must watch for any resulting reaction to the acid. If the gold is the same karat or higher than the test acid, it will not react. If it does react, it is of a lesser karat than the test acid. A green reaction indicates the item is either a base metal or gold plated. A gold reaction indicates the item is gold-plated brass. A milk-colored reaction indicates gold-plated sterling silver. If there is no reaction, you most likely are dealing with real gold. However, some metals, like certain stainless steels and platinum, may not react, so there is still a question of authenticity. However, this test can be inexact and hazardous to health. In fact, here are 8 Reasons Jewelers Should Not Use Acid to Test Jewelry.
With the volatility and high price of gold and other precious metals, jewelers cannot afford the time or the potential inaccuracies of traditional precious metal testing methods to determine the value of a piece of jewelry, especially an engagement or wedding ring. Many business owners are turning to portable x-ray fluorescence (XRF) analyzers to perform precious metal testing with certainty.
XRF is a nondestructive testing technique that can analyze a metal sample in seconds with little to no need for sample preparation. Portable XRF analyzers deliver fast, accurate elemental analysis and positive identification for manufacturing requirements in seconds. In fact, advances in handheld XRF technology have expanded to the point that today's analyzers are capable of distinguishing alloy grades that are nearly identical in composition to one another. And the testing is non-destructive to the piece.
Here's a short video demonstration that shows how one gold dealer tests, weighs, analyzes and values customer gold jewelry. This video explains why the acid test is not a good option, and includes karat analysis results from an XRF precious metals analyzer.
Calla's final advice on the subject of sturdy rings: "If shopping for wedding rings, make sure you can tell the difference or work with a knowledgeable jeweler who will steer you in the right direction. Check for the four pillars of a daily wear ring, because "pretty" isn't enough for a wedding ring choice. Lasting is what you really want, just like your marriage!"
Editor's Notes: