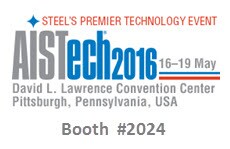 The AISTech Iron and Steel Technology Conference and Expo is the place to be if you are in the steel industry. More than 8,000 people are expected to attend, along with over 500 exhibiting companies. The show producers admirably move the expo sites to different parts of the US each year, but by far, in my opinion, the epicenter for Big Steel has always had a strong Pittsburgh influence, and typically the expos in Pittsburgh stand out as the best attended.
There will be more than 550 technical presentations, covering ironmaking, steelmaking, finishing processes, and various engineering and equipment technologies. I am especially looking forward to the Town Hall Forum, which is loaded with top-notch steel executives who are willing to candidly share their thoughts with the audience on critical topics.
If you are looking for the latest in metal and alloy analysis technology, make sure you stop by our booth #2024 (here's a map of the show floor). We'll be demonstrating Optical Emission Spectrometry (OES), which is a widely-used, industry-established technology for verifying alloys and an important factor in quality control required for foundries and metal processors. This is especially useful information for processors who need advanced metal analysis to produce parts for automotive, aviation, aerospace, consumer products, and other industries. OES instruments are capable of providing rapid qualitative and quantitative analysis to correct chemistry inconsistencies in real-time and are an optimal solution for alloy elemental analysis.
We will also show you how to solve analytical challenges in a wide range of applications with a Sequential X-Ray Fluorescence Spectrometer utilizing wavelength dispersive x-ray fluorescence (WDXRF) technology. With this kind of spectrometer, you can analyze materials in varied sizes, coatings, layers, heterogeneities and inclusions. It's great for identifying specialty alloys, metals and ores. Need to know the difference between instruments utilizing WDXRF vs EDXRF (Energy Dispersive X-ray Fluorescence)? Just ask our experts who will be on hand to answer any questions you may have.
There will be plenty of technology to talk about. Besides OES and XRF, we will be showing process mass spectrometry that offers lab quality online gas composition analysis, thickness gauges for hot plate lines which provide real-time measurements that meet the tightest dimensional tolerances of any steel plate application, and coating weight gauges to help ensure coating uniformity and product quality. Coating weight and thickness measurement gauges for metals for hot- and cold-rolling mills provide precise, real-time measurements that meet the tightest specifications of any application while maximizing raw material use. Whether you're producing steel from iron ore or scrap, and your end product is several inch-thick slabs or galvanized sheet less than a millimeter thick, these gauges can help your company meet customer requirements.
Gaining this type of insight from experts is one reason this show is so important to the industry. Where else can you stop by one booth at one show and see all these technologies in one place – technologies that can help in your quality control and brand protection as well as improve your productivity. That's one of the main reasons that the show is referred to as "Steel's Premier Technology Event." You'll get the "perspective on the technology and engineering expertise necessary to power a sustainable steel industry."
If all that technology has your head spinning at the end of the day, step outside the show facilities for dinner if you can. Pittsburgh has great venues, but their Italian eateries are superb. Lidia's, which is owned by Lidia Bastianich of the Emmy-nominated television cooking show, is just north of the Expo center and is one of many great spots. Not in the mood for Italian? Find a restaurant that offers a 'Pittsburgh Steak Salad' — a complete meal, including French fries, in a salad! And if you are planning to stay an extra day or two, see if you can catch a Pirates game; they have a great team and awesome stadium.
Hope to see you there!
Show Details:
AISTech 2016
May 16-19, 2016
David L. Lawrence Convention Center
Pittsburgh, PA USA
Booth #2024
Twitter: @AISTech #AISTech